In addition to certificates, Competencies are another way you can reward your users for completing specific learning modules in Absorb. In the Competencies report, you can view those that have already been set up, as well as what actions can be taken in the right-hand side context menu.
This article contains information on:
The Competencies Report
Creating a Competency
Assigning Competencies
The Competencies Report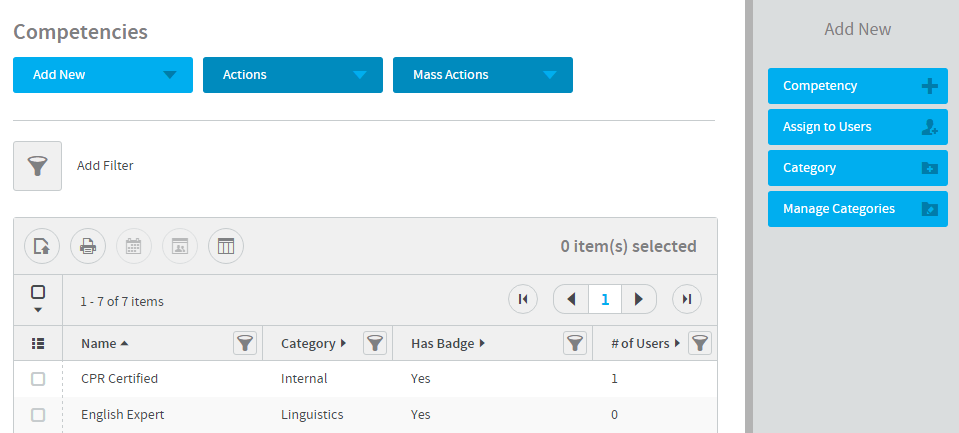 From the report, you can add a new Competency, Assign to Users, as well as add and manage Categories to organize your Competencies. It is also possible to edit and delete existing Competencies by selecting one from the report. Please note: If a Competency is deleted, it will not be retained as historical data in a User's transcript.
Aside from details on the Competency itself, you can also view what Users have been assigned to each Competency by choosing View Users from the context menu while a Competency is selected in the report. In doing so, you will be presented with the Learner Competencies report where you are able to administer further actions. These include Editing or Messaging the User, viewing their Transcript, or Deleting the Learner Competency from their profile.
Creating a Competency
When adding a Competency, you can give it a Name, and select a Category for it to reside in provided you have Categories already set up. Additionally, you can give it a Description, as well as determine whether you want to enable the Badge Image. Doing so will let you select an image from the File Manager, or upload a new one, to have displayed for both Learners and Admins when viewing the User Transcript. Badges are a great way to quickly show what Competencies have been earned with a simple visual.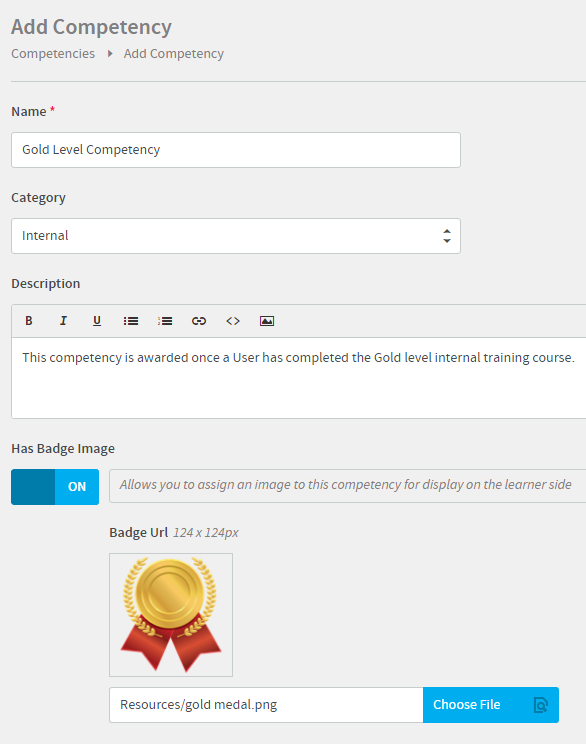 Assigning Competencies
Once you have Competencies available to assign to Users, there are two main ways of doing so. If you are looking to automate the process of having a Competency assigned to a User, this is possible when setting up courses or curricula. Under the Completion tab, you can add Competencies for which Users will earn upon successful completion.

Alternatively, you can choose to manually assign a Competency to a User through the Competencies report. When choosing Assign to Users from the context menu, you will be given the option of choosing the Competency, Level (if applicable), and which Users the Competency should be assigned to. For a deeper look into Levels, please visit our article which explains their use, and set up. In short, Levels are a way to award Competencies on an increasing scale from 1 to a possible of 10. This allows for further control and a better ability to direct how your users enroll into, and proceed through, their courses.