Overview
Competencies are a feature of Absorb LMS that rewards users for completing courses by including customized designations to the user profile. For example, by completing the First Aid Training course, a user could earn a Competency named CPR Certification. This article will cover how to create and assign a Competency and award Competencies on an increasing scale using levels.
Tips
You can configure Competencies to have unique names and images to be used as an icon or "badge" to be identified on user transcripts.
Admins can easily grant or restrict access to additional catalog content by identifying those who have earned specific Competencies.
---
Creating Competencies
To begin the creation of a Competency, you will need to navigate to the Competency Report. From there, you will to able to assign, add, and manage Competencies and their Categories. It is also possible to edit and delete existing Competencies.
How to create a Competency
The following instructions begin from the Competencies Report:
1. Navigate to the Courses icon, and click on the Competencies section.
2. This action will bring you to the Competencies Report interface. From here, you have the following options:
Add New Competency
Assign to Users
Add a Category
Manage Categories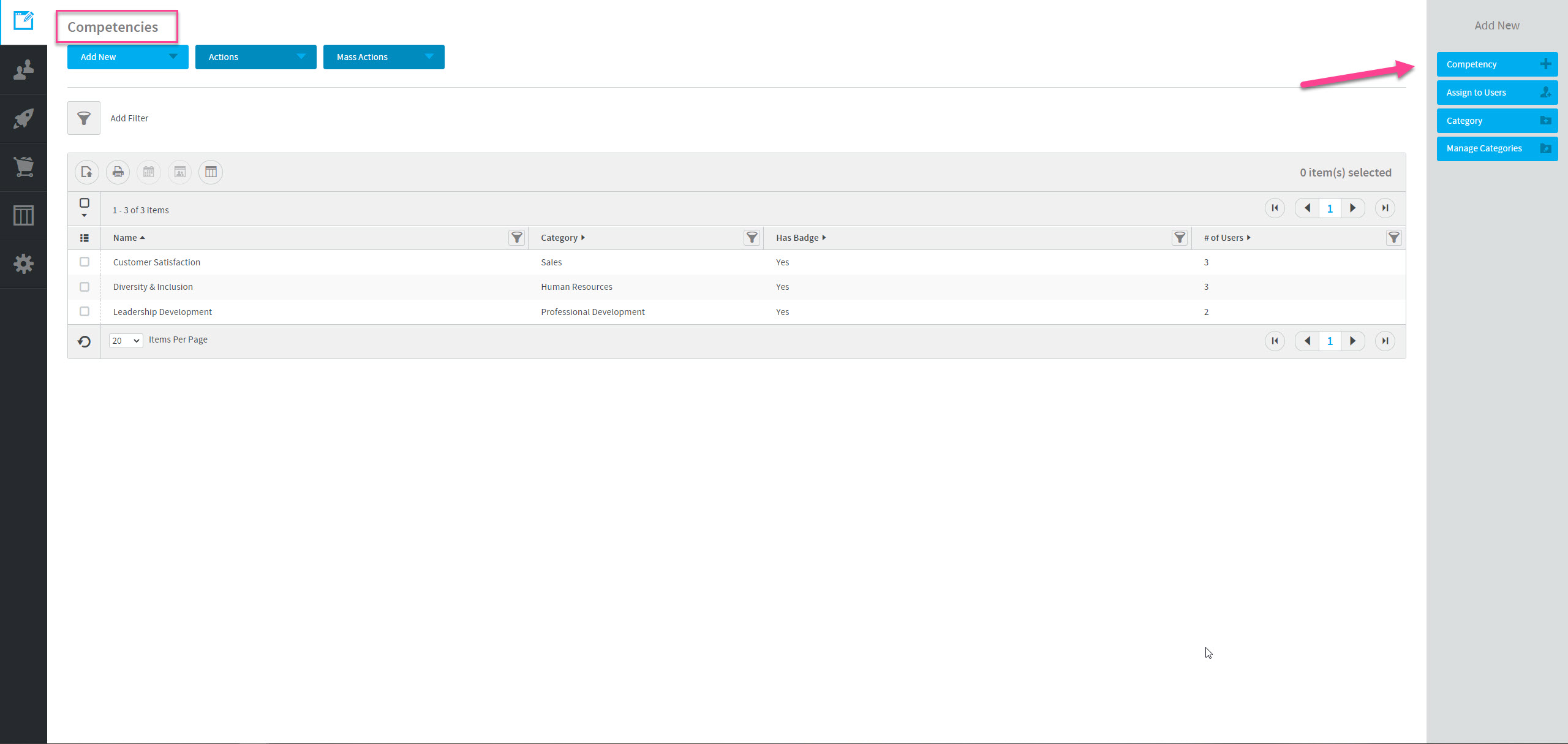 3. Click on the top blue box

. You will then be prompted to the Add Competency page.

4. Add Competency Settings:
Setting
Details
Name
Enter the name of the competency. This is a required field; the name is visible in both the Admin & Learner interface.
Category
Optional: Select a Category you wish to organize the Competency under.
Description
Optional: Enter a Description of the Competency. The Description provides details about the Competency and it is visible in both the Admin & Learner interface.
Has Badge Image

If ON = Assign and upload an image to the Competency to be displayed on the Learner interface & Transcript.

If OFF = The Competency will not have an image.

Example:

* Leaderboard Points #

Absorb Engage Feature: This field will display if you have Absorb Engage. It allows the default point value to be overridden for Leaderboards based on the value entered for the awarded Competency.
5. Click Save.
How to edit a Competency
1. Starting from the Competencies Report, select the Competency you wish to edit. Once you have selected the Competency, it will highlight blue, and new actions will populate on the right-hand side. From there, you have the following options:
Edit Competency
Assign to User
View Users
Delete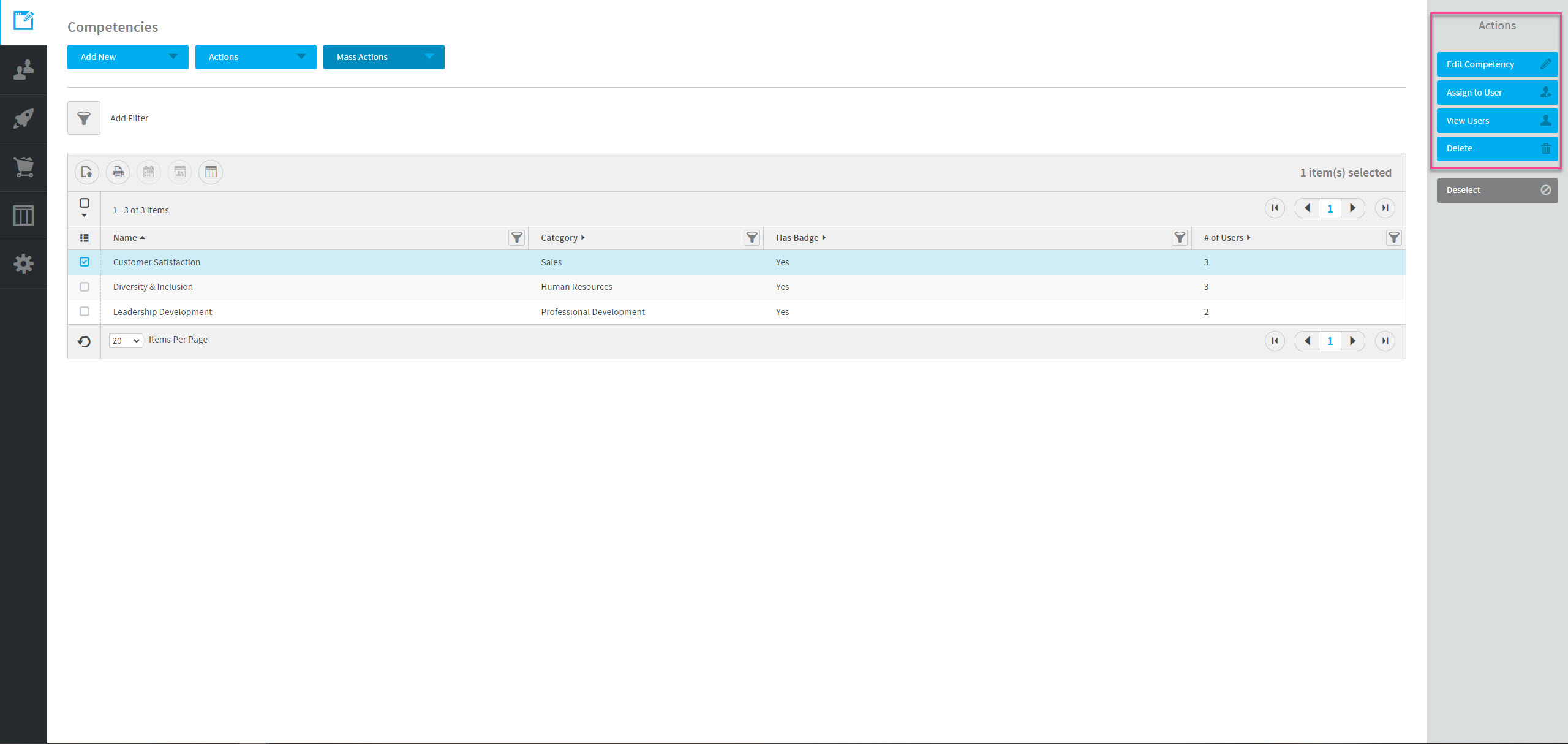 2. Click on the action you wish to execute.
Action
Details
Edit Competency
Her, you can make edits to existing Competencies.
Assign to Users
Here, you can manually assign a Competency & Competency Level to a User.
View Users
Here, you will be prompted to the Learner Competencies Report. The Learner Competency Report details User achievements. From here, you can modify the report to show additional data fields or create new Competencies. The repot also has other administrative actions such as messaging the User, viewing their Transcript, or deleting the Competency from their profile.
Delete

Here, you can delete a Competency.

Note: If a Competency is deleted, it will not be retained as historical data in a User's transcript.
---
Assigning Competencies
Once you have created Competencies, you are then able to assign a Competency to users manually or through an automated process within the Course Settings.
How to assign a Competency
The following consists of the two options (automated vs manual) for assigning Competencies:
1. If you are looking to automate the process of having a Competency assigned to a User, this is possible when setting up courses or curricula. Under the Completion tab, you can add Competencies for which Users will earn upon successful completion.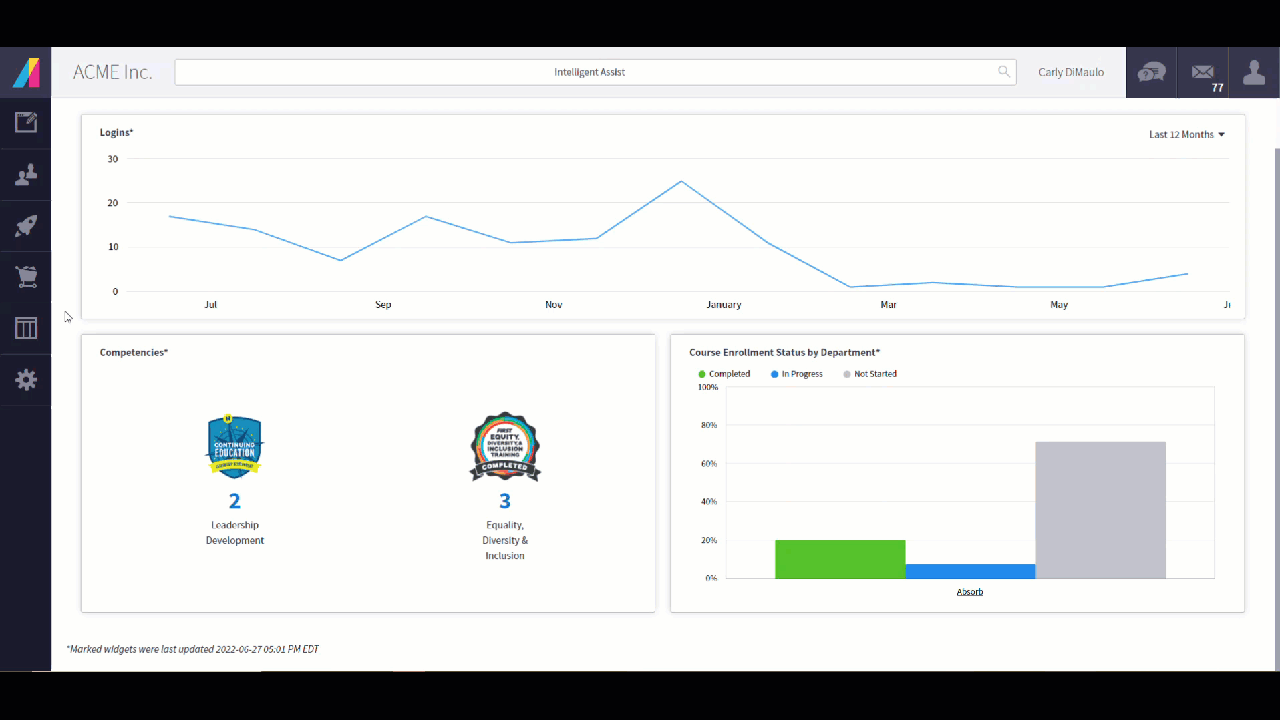 2. Alternatively, you can choose to manually assign a Competency to a User through the Competencies report. When choosing Assign to Users from the context menu, you will be given the option of choosing the Competency, Level (if applicable), and which Users the Competency should be assigned to.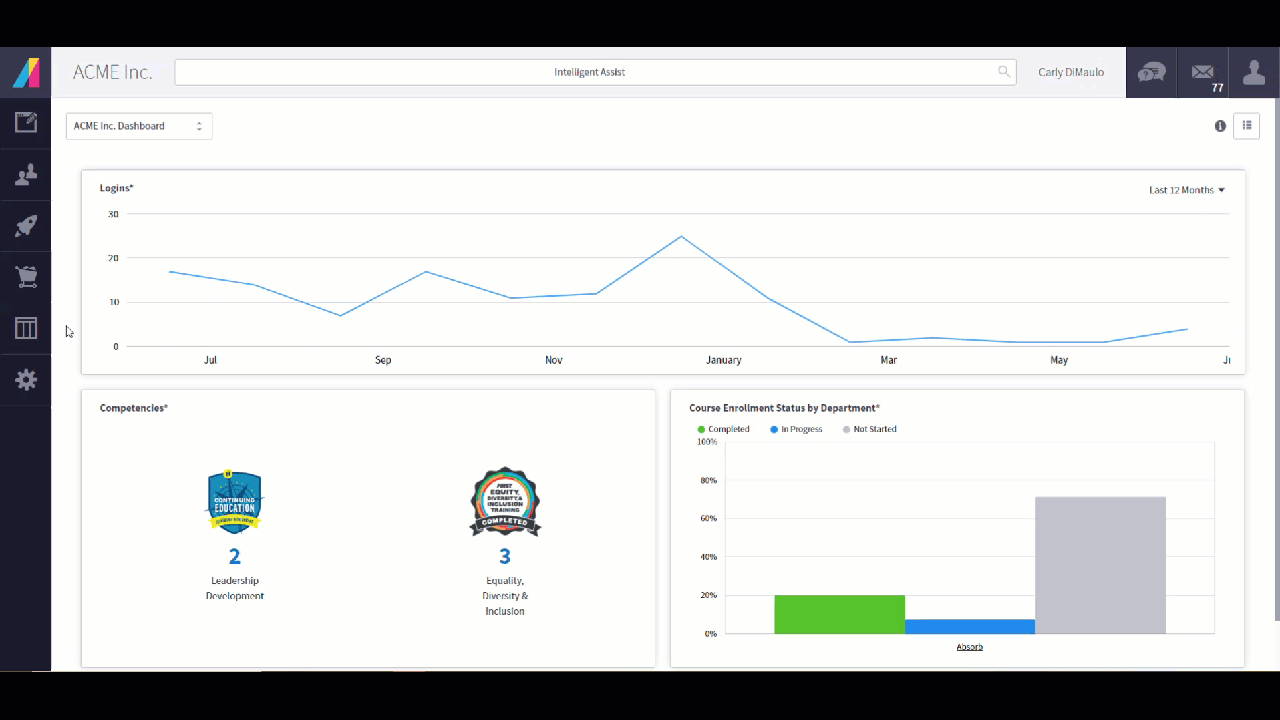 ---
Competency Levels
Competency Levels are a way to award Competencies on an increasing scale from 1 to 10. This allows for further control on directing how your users enroll and proceed through courses as you can award increasing levels of the same Competency.
How to set up Competency Levels
All Competencies will default to level 1 when being assigned. If you wish to offer more levels, please reach out to your CSM or Account Manager requesting this, and we would be happy to enable multiple levels up to a maximum of 10.
Prerequisites: Competency levels allow you to control and direct how your users enroll and proceed through their courses. Competency levels are awarded in a progressive and consecutive manner. Learners must achieve earlier levels before they can complete higher levels.
For example, a user with a level 3 Competency will be able to take any course that lists levels 1-3 of that competency as a prerequisite, but they will not be able to enroll in any course that lists a Competency requirement of level 4 or higher.
Note: If a Learner is assigned a higher Level competency, the LMS will automatically treat them as if they have received earlier Level Competencies.
For example, Learners assigned with a Level 3 Competency will be recognized as if they have previously completed Levels 1 and 2 and the Learners will be included in courses that are available only to those who have achieved Levels 1 and 2.
Assigning Competencies to a Course or User: When assigning Competencies to either a course or User, you can assign a Competency Level. When a Learner has a Level 1 Competency and then earns or is assigned a Level 2 of that same Competency, the Level 1 is replaced with the Level 2.
Note: The Learner will not have a Level 1 AND 2 listed for the same Competency.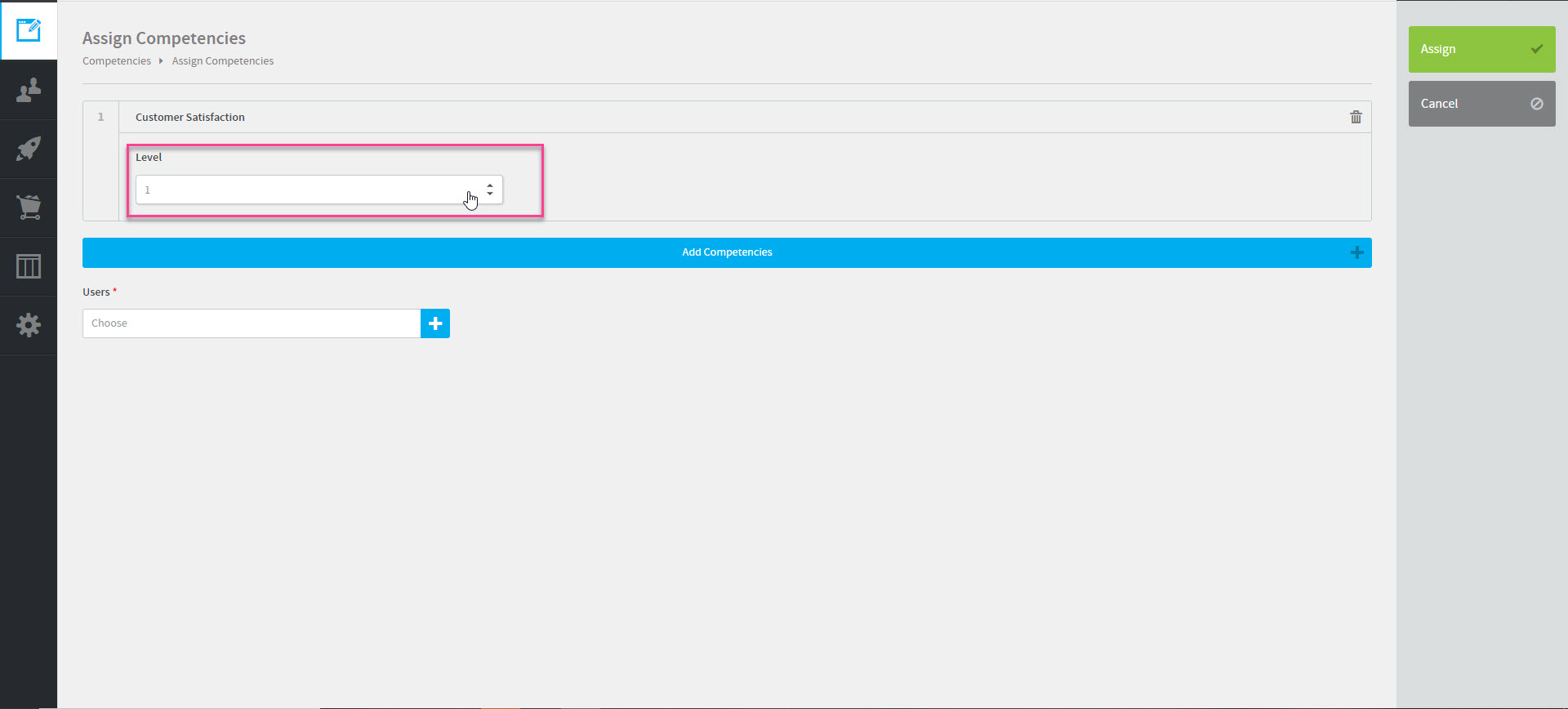 Transcripts: It is possible for a User to earn many different levels of the same Competency, however, only the highest level of Competency earned will appear on that user's Learner Transcript when viewed from the Learner and Administrator interface.