This article provides a brief overview of the necessary components required when setting up a data import. Please refer to our Data Imports - An Overview guide for a deep dive into the full process.
Documents You'll Need:
Data Mapping Spreadsheet
Article Contents:
The CSV File Format
While there are various file types that can be used when exporting data, the only one supported by Absorb for importing data is Comma Separated Values (CSV). It is important that you use this format when working with Absorb. You may want to review our support article, What is a CSV file and how do I save my spreadsheet as one?
Getting Started
Please note that you will want to contact your Client Success Manager (CSM) if you wish to set up a historical data import, or a scheduled CSV import. A historical data import is only done once, while a scheduled CSV import can be done automatically on a recurring schedule. E.g., every night an import will be conducted at 3:00 AM MST.
Data imports typically incur a set-up fee and your CSM can assist you with the process. A scoping call will be set up to define your requirements, establish the timeline, and answer any questions that you may have about developing CSV file.
How to Set Up Your CSV File
The data being imported into Absorb must follow a specific format, and we recommend downloading, and using the Absorb Data Mapping spreadsheet. The document includes instructions and 25 sheets titled to match a specific area of Absorb to make it simple to find the information you need.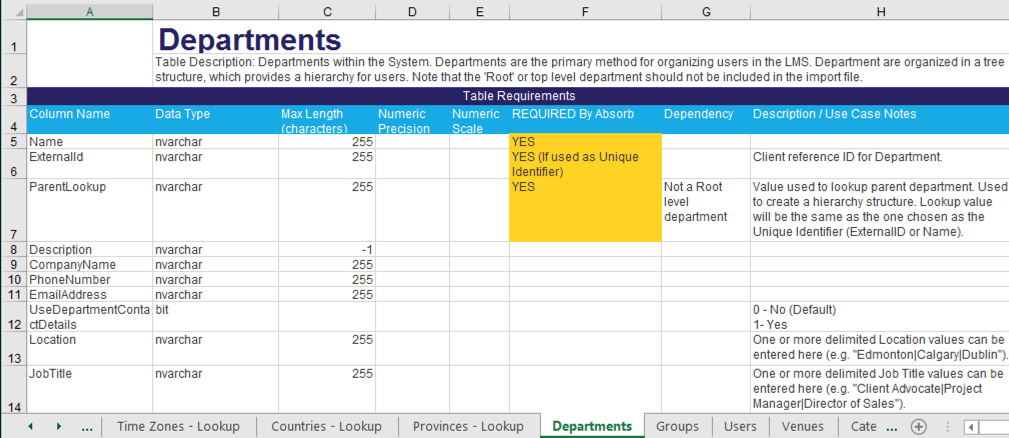 As shown above, an example of these is the Departments sheet/tab where you would find the columns, datatypes, etc. that are available to set up your Departments. The Users sheet/tab is where you will find all User-related columns, datatypes, etc. The other tabs will follow a similar format; however you can refer to our Users Data Import Sample CSV file to view an example of a CSV set up with User data.
Important for CSV Setup
CSV Data Formatting
It is imperative that the sample file provided to Absorb for testing is set up in the exact same format as the final CSV. Any changes to the formatting can result in delays and/org added cost. For this reason, we recommend using real data in your sample files, allowing us to identify quality issues earlier on.
Utilizing ExternalId Values
ExternalId values uniquely identify and link related LMS records, and can be nearly anything. It could be an External HRIS ID, email address, or anything else that is unique! These values can either be real, as assigned and taken from a system external to Absorb, or purpose-generated for the sole use of the data import. E.g., when importing Users and their Course Enrollments into Absorb, the value User_ExternalId in the Course Enrollment table would refer to the User table's ExternalId, thereby relating the two elements during the import.
Required Values
Be sure that you are including all required values into your CSV file during creation. Required values can be determined by the REQUIRED By Absorb column, in the Data Mapping Spreadsheet. YES indicates that the value must be present in the CSV.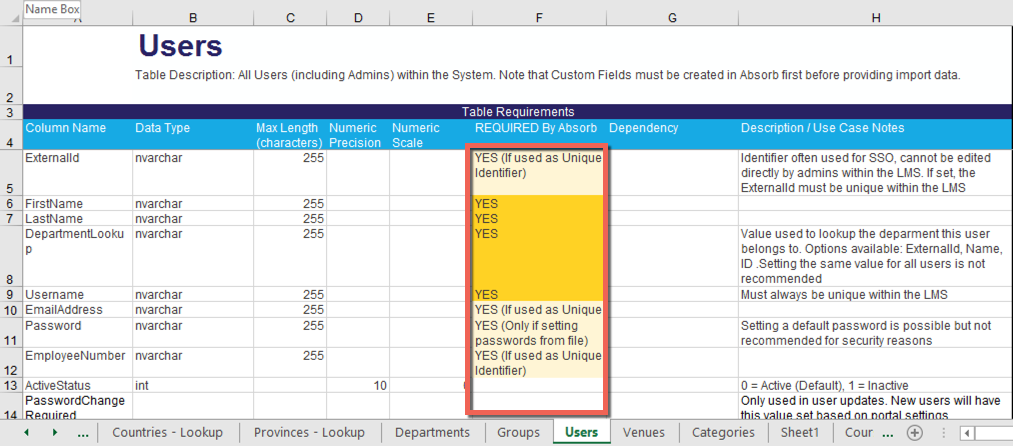 Validate Your Data
Before handing your import file off to Absorb, review and ensure that your data is valid. E.g., all external IDs are unique, referenced entities exist, special characters appear correctly, etc.
Custom Fields
If your organization has data that will need to be added to custom fields in the User Profile, this can be accomplished by using the CustomFields_ found in the Column Name in the Data Mapping Spreadsheet under the User tab.