Online Courses can be used for SCORM content, a wide variety of other content like video and documents as well as Absorb-based quizzes and exams among other lesson types. This article will cover all of the settings available to Admins when setting up a new Online Course.
Contents
To make a new online Course, you will need to do so from the Courses report, and select Online Course from the Add New menu.
General Tab
The General tab is where you can give your Course a title and a description. Below you can mark a Course as Inactive which will make it unavailable to your Users, but it will still be available from the Admin interface. You can think of this as something of a soft delete, or draft mode. It lets you keep all of the information that you have entered into the Course, while ensuring that Users will not be able to access it. Keeping the toggle set to Active will allow Users to see and enroll into the Course provided they are allowed to do so with the availability rules you have set up. We'll cover more on Availability shortly.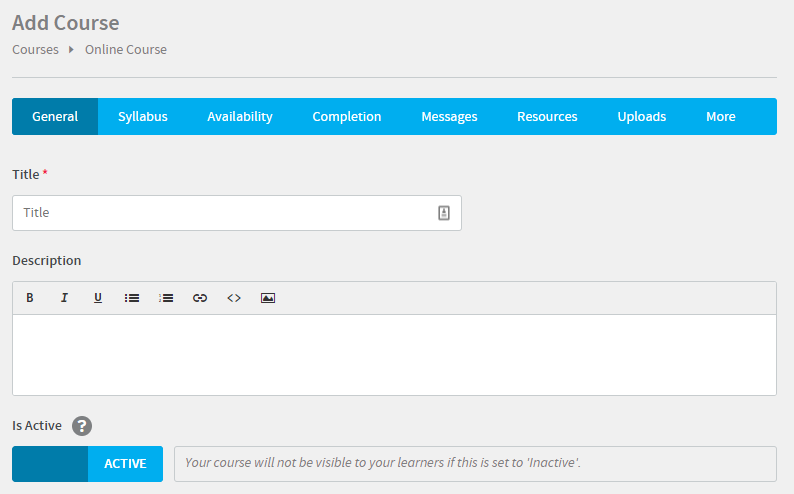 Next you are provided with the option to house your Course within a Category, or simply to keep the Course out in the open via the User Interface. Course categories are essentially a method of organizing your Courses into containers, similar to folders in a file structure.
You can upload your Course Thumbnail and Posters below the Category option, with recommended sizing labels for each. Thumbnails will appear as the course artwork when viewed as a tile on the dashboard or in the catalog. Posters will appear in an image slider in the course details page, providing Admins to present more images prior to enrolling or starting the course.
Below that, you'll find a place to add Tags. Tags are a method of organizing content, so that it can be grouped or searched within the User Interface. Tags can be managed by clicking the blue plus icon, or deleting them from the field entirely.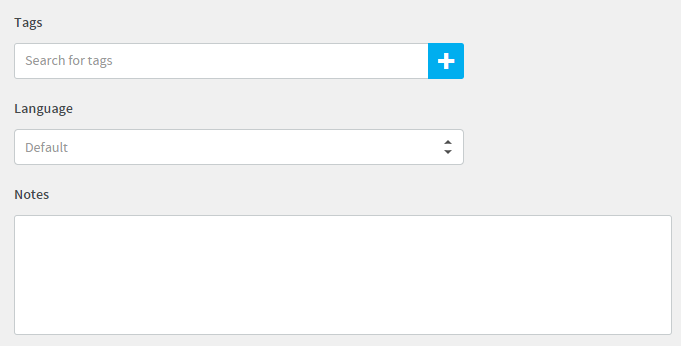 The Language drop-down menu is where you can determine the Course language. The final item in the General tab is the notes field. Here you can leave notes on this specific Course which will only be seen by the Admins - Users will not be able to see these notes.
Syllabus Tab
The Syllabus tab is where you'll find the primary tool for putting your Course together.
The first option here is to select a 'Must Complete' option. You can choose to have your Users complete all lessons in any order, all lessons in order by chapter, or exams only.
By default, Absorb adds an empty Chapter where you can add your Learning Objects. New chapters can be added by selecting the 'Add Chapter' button. This button will float to the bottom of the page, under any existing content as Chapters are added. New Lessons can be added by selecting the blue Add Learning Object button. You will want to ensure that you're adding Learning Objects to the correct Chapter, as the button will appear in each Chapter.
For more information on each Learning Object Type, and the available set up options, we recommend reading the below articles:
Availability Tab
The Availability tab is where you will determine how the Course is made available, through a variety of options and rules which can be customized as needed.
The first option is the Enable E-Commerce toggle (provided your portal has E-Commerce enabled) where you can choose if this Course should be available for purchase. Enabling this toggle gives you additional options, the first of which is whether you want to Allow Public Purchase. Depending on your organization's needs, you can enable this toggle here or keep it set to OFF so that only your existing Users can purchase it.
The Default Price field is where you can set a price for the Course. However, in the event that you would like to set alternative prices, dependent on the departments you have set up in Absorb, you can add a variable price by clicking on the Add Variable Price option. This will give you the option of choosing a department and price for this new Variable Price.
Next we have the Allow Self Enrollment toggle which governs whether the Course will be made available for self-enrollment in the Catalog or not. If you have any rules set here, this will determine which Users will be able to see this Course in the catalog and enroll into it themselves. You will also get a notification message that shows you how many Users actually meet that criteria. This is useful to make sure that you are not matching zero Users, and that you are also not matching your entire User base.
Please note: In order for the course to be able in the public catalog pre-login to the LMS, you will need to have both Public Purchase and Self Enrollment enabled, with no enrollment rules set. By doing this, users can add the course to their cart for purchase.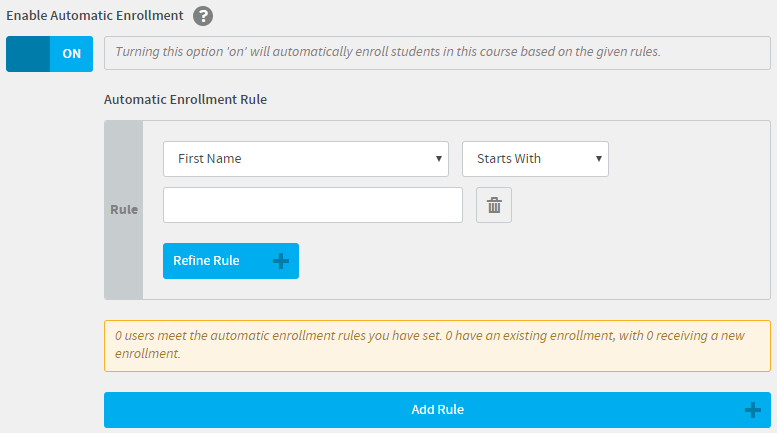 The same applies for Automatic Enrollment. You can set rules which will automatically enroll your Users into this Course. However, please take note – as soon as you hit Save, any Users matching these rules will be automatically enrolled.

You can also apply approval to the enrollment process. You can select from the None, Course Editor, Supervisor, Administrator or Other options to approve a User's request to enroll into the Course. While all of the options will automatically pull the correct Admin dependent on your existing User roles, the option will actually give a drop-down list and search function to look up any existing Admins in Absorb, letting you choose whichever ones you want. In order to approve the Course for the User, the Admin will receive an email, and it will require that they check and confirm that the User requesting enrollment is approved for this Course.
The Mandatory Course toggle will ensure that the course is prioritized within the learner's My Courses view. Learners will be required to complete the course with this toggle enabled.
The Featured Course toggle allows Admins to determine whether the course appears in the Featured Courses area on the learner's dashboard. Please note: the Featured Courses area needs to be added to the dashboard through the Template editor in order for these courses to appear.
Enabling the Proctor toggle allows Admins to have greater oversight during a User's attempt at an Absorb assessment. Once enabled, exam proctoring will require a specified Admin to approve an attempt on an assessment by entering in their credentials before allowing a User to continue, establishing the Admin's presence during that attempt.
Setting a date in the Access Date field will prevent the course from appearing in the Course Catalog and Learners will be unable to access to the Course until the Access Date has been reached. For example, you can set up self-enrollment on a Friday but hide from the Course Catalog and Learners until Monday. This Access Date does not prevent Admins from enrolling Learners manually or through automatic enrollment rules immediately.
A Course Expiration date indicates how long a Course will be available to a learner before access is no longer possible. Admins can choose from three different options using the check boxes as appropriate. No Expiration which will not enforce an Expiration Date. Time from enrollment will allow Admins to choose a specific length of time after the User is enrolled to complete the Course. Finally, Admins can also select a hard date that Users must complete the Course by.
Similarly, a Course due date indicates the expected date a Learner should complete a Course. The Course does remain available after a due date has been reached. Whereas with expiration dates, their access is entirely removed. Like the Expiration date Admins can choose between No Due Date, Time from enrollment, or choose a specific date.
As shown in the screen capture above, you can manage prerequisites for particular Courses. The first option is this 'Allow Enrollment' toggle. By default, this toggle is disabled so Learners will be able to enroll in this Course regardless of the prerequisites they have. When enable Learners will be allowed to enroll in the Course, but will be unable to take it until all prerequisites are met.
You can choose your requirement type between Courses, Certificates, or Competencies. The field will update dependent on your choice, however you can make your selections for Courses or Certificates by clicking the blue plus icon. You'll notice that Courses have a secondary option of setting the number of Courses that a User is required to complete, or you can choose to have them complete all.
Competencies can be chosen by clicking the Add Competencies bar as shown above.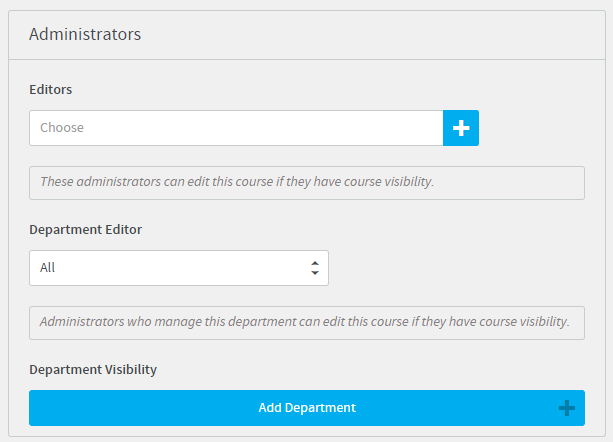 This area (as shown above) manages Administrative access to the Course, and there are a couple of options available to you. The first field is where you can select the editors to which you want to provide the ability to edit the Course, provided they have Course visibility.
The Department Editor drop-down menu allows you to select an entire Department from which the Admins are allowed to edit the Course provided they have Course visibility. Finally, there is the Department Visibility - all Administrators who manage the Department(s) chosen here will be able to view this Course.
Completion Tab
The Completion tab is where we'll be affecting functionality of the Course after the User has completed the syllabus.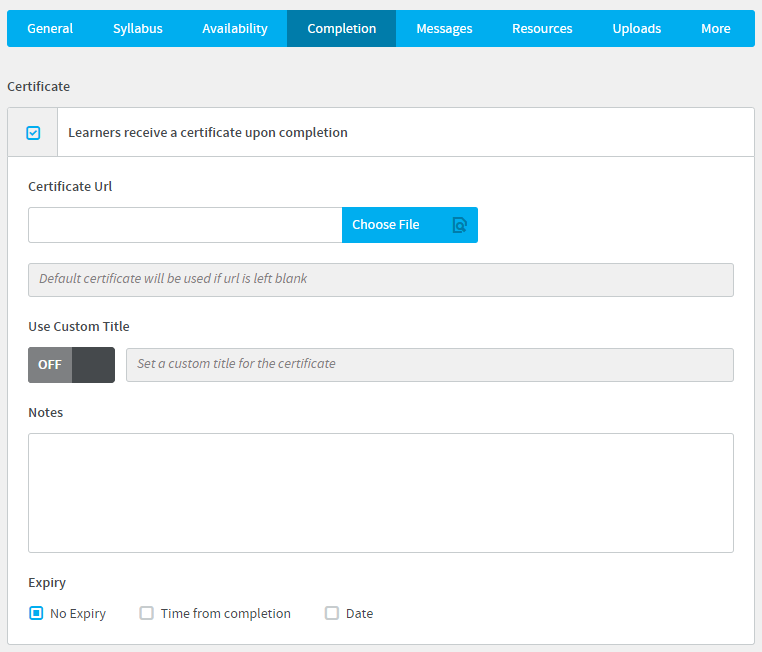 Certificates is the first available option here, and while you don't have to grant one, you can do so by checking the box. If no other certificate is chosen, Absorb will use the default certificate that has been determined in your Portal Settings.
Alternatively, you can also use a custom certificate, which can be uploaded from your local machine by clicking Choose File. If you like, you can enter a custom title by enabling the Use Custom Title toggle and entering the desired title in the field that appears. In addition, you can add notes in the Notes. This can be handy if you're looking to add some supplementary information to a certificate which utilizes the notes custom field. Under the Expiry label, you can choose if the certificate has an expiry date, and set the time from completion, or date if desired.
The Re-enrollment area is where you can allow your Users to re-enroll into this Course, either based on the time after Course completion or a specific time frame before the certificate expires. If you choose a Time before the certificate expires, you are provided the additional option to automatically re-enroll your Users.
Enabling the Allow Failure toggle allows for the Course to be marked as failed if a User does not achieve a passing grade. You can also allow for automatic enrollment upon failure. By default, Absorb allows for immediate re-enrollment, however you can adjust this to a specific time frame if desired.
For those portals that have the optional Mercury add-on, and have a Leaderboard set up, Admins can elect to override the default point value by entering a numerical value in the Leaderboard Points field. If no number is entered, the default portal point value will be used.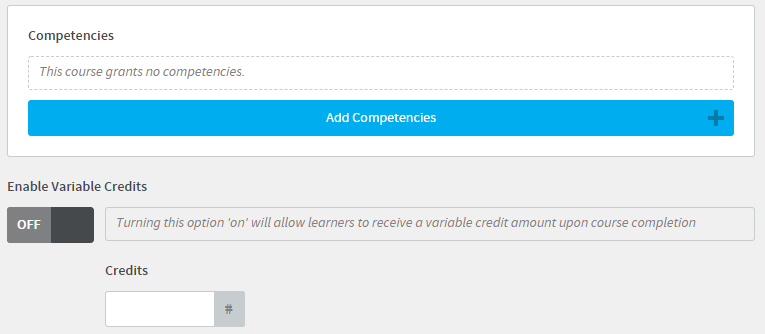 Competencies are essentially like badges that you reward to your Users upon completion. You can allow for your Users to be rewarded a Competency upon successful completion of the Course. Clicking here will bring up a modal window which will give you your options to select competencies to be awarded.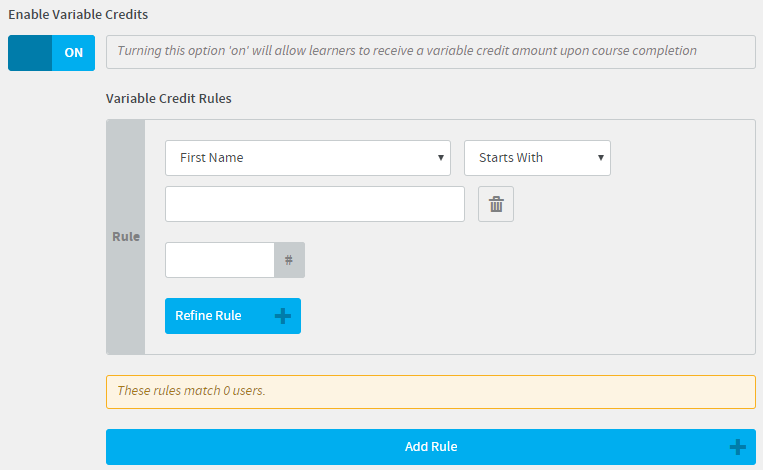 Below Competencies, you can establish how many Credits your Users achieve upon successful completion of the Course. Enabling variable credits will let you set different amounts of credits to specific users matching the variable credit rules.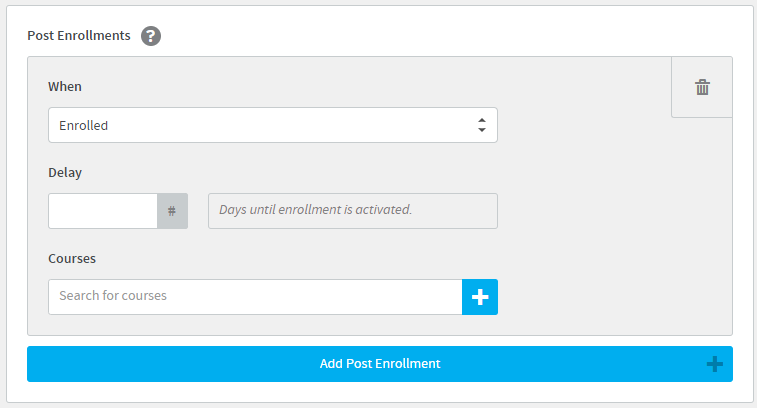 Finally, the Post Enrollments area is a useful tool for setting up an automated workflow to have your Users enrolled into additional Courses, ILCs, Curricula or Course bundles. You can choose when the User is enrolled into a Course based on enrollment, completion, or failure of this Course. These options become available as post enrollments are added. You will be given the option to set when the post enrollment happens (upon enrollment, upon Course completion, or upon failure), and the number of days the enrollment is delayed. Please note that you can choose more than one Course, ILC, Curriculum, and/or Course Bundle at a time.
Messages Tab
All Online Courses can send out notifications for events like Course completion and Course enrollment - all of which can be managed in the Messages tab. These templates and their settings are all available in Message Templates under the Setup menu as well.
However, these Course-level settings will override and Message Templates in Portal Settings, so keep this in mind when setting up your options in the Messages tab.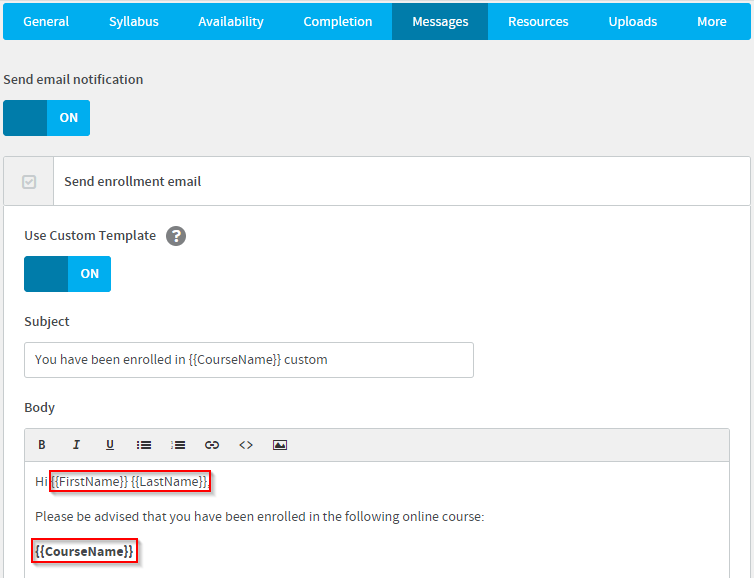 When we take a look at this email body right here for the Enrollment Email, you will notice that there are a number of items surrounded by curly braces. These are actually variables. When the email is generated to be sent to the User, these fields will be replaced by the appropriate information from your portal.
If you would like to add more variables to the email, you can do so by clicking on the expand button (shown in blue above), and then by using one of the buttons located within the variables list. Simply place your cursor where you want the variable to be placed and then click on the respective item to add it to the template.
You can format the email by using the toolbar at the top of the template content, or add in images if you would like too. If you're familiar with HTML, there is also an HTML editing option available for those looking for further customization.
At the bottom of the message template, you can see the different sending options. It is with these toggles you can decide to either send it just to the Learner, Administrator, supervisor, or all of the above. All of the Message Templates here work the same dependent on their respective event triggers, with the exception of the Nudge Email.

This can be set up to send out at equal intervals of time up to a maximum number of nudges as determined here. Absorb sets the default Max nudges to 0 which means the system will not send out any emails unless this is updated to one or more.
Resources Tab
The Resources tab allows you to add in Course-specific files made available to Users enrolled in the Course. Here you can choose to add PDFs, PowerPoints, videos, or a link to an external website for example.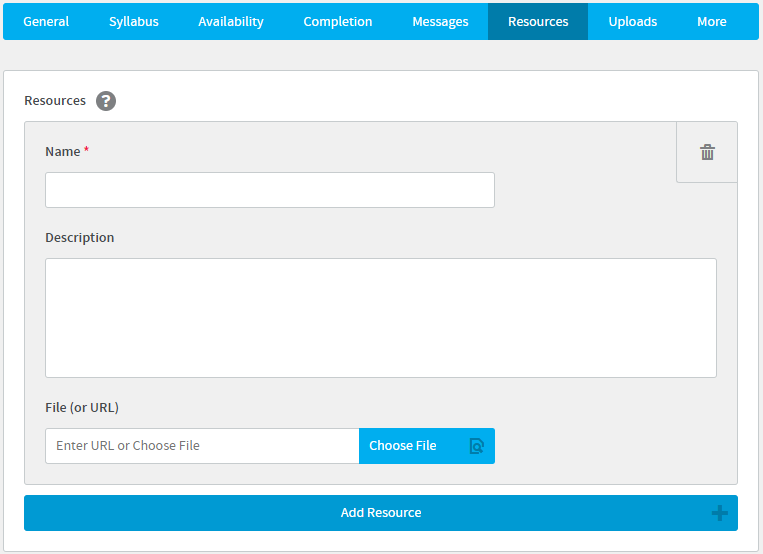 Uploads Tab
The uploads tab will allow you to add upload options for your users, this can be set as a default upload or a certificate upload. The default type will allow users to simply upload files for assignments, projects etc. from their computer to the LMS and add any additional notes along with the upload. The default type upload will be required for learners to complete the course. Approvals can be set for both of these uploads types if the upload requires approval after being uploaded and reviewed.

Upload instructions can be added to provided steps for learners when making use of the upload features. Configuring a certificate course upload within an online course will allow for easy tracking of learners training that has been completed outside of the LMS. This feature will provide a number of options when organizing information that will be provided by the learner.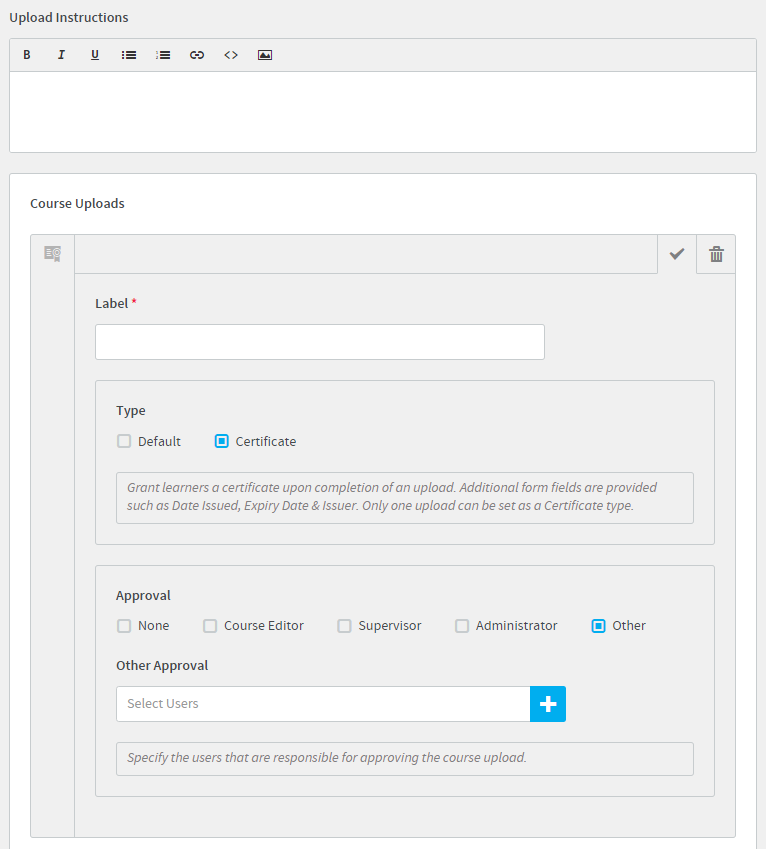 For additional detailed information regarding course uploads - Certificates please follow the link below.
https://support.absorblms.com/hc/en-us/articles/360022749633
For additional detailed information regarding the uploads feature please follow the link below.
https://support.absorblms.com/hc/en-us/articles/360009108954-Course-Uploads
More Tab
The last tab for Courses has a number of other options that don't fall under the previous tab categories, but still offer added functionality.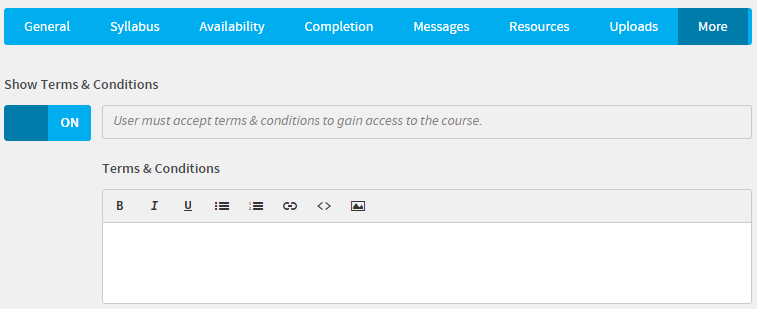 The first toggle on this page can be enabled to force your Users to accept terms and conditions in order to gain access to the Course. A field will become available to you with it enabled, and you can add the terms here.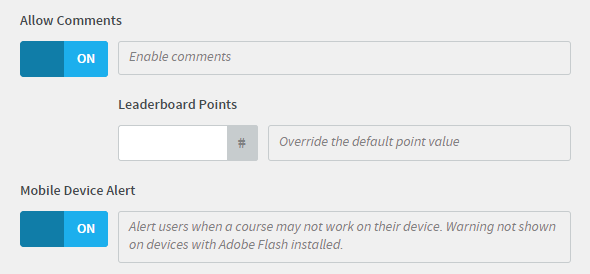 By enabling Allow Comments, you can permit your Users to communicate with one another within a Course discussion board. If you have a Leaderboard set up, you can also override your portal's default point value for leaving comments. The Mobile Device Alert toggle below it will give Users a notification message in the Learner UI when a Course may not work on their device, provided the toggle is enabled.
Enabling course content download will allow learners to select the course for offline access. Enabling for mobile app will allow users to view the course on the Absorb mobile application.

The Enable Recommended Courses toggle allows Admins to determine what other courses are recommended when viewing this course. This is done by utilizing tags added to other existing courses. Any courses that have a matching tag will be recommended alongside this course.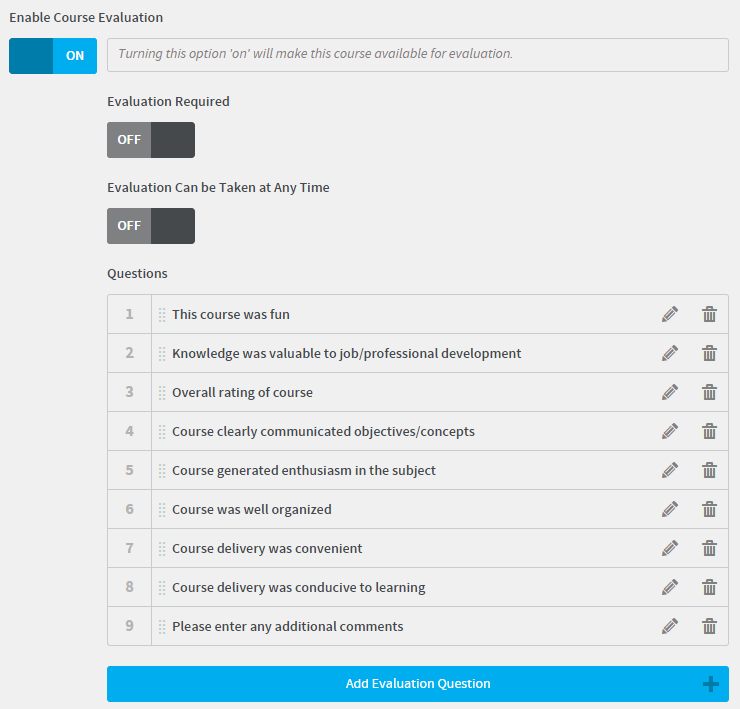 Enabling the Course Evaluation toggle will give Users enrolled in the Course the option of completing the default Course evaluation that is configured within your Portal Settings. You also have two additional options here, where you can make the evaluation mandatory which will keep the Course from getting marked as Complete until they finish it. The second toggle option, allows enrolled Users to take the evaluation at any time, adding flexibility for your Users to complete it whenever they like. You can also customize the Course evaluation for your Users on a Course by Course basis by editing the questions as they are listed.

The Enable Course Rating toggle will determine whether Learners are able to rate the course out of 5 stars, and provide an alternative feedback method for Admins.
Finally, you can fill in some additional Course related information below the Course evaluation area, which is data that will be pulled into some of the reports in Absorb. The fields here include:
Audience
Goals
External ID
Vendor
Company Cost
Learner Cost
Company Time
Learner Time