When Comments are enabled on an Online Course, ILC, or Curriculum, as an Admin, you may wish to maintain and monitor any comments being left about the content.
In the Comments Report, you can view all full list of Comments and all replies to any Comments for every Course that has the Comments feature enabled. To access the Comments Report, select the Courses icon(

) and then select Comments.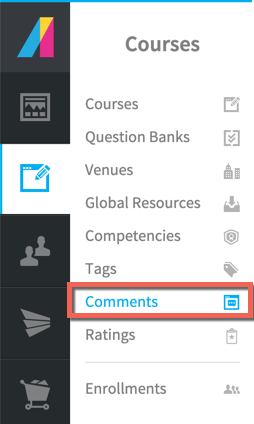 Within the Comment Report, you can filter the Comments Report by Course Name, Comments, Replies, etc. You can also choose Add Comment in the Actions menu of the right side of the page to add new Comments.

Once you select a Comment, the Actions menu on the right will update, and allow you to click on Manage Comment.

The Manage Comment page will provide you an area to make any changes needed. As an Admin, you have the option of using the Write a comment area to add a comment to the Course if desired. The Attach a file paperclip button allows you to attach a file to submit your comments.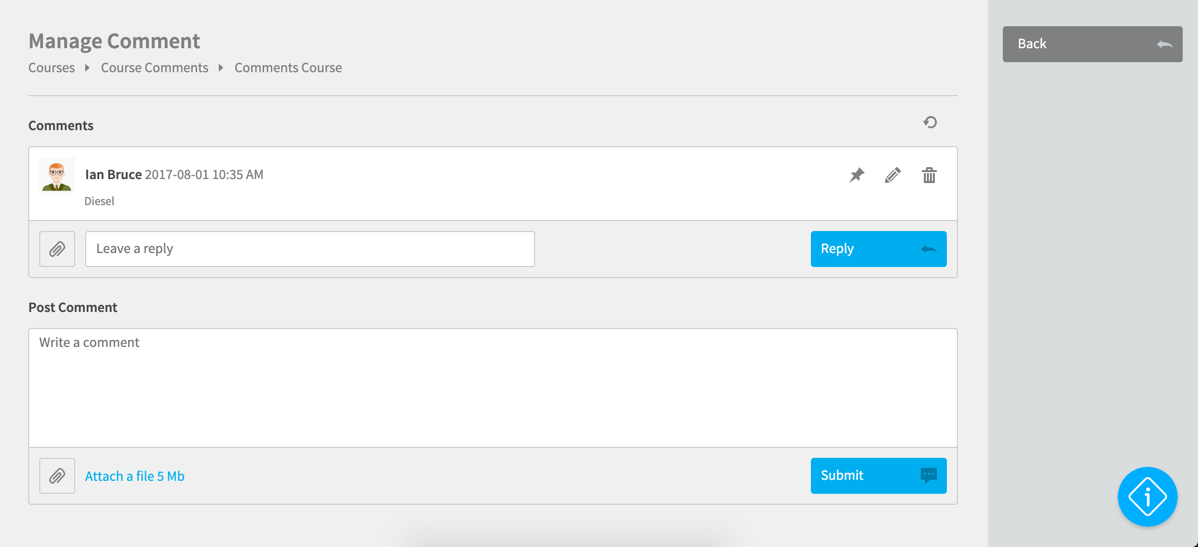 Admins also have the ability to reply to any of the course's existing comments. This functions the same as the Post Comment area, with the ability to attach a file as well.
You can choose to pin a comment to the top of the page in the Learner UI by clicking on the pushpin icon.
Comments can be deleted by clicking on the trash can icon instead. It is important to note that when a comment is deleted, any replies to that comment are also deleted.