This article details the expected functionality of a portion of the refreshed Absorb LMS Admin Experience (AE). Click here to learn more about this free upgrade available to you.
Overview
Course Ratings are a valuable tool which provides Learners the ability to add a 1-5 star rating to a Course. This feature will help you identify which Courses are popular and where your Catalog has opportunities for improvement. This is especially valuable in an environment where Learners are choosing their own Courses, such as purchasing through E-Commerce or self-enrolling in an open Professional Development LMS environment. The benefit of Course Ratings compared to the similar feature Course Evaluations is that it is quick and easy for Learners to provide provide their feedback.
In this guide, you will learn how to set up a Course Rating. For information on the reporting options for this feature, please visit the Course Evaluations Report article.
Note: Course Ratings are available in all Course Types, except Course Bundles.
Important FYI
Course Ratings are available for Courses, Curricula, and Course Bundles.
When Course Ratings are toggled off after they have been active, the reporting data will be inactive and no longer appear in the Course Ratings Report. Re-enabling Course Ratings will activate this data and it will reappear in your reports.
Course Ratings can be updated by Learners. Since rating data is gathered per-enrollment, this will update the reported score and date rated in the existing entry of the Course Ratings Report.
Setting up a Course Rating
Setting up a Course Rating
Course Ratings can be configured by navigating to the Courses administration page, selecting an existing Course to Edit or select Add from the Action menu. Navigate to the Attributes section of the Course Management page, and toggle on Enable Course Rating: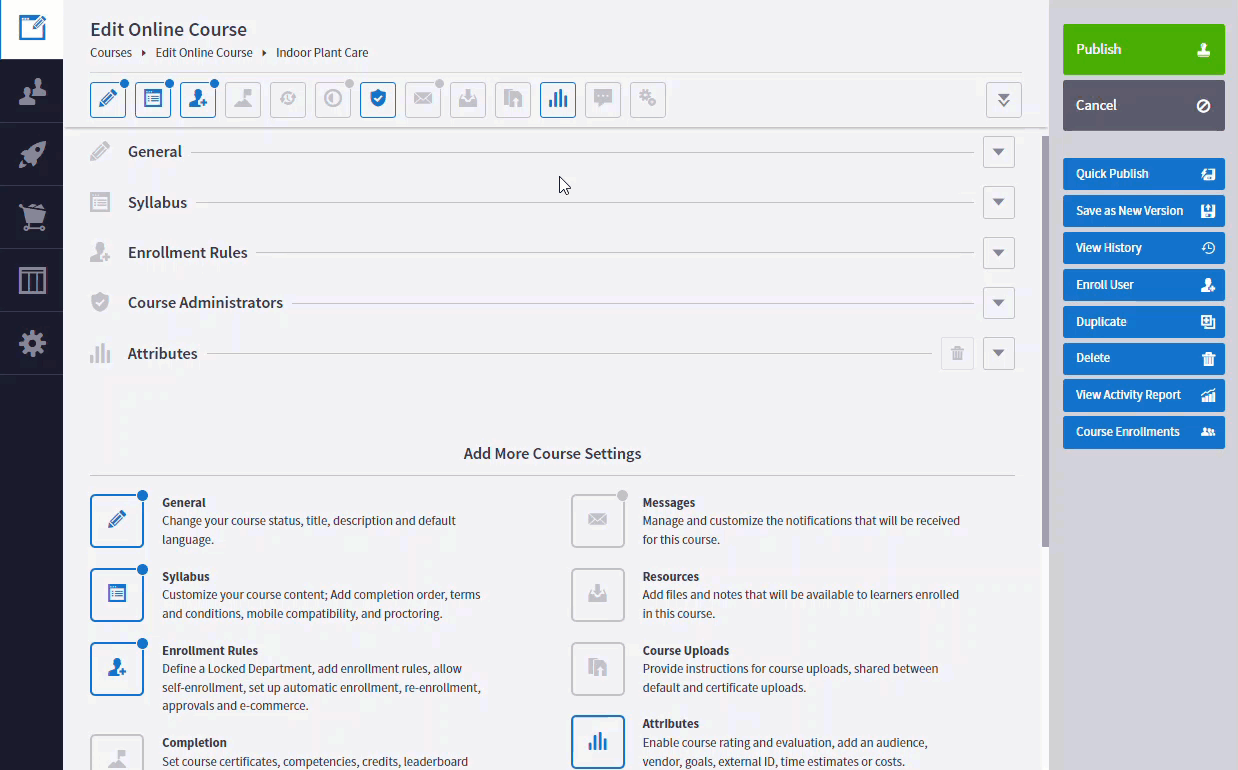 Catalog Visual Example
Catalog Visual Example
Once your learners have begun progressing through their Courses and submitting ratings, the Courses available to them will display their average star rating: