Admins can create Featured, and Mandatory courses for the learners. Featured and Mandatory courses can be displayed on your portal's dashboard, while Mandatory courses have the additional benefit of being a filter when viewing the Catalog, or My Courses.
Enabling Mandatory and/or Featured Courses
To enable either option, go to the Availability tab when setting up an Online Course, ILC, or Curriculum. Scroll down the page and you will see the two toggle buttons that will allow you to turn these features on.

The Mandatory Course toggle will mark the course as such within Absorb LMS immediately after saving the course with the toggle enabled. It will then show up in the Mandatory ribbon on the dashboard provided that the ribbon has been added to the dashboard. We will discuss adding the Mandatory ribbon shortly.
Any courses that are marked as mandatory within each course's settings will be in addition to the single, mandatory course if set up in the Users tab within Portal Settings.
(Do note that Course Bundles only has the the Featured toggle button. Admins can determine whether the courses within a Course Bundle are Mandatory during the setup process of each individual one.)
Adding the Mandatory and/or Featured Ribbon(s)
In order for your Featured and Mandatory courses to appear in their respective ribbons, those ribbons need to be added to the dashboard. To do so, you will need to access the Templates within the Setup menu. Once the report has loaded, select the template you wish to make changes to, and click Edit.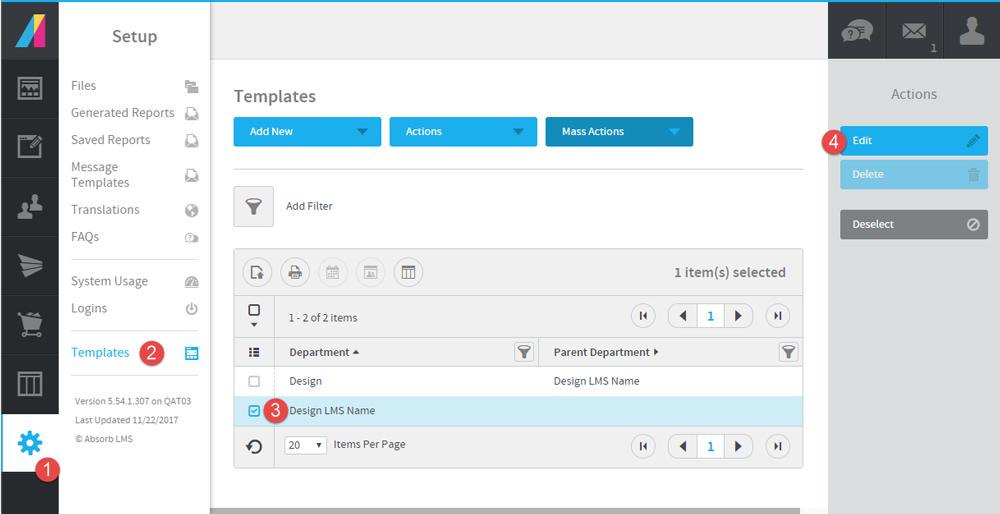 Regardless of whether you wish to update the Public, or Private dashboard, the setup process for either is the same. To add your Mandatory or Featured courses to the dashboard, you will need to add a new container, or change the settings of an existing one. The container type needs to be set as Ribbon from the primary drop-down menu.
The secondary drop-down menu then needs to be set as either Featured Courses, or Mandatory Courses depending on your preference/needs. Note: Only one option from the secondary drop-down menu can be made. If you wish to have both Featured Courses, and Mandatory Courses ribbons on your dashboard, you will need to add or update a second container to do so.
Once you are happy with how you have set up your dashboard, click on Save to retain your changes. Note: Any changes made to your dashboard will be lost if you change to a different tab, or move onto a different page, before clicking Save.