This article provides information and guidance on a portion of the Absorb LMS Admin Experience that is now upgraded to the Admin Refresh Experience.
Please visit our Absorb Admin Refresh Checklist article for more details about what is available with the free Absorb Admin Experience upgrade.
Generated Reports Administration
Admin Refresh Experience: Setup
---
Table of Contents
---
Overview
The Generated Reports page, also referred to as the Generated Reports Administration page, allows you to view any Report you have previously created and chosen to export from an administrative report page.
To be able to export information from the system, a report must be generated. Once the request to Generate a Report File has been made, the report will appear in the table on the Generated Reports.
Important: Please note that Generated Reports are static. Generate Reports contain the historical information that was available at the date and time it was created.
Admins can only view their own Generated Reports

Note: Custom Roles must have Generated Reports selected to have access to this page.

System Admins can view all Generated Reports.
Learn how to create a Generated Report here.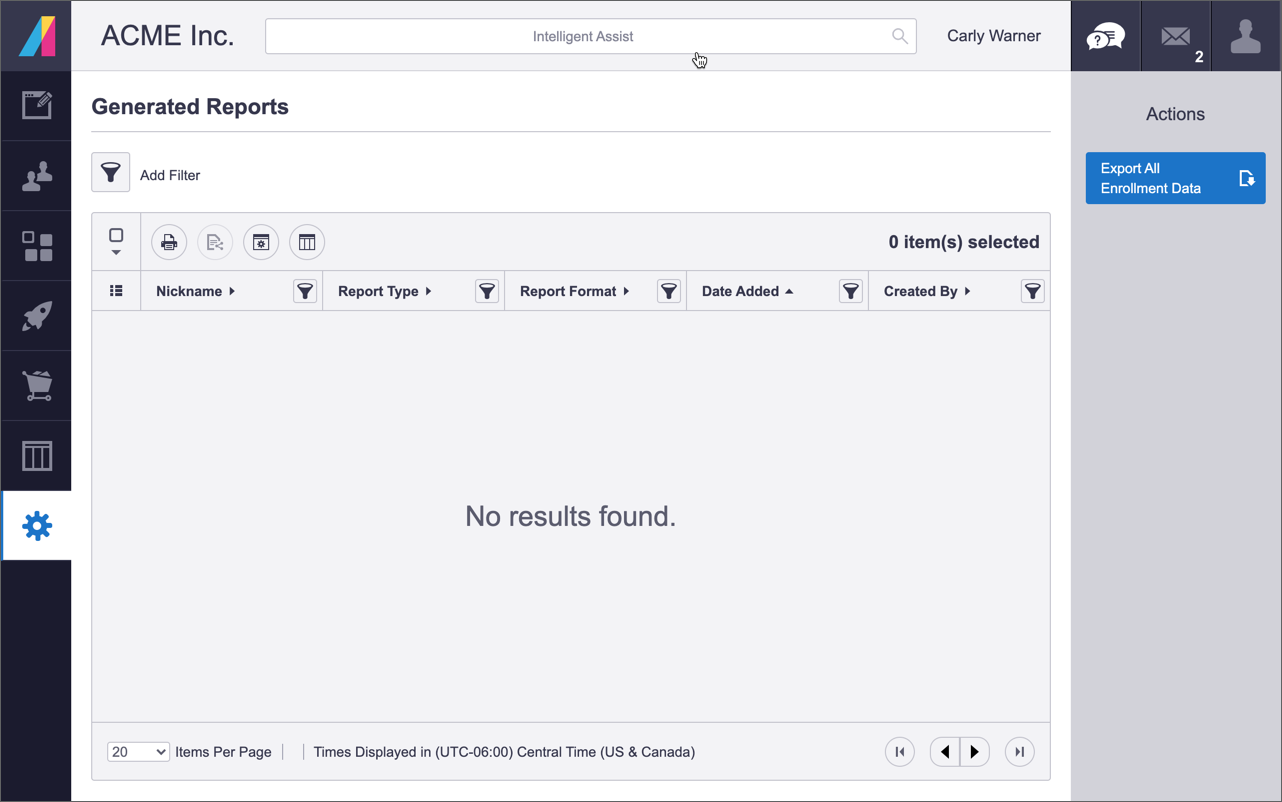 ---
About the Report
The Generated Reports Administration page can be accessed through the Setup menu of the Admin Experience. From here you can export and delete Generated Report files.
You can customize this report to provide information on any of the data points listed below.
Notes
| Data Column | Description |
| --- | --- |
| Created By* | This column displays the First Name and Last Name of the Admin who originally Generated the report. |
| Date Added* | This column displays the calendar date and time the Generated Report was first exported. |
| ID | This column displays the Generated Reports' identifier automatically assigned by the LMS and can be used in creating deep links in Absorb. |
| Nickname * | This column will display the Nickname designated to this report when you created it as a Saved Layout. |
| Report Format* | This column displays the format, either CSV or Excel, that was chosen for the report. |
| Report Type* | This column displays the name of the Administration page in Absorb where the Generated Report was originally created. |
| Time to Generate | This column displays the hours, minutes, and seconds, 0h 0m 6s, it took to create the Generated Report. |

Note: The refreshed Admin Experience does not support Generated Reports that contain multiple columns with the same name to be exported as an Excel file.
To retain a Generated Report with multiple columns with the same name, you will need to export the data as a .CSV file.
---
Report Data & Time Considerations
When exporting data from your Absorb LMS portal, please be aware of how the Date and Time values may vary based on different settings within different regions.
The Calendar Date and Time information used in Absorb reports are based on a couple of factors:

Your device's time (computer, laptop, smart device, etc.)
Your Absorb LMS portal's Default Time Zone selected. This is visible in Portal Settings > Defaults.

Exported report data will be formatted as per the chosen options in Portal Settings > Defaults unless Microsoft Excel settings override the format.
Exporting report files as .CSV will remove all applied formatting.
Why does Report Generation Take a Long Time?
Generating Report Files normally takes seconds to complete, but on some occasions when there is a large or complicated file to assemble, the system may need a little more time to process the export. Should this ever happen the Report Generation in Progress modal will display and provide a status on how long the report will take to generate.
The Admin can choose to close the Report Generation in Progress modal and continue working or wait until the Download button is available within the modal. If the Admin has chosen to close the modal, the report will only be available to download from the Generated Report Administration page, unless the Admin has chosen the option to Send Email Upon Completion.


Example: Admin Refresh Experience Report Page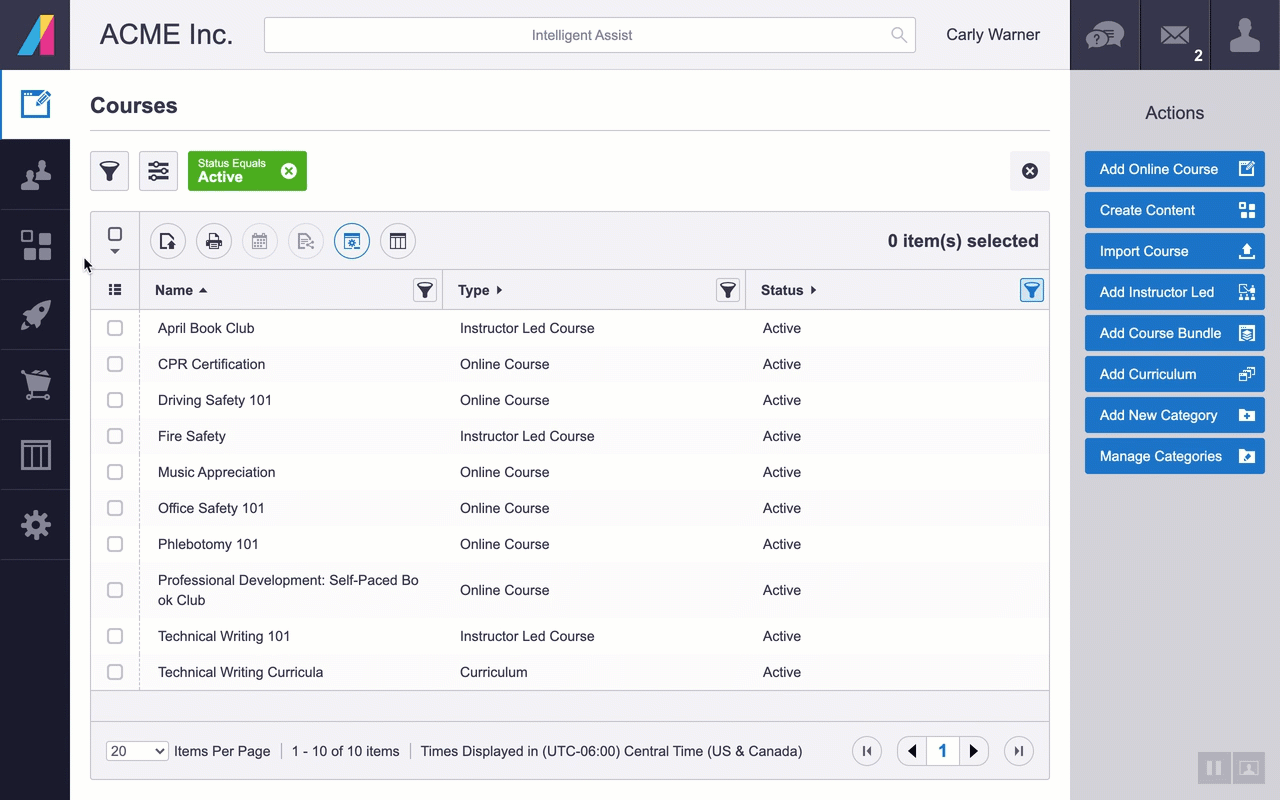 Example: Previous Absorb LMS Interface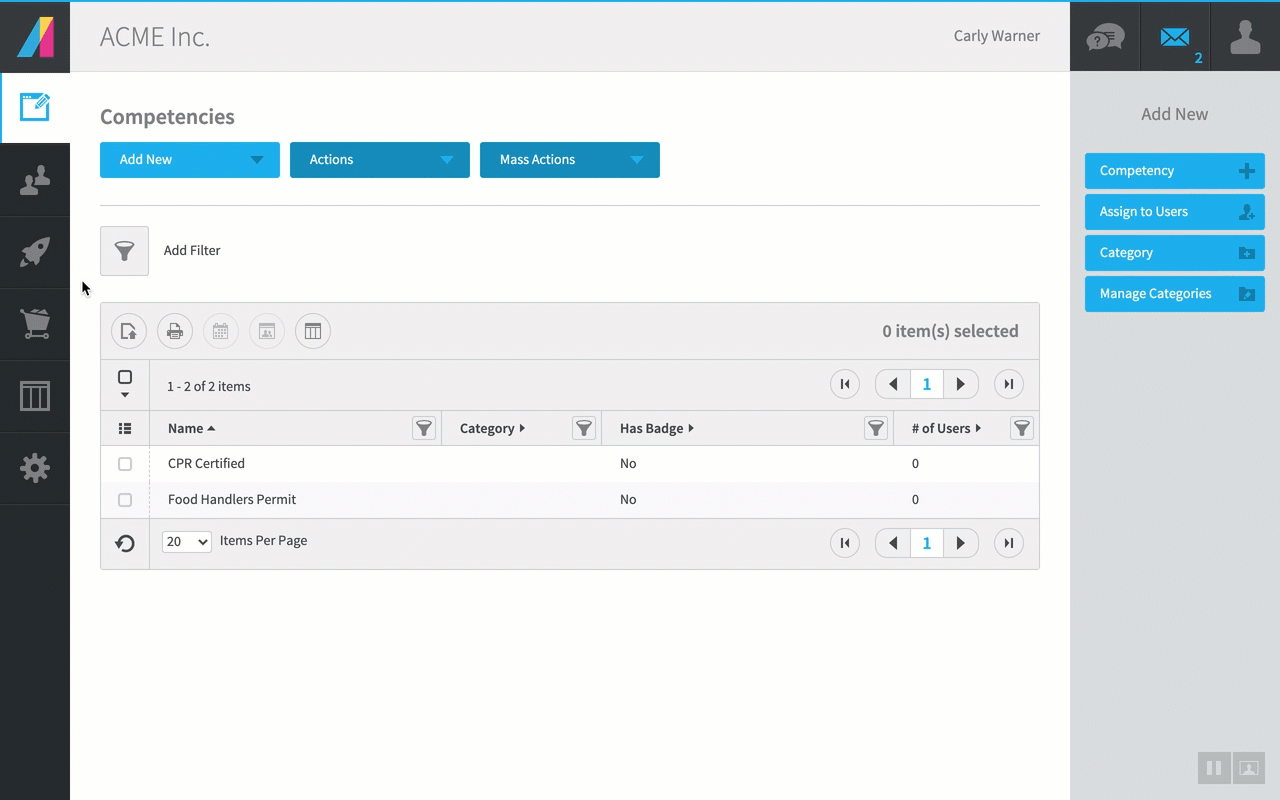 ---
Roles & Permissions
Generated Report Administration
Please note that your environment may use customized Role(s), Permissions, or a combination of both to regulate access to this report.
Admins must have Generated Reports in their Role, in order to export data to Excel or CSV on any Administration page or Report page.
If you have questions or need assistance, please contact your local System Administrator to review your current permission set.
Required Role Permissions
| Role: Section Access | Permission(s) Needed |
| --- | --- |
| Reports > Generated Reports | |