Introduction
Many organizations' administrators purchase courses on behalf of their learners. At checkout, the purchaser can purchase a single seat on behalf of another learner. When more than one seat is purchased, the LMS will always consider this a purchase on behalf of others. This article will guide you through the Buy on Behalf feature setup process.
Use Case
An Administrator wishes to purchase a seat for a course or set of courses for another learner.
The user adds courses to their cart.
Before checkout, the user selects the 'Purchase on Behalf of Others' checkbox on the cart.
Following completion of the transaction, an enrollment key will be generated, which will enroll the current learner into the course or courses upon redemption. The enrollment key will be delivered to the purchaser as part of the receipt.
Instructions
Follow the below steps to set up the Buy on Behalf feature:
Note: A System Admin must enable the functionality at the portal level via Portal Settings.
Step 1: Enter your portal settings and select the Manage E-Commerce Settings button.
Step 2: Enable the Single Seat Enrollment Key Purchase toggle button to ON via the Settings tab.
Customer Experience
When this feature is enabled, users who purchase courses can choose checkout if they buy the course for their own enrollment or on behalf of others.
1. A course or courses are added to the cart.
2. The user selects their cart to review their transaction before purchase.
3. If they purchase for their own enrollment, no change to their workflow is needed.
4. If they're purchasing for another learner, they must select the Purchase on behalf of others checkbox.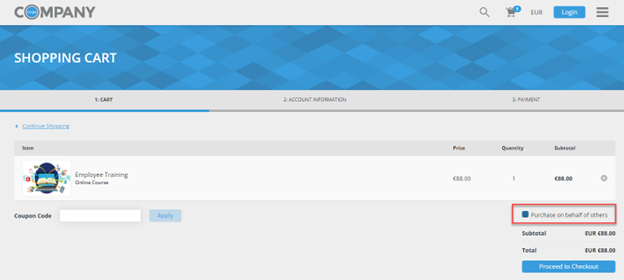 5. When the transaction is complete, an enrollment key will be created and made available to the purchaser on receipt.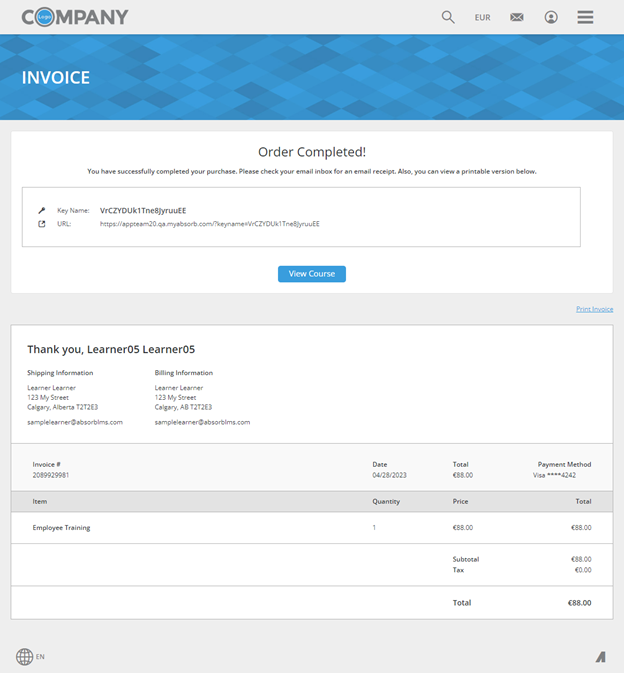 Important Note
Please note that when more than one course seat (quantity of 2+) is purchased, an enrollment key is automatically created. The system requires that your purchase is on behalf of others. In this case, the 'Purchase on behalf of others' checkbox will be checked and mandatory.