Lessons can be renamed in two ways within the Create app. The name change will be pushed over to the lesson object when the content is re-published. The new title will appear to the end-user when the content is played.
From the course settings, change the name of the lesson in the title: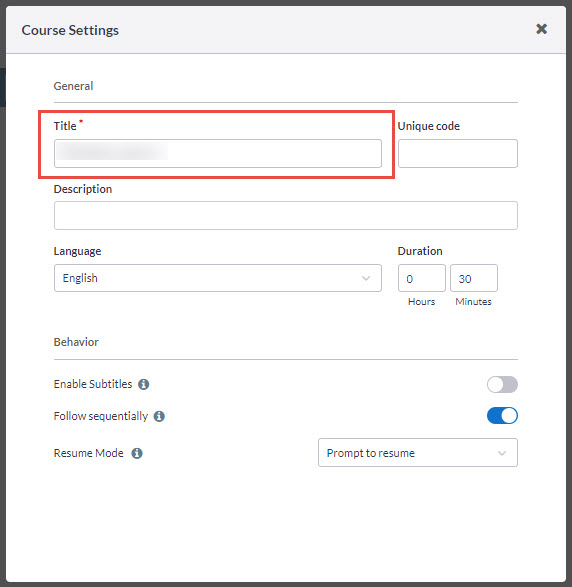 From the workspace, rename the lesson from the drop down menu:

Renaming Create lesson objects in Absorb
Lesson objects cannot be renamed within the lesson report. From a course, however, the lesson object can be edited to provide a lesson title that is viewable to the end user:

The new title can be previewed in the lesson content. In the diagram below, (1) is an unedited lesson title, (a change could be made using the edit lesson option illustrated above); and (2) is the lesson title change edited in Create and viewable in the content object:

Considerations for planning lesson nomenclature
Use this diagram as a guide for where title changes are viewable to end users, and where they stay stable.
| | | | |
| --- | --- | --- | --- |
| | Absorb Create | Absorb Lesson Report | Associated Course |
| Lesson Object Name | Not viewable to end users or changeable by admins | Not viewable to end users or changeable by admins | Lesson object name is inherited from the Lesson report, it can be changed for end users, see (1) above |
| Content Title | Changed within the content object on Create, and viewable to the end user upon Publish | Content title is overwritten within the lesson object on re-publish | Changes will be viewable to end users, see (2) above |
Because lesson objects can be shared with any course, curriculum, or user group in the LMS, it is a good strategy to keep the content titles very basic and avoid branding or sequencing that might have to be undone for another use case.
Leverage the edit tools within the course to add any additional context to the lesson object title.
Advance planning can reduce the number of times that content objects need to be renamed, and this will reduce confusion as your project grows.