The Import Users functionality within the Admin UI provides an easy way for you to add and update your users in bulk. This functionality allows user data to be populated in a CSV (comma separated value) spreadsheet and uploaded to the LMS to be converted to new or updated learner data. This article details the standard User Import tool available in the Absorb admin portal. If you're looking for information on historical or scheduled data import services, please see our Data Imports article. 
The two main stages of importing users via this method are:
Creating a CSV File
If you're new to CSV files, you may want to review our article called "What Is A CSV File...". It covers how to save a CSV file for importing Users, and what a CSV is. 
In order to have your import file upload, validate, and process as expected, there are a number of things to keep in mind when creating your CSV file. At the bottom of this article you can find a sample CSV that contains all of the possible user fields. Use it to create your own by filling it with your users' information, delete the columns you don't need, and add your custom fields if applicable. Note that the order of the columns is irrelevant. 
If adding new Users, the CSV file must contain the fields First Name, Last Name, and Password in order to pass the validation process.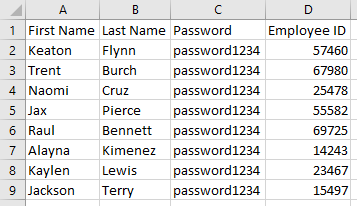 If updating existing Users, the only required field would be at minimum one of the following Unique Identifiers to identify which user to update along any fields you're looking to update (as noted in Mapping the User Fields). The options for Unique Identifiers are: Email Address, Employee Number, External ID, Username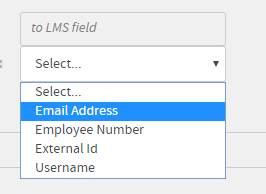 Beyond these required fields, you can include many other user fields - both standard and custom ones - to upload for import. Below you can find a list of the standard Absorb user fields which are also available in our sample import CSV file. Please note that you can still upload data for mapping to your custom fields as well.
Username
Middle Name
Gender
Language (for a full list of Absorb's language codes click here)
Address
Address2
City
State/Province (if this in your CSV file, Country must also be present)
Country
Zip/Postal Code
Phone
Employee Number
Location
Job Title
Notes
Email
Date Hired
Termination Date
External ID


Fields that Cannot be Mapped
The four fields below cannot be mapped via the import process due to technical reasons. 
Is Active
Supervisor
Avatar
CC Email Addresses
Is Active can be updated in bulk through the mass actions feature in the Users report. The Supervisor, Avatar, and CC Email Addresses must be updated manually through the Users report. 
Another four fields that are not available for mapping through the import process are:
Department
Is Learner
Is Admin
Is Instructor
These fields, however, can be managed through the additional fields/settings section of the import process.
Additional Fields/Settings
We'll cover this further later in the article, however once you've uploaded your CSV file, there will be additional fields available for you to apply to all of the users you're importing. The difference between the headers you include in the CSV and these additional fields is that in the CSV you have specific information related to each user (that may or not differ from other users), whereas in the additional fields you bulk assign/update the SAME data to ALL users that exist in the CSV.
The available additional fields are:
Department
Roles:
Language
Country
Province
City
Location
Job Title
Date Hired
Date Terminated
Notes
All custom fields


Uploading a CSV File
Once you have your CSV file created/formatted, you'll be able to import the file and get started. Reminder: your UTF-8 formatted CSV file will require column headers for First Name, Last Name, and Password in order to pass the import validation process.
In Absorb, navigate to your Users report and, without selecting any users, select the USER IMPORT button from the top or side bar
On the next page, you will be prompted to point to the CSV file that you have created, with options to select an existing file from the File Manager or upload a new one from your computer.  



Mapping the User Fields
Once you have successfully uploaded your file, you will be presented with several options that allow you to determine how to use the data that has been imported. 
First, using the LMS USERNAME drop down menu, select how you would like new users' usernames to be created. You can choose from any of the fields that are included in your CSV like e-mail address, or by combining the FirstName.LastName entries together. 
Next, you can choose whether you wish to UPDATE EXISTING USERS that already exist in your LMS with the imported data. By matching LINK SPREADSHEET FIELD with the fields available in the TO LMS FIELD drop down, you can quickly and efficiently update any matching user's fields with the data being imported. This will either write new data to blank fields or replace existing data, so it is important to proceed with caution here. Usernames, first/last name, password and department can not be imported as an update, however department can be changed for all users in the import (using the ADDITIONAL FIELDS functionality explained later in this guide).  
You may have also noticed the option to SEND NEW USER EMAIL in the screenshot above. This will email your portal's NEW USER message template to all of the new users that are being created by the import. Updated users will be omitted.
Next, you will see the SOURCE DATA PREVIEW. This is not an exhaustive list but rather the first 5 records in your document for you to work with. Here, you will want to map out each imported column to the user fields in your portal. Depending on the naming scheme used in your document, the LMS will attempt to intuitively auto-match your column headers with your user fields, but this can be manipulated using the drop down menu below each header. Review if the auto-match was successful and remember to manually match whenever the "Select..." option is displayed as this means Absorb was unable to auto-match this for you.
If a field is not matched the import will still go through, but unmatched fields will not be uploaded.
Note: If you have a Username column in the CSV you wont be able to match it to the corresponding Absorb field - leave it as "Select..." because you already matched it in the first step of the import.
Below the SOURCE DATA PREVIEW section, you'll find an expandable ADDITIONAL DATA section. This area allows you to specify additional data that will apply to all users being imported, and contains a few fields such as DEPARTMENT, LEARNER, and ADMIN that, for technical reasons, cannot be imported directly from CSV file.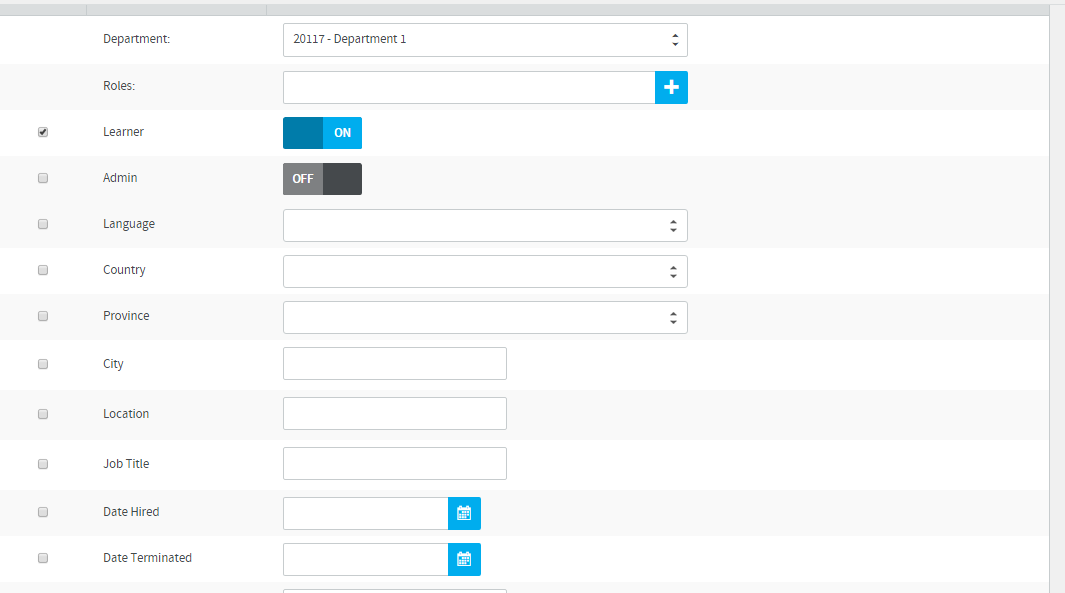 Validation
Finally, once you are ready to add your users to the LMS, the last step is to click the VALIDATE button in the side bar to perform a check on the mapping you have configured. During the initial upload to the LMS only the file type is validated, but another validation needs to be performed now that your data has been given context. During the validation, any such conflicts will be passed back as errors (including the line number in your document affected). If this occurs you will need to either alter your CSV document and try again, or adjust your mappings. In the event that no conflicts are found, you'll be shown the total amount of users that will be created and updated. Be sure to click on LOAD once you are ready to have all users added to your portal. 

Things to note
Imports can only include one department at a time. If you wish to import multiple users into various departments you will have to split the imports up into their respective department and select it in the Additional Details. You can also change the department after the users are uploaded. 
When updating users it is not possible to update their username. Usernames are unique and the system uses it to link the data in the CSV to the LMS. When using Update Existing Users you should be sure that the LMS Username is generated in the same way as when the users were added. 
Once the import is successfully validated, the users will be added to your LMS!