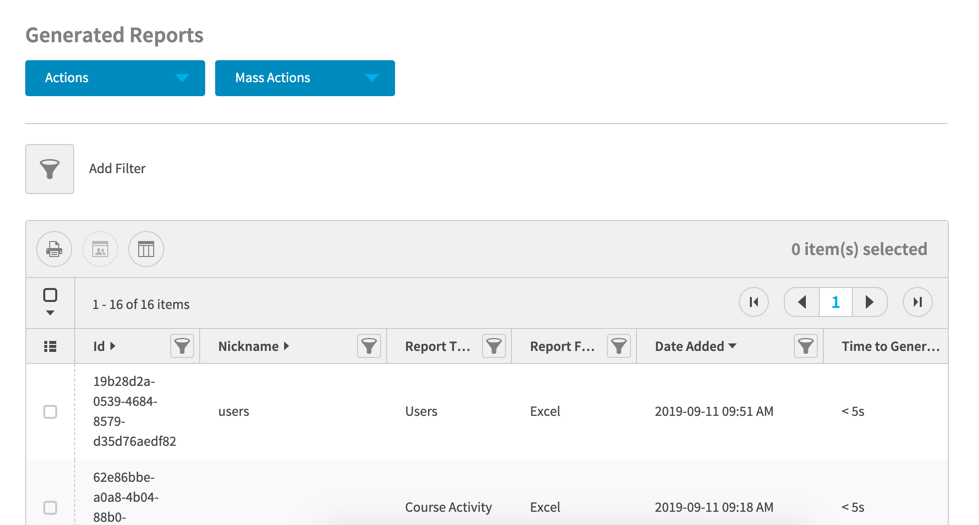 Overview
How It Works
Absorb's Setup module provides Admins with a Generated Reports tool. With this tool, Admins can review any Report(s) that they have previously created and exported to their computing device for use in a software application other than the LMS.
Any time an exportable Report file is generated in the LMS, it is also captured here in this Report. If the historical data contained in the Report ever needs to be accessed again at a future date, it is still available.
Items in Generated Reports can be exported again in the format that they were originally created in: XLS format (for use in MS Excel) and CSV format (for use in other non-Excel spreadsheet applications).

Report
Absorb's Generated Reports tool will launch using the standard Report layout as its starting point. Here an Admin can download a Generated Report, delete a Generated Report, or run a custom Report for the Generated Reports. The basic Generated Reports - Report can be customized to provide data on any of the following parameters:
| Element | Description |
| --- | --- |
| Date Added§ | This column displays the date the Generated Report was first created and saved to the LMS. |
| ID | This column displays the Generated Reports' identifier automatically assigned by the LMS and can be used in creating deep links in Absorb. |
| Nickname§ | This column will display the Nickname you have designated to this report when you created it as a Saved Layout. (Review this article to learn how to create a Saved Layout.) |
| Report Type§ | This column displays the name of LMS feature in Absorb where the Generated Report was originally created. |
| Report Format§ | This column displays the format, either CSV or Excel, that you chose for your report. |
| Time to Generate§ | This column displays the amount of time that was needed to create a report that could be downloaded on your computer. |
(§ - Columns shown automatically as part of the default report view.)