Overview
Absorb's System Usage Report can be used to help you analyze departmental learner activity.
This report's only objective is to amalgamate the learner statistics from across the LMS that best gauge the use and acceptance of the Admin's overall learning program. Here, you can assess the growth in your new learners, how much learning is being done, etc. This type of information can be very helpful to share with other leaders (i.e. non-Admins) who may be responsible for overseeing the training effort or who may lead these departments.
Report
To launch this report, login to the Admin dashboard and click Setup (

) and then System Usage.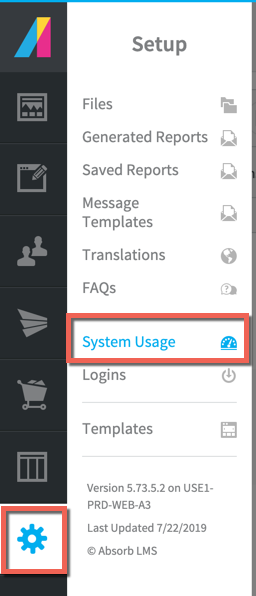 Absorb's System Usage tool will then launch displaying the standard report layout as its starting point where an Admin can run a custom reports.
System Usage Report
The basic System Usage report will launch displaying default columns yet the report can easily be customized to display only those items you would like to report on. To view all available data and select the fields you would like to display, click the Display Columns icon (

) in the upper left corner of the report. The select (check) any of the items that you want to display. Below, we have defined what each of these fields will display.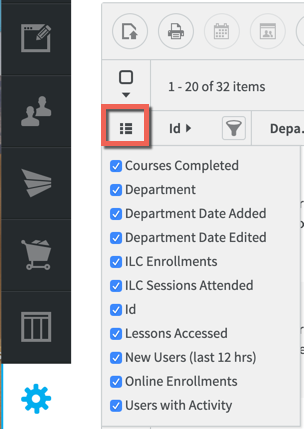 The data available in this report includes:
| Element | Description |
| --- | --- |
| Courses Completed* | This displays the total number of learners in the Department that have successfully completed an Online Course or an ILC. |
| Department* | This displays the name assigned to a common group of users in the LMS. |
| Department Date Added | This displays the date the Department was first created and saved to the LMS. |
| Department Date Edited | This displays the date the Department was last updated and re-saved to the LMS. |
| ILC Enrollments* | This displays the total number of learners in the Department that are enrolled in an Instructor Led Course, regardless of whether or not they have chosen a Session. |
| ILC Sessions Attended* | This displays the total number of learners in a Department that have attended an individual on-site class delivered by an Instructor. |
| ID | This displays the identifier that was automatically assigned to the Department by the LMS when it was created and can be used in creating deep links in Absorb. |
| Lessons Accessed* | This displays the total number of Lessons that learners in the Department have accessed in the LMS regardless of whether or not they were completed. |
| New Users (last 12 hours)* | This displays the total number of newly created Learners, Instructors and Admins for an individual Department that have been added to the LMS in the last 12 hours. |
| Online Enrollments* | This displays the total number of learners that have been enrolled in an Online Course in the Department. |
| Users With Activity* | This displays the total number of learners in the Department that have signed into Absorb at least once since they were added to the LMS. |