This article details the expected functionality of a portion of the unrefreshed Admin Interface (A5). Click here to learn more about the free upgrade to the new Refreshed Admin Experience available to you.
Introduction
The Learner Competencies Report allows Admins view all the Competencies possessed by the Learners in the portal. It allows Admins the ability to manually assign / remove Competencies and the ability to monitor and manage all competency focused activities. This article provides Admins with information about the Learner Competencies Report and the actions that are available through this report.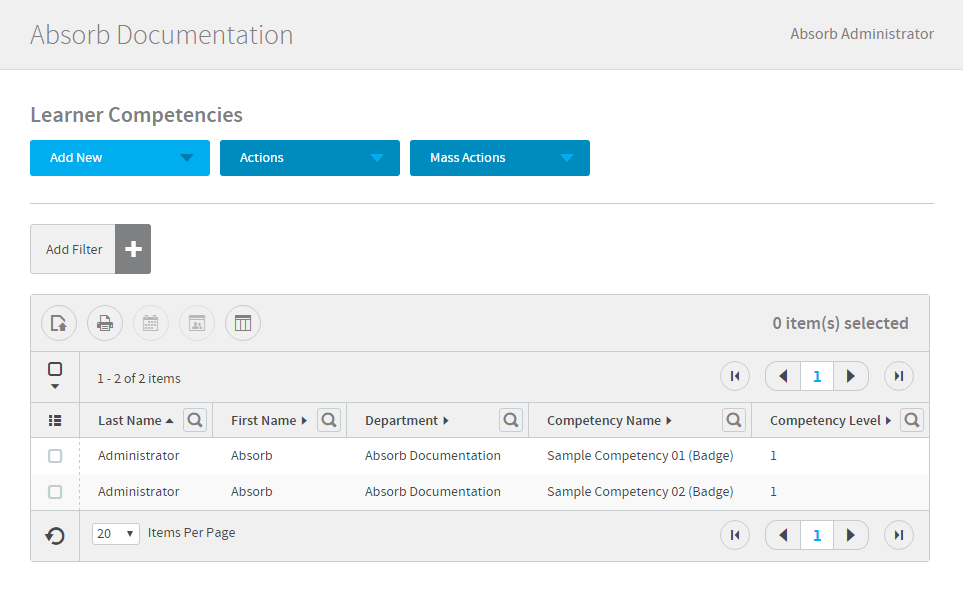 Overview
This Absorb Report provides the Admin with information on the types and levels of expertise that the students in their portal currently possess - be it as a result of the training the Learner has taken in the LMS directly, or from accreditations that they have previously achieved in another LMS.
With this Report the Admin can also grant Competencies manually to any number of individual Learners and/or remove any designations that have already been earned as a result of completing specific Courses.
Having this ability can prove useful for those types of Courses that require one or more Valid Competencies as a Prerequisite for being allowed to successfully enroll. It may be that a Learner has all the knowledge to take a Course, but hasn't yet completed other training in the LMS that would grant them the necessary qualifications. In this case, the Admin could override their Enrollment barrier by giving them the needed Competencies in order to sign up.
Alternatively, it might also happen that a Learner has earned a Competency incorrectly and/or maybe needs to be delayed from taking another Course that the acquired accreditation gave them access to. Potentially another scenario could be when a Learner holds a specific Competency that needs to be manually replaced with another accreditation, of the very same kind, but with a different Competency Level.
Regardless of the reason why, with this Report, the Admin can make the changes that are needed to ensure their Learners have the proper credentials for their training.
Lastly, and similar to other Learner directed Reports, the Admin can once again initiate several additional tasks and workflows based on what they learn here.
Report
Absorb's Learner Competencies Report will launch using the standard Report layout as its starting point where an Admin can run a custom Report. The basic Learner Competencies Report can be customized to provide data on any of the following parameters:
| Element | Description |
| --- | --- |
| Address | This column displays the primary description of the place that the Learner is located in. |
| Address2 | This column displays the optional secondary description of the place that the Learner is located in. |
| City | This column displays the municipal area that the Learner is located in. |
| Competency Level* | This column displays the Competency rating, ranging from Level 1-10, that the Learner has achieved in the LMS. |
| Competency Name* | This is what the Competency will be named wherever it appears in the LMS. |
| Country | This column displays the nation that the Learner is located in. |
| Date Acquired | This column displays the date that the Learner earned or was assigned the specific Competency. |
| Date Added | This column displays the date that the Learner was first created and saved to the LMS. |
| Date Edited | This column displays the date that the Learner was last updated and re-saved to the LMS. |
| Date Hired | This column displays the date the Learner joined the organization that is associated with the LMS portal that they are using. |
| Date Terminated | This column displays the date the Learner left the organization that is associated with the LMS portal that they were previously using. |
| Department* | This is the classification unit used for constructing groups of Learners in the LMS that all possess a shared attribute (e.g. the same organizational trait, similar training requirements, etc.) as chosen by the Admin. |
| Email Address | This column displays the email account of the Learner. |
| Employee Number | This column displays the unique identifier assigned to each Learner by their organization in order to distinguish them from other individuals. |
| First Name* | This column displays the first name of the Learner. |
| ID | This column displays the unique identifier automatically assigned by the LMS that associates a User to a Competency. |
| Job Title | This column displays the position that the User holds in the organization. |
| Language | This column displays the language that the Learner has added to their user profile. If the learner has not added a language to their profile, this field will be blank. *It is important to note that this field does not represent the language the learner uses to access the information on their LMS. |
| Last Logged In | This column displays the date and time the Learner last logged in to the LMS. |
| Last Name* | This column displays the last name of the Learner. |
| Location | This column displays the alternate name assigned by the organization to designate where the Learner is located. |
| Middle Name | This column displays the middle name of the Learner. |
| Phone | This column displays the Learner's contact phone number. |
| Postal Code | The column displays the postcode associated with the geographical vicinity that the Learner is located in. |
| State/Province | This column displays the territorial area that the Learner is located in. |
| Status | This column displays the distinction as to whether the Learner is Active or Inactive in the LMS. |
| Username* | This column displays the name-based identity used to distinguish each individual Learner as they are added to the LMS. |
(* - Columns shown automatically as part of the default report view.)
Actions
Actions
When reviewing the Learner Competencies Report the Actions available for use by the Admin on a single record are:
| Element | Description |
| --- | --- |
| Assign Competencies | This button will launch the Assign Competencies workspace where one or more Competencies can be selected in the LMS and allocated to any number of individual Users. |
| Edit User | This button will launch the Edit User workspace where any selected Learner's profile from the Report can be updated and re-saved. |
| Message User | This button will launch the Compose Message workspace where the Admin can send a message to the selected Learner as well as other individual User(s); groups of Users; and/or, any Department(s). |
| Learner Transcript | This button will launch the Learner Transcript workspace where the Admin can access a selected Learner's full training history with access to other related Admin tasks. |
| Delete Learner Competency | This button will erase the selected Competency from the LMS (which the Admin will be prompted to confirm). Any Competency deleted here is permanently removed from the LMS and cannot be recovered. |
| Deselect | This button will clear any selection made by the Admin in the Learner Competency Report. |
Mass Actions
When reviewing the Learner Competencies Report the Mass Actions available for use by the Admin are:
| Element | Description |
| --- | --- |
| Message Users | This button will launch the Compose Message workspace where the Admin can send a message to one or more of the selected Learners, as well as other individual User(s); groups of Users; and/or, any Department(s). |
| Activate Users | This button will enable the selected Learners to be able to log in and use the LMS. |
| Deactivate Users | This button will disable the ability of the selected Learners to be able to log in and use the LMS. This Admin may re-enable the Learner(s) at any time, as all of their User information will be retained in the LMS. |
| Change Department | This button will launch the Change Department workspace where the Admin can re-assign one or more of the selected Learners to a different Department. |
| Enroll Users | This button will launch the Enroll Users workspace where the Admin can enroll one or more of the selected Learners in any of the Courses / Curricula contained in the LMS. |
| Delete Users | This button will erase one or more of the selected Learners from the LMS (which the Admin will be prompted to confirm). Any Learner(s) deleted here is permanently removed from the LMS and cannot be recovered. |
| Delete Learner Competencies | This button will erase the selected Competencies from the LMS (which the Admin will be prompted to confirm). Any Competencies deleted here are permanently removed from the LMS and cannot be recovered. |
| Deselect | This button will clear any selections made by the Admin in the Learner Competency Report. |