Introduction
We have introduced a new file structure in our Admin Refresh experience. Now when uploading content, you will be asked to select a Visibility level for the item: Public or Private. Sub-folders are created automatically in each directory, making it easier to understand how an asset is used and its visibility.
File Visibility
Public: Anyone can see this file, even when not an authenticated user of the LMS. This option is used for files that need to appear on the Public Dashboard or an E-Commerce Catalog.


Private: Private files associated with a Course, like a Course Thumbnail or Lesson Object, will only be visible or accessible to enrolled users. When a Private file is used for a design element, such as a Billboard, it will only be visible or accessible to authenticated LMS users.

Duplicate Files
If you upload a file that has the same name as a file that already exists in that specific directory, a number will be appended to the end of the file name. This will only occur when file names are an exact match. Sub-folders will be added for each new item created (Course, Billboard, etc.) and identified by its GUID.
Example
File: "Safe_Driving_Practices.pdf"
Original upload:

Replacing Lesson content with a file of the same name: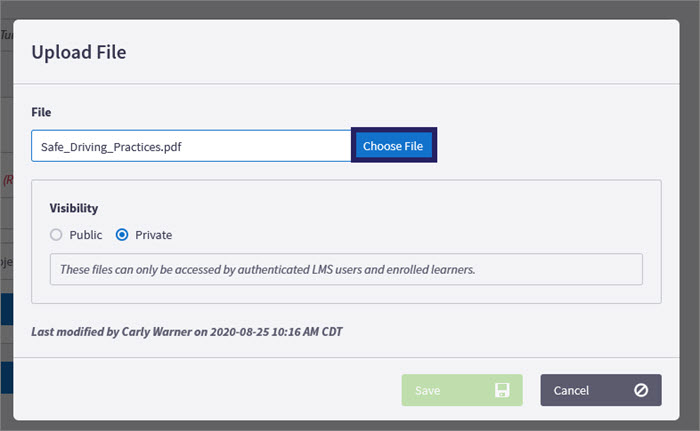 Since a file with this name already exists within the Courses directory, a number is appended to the second upload: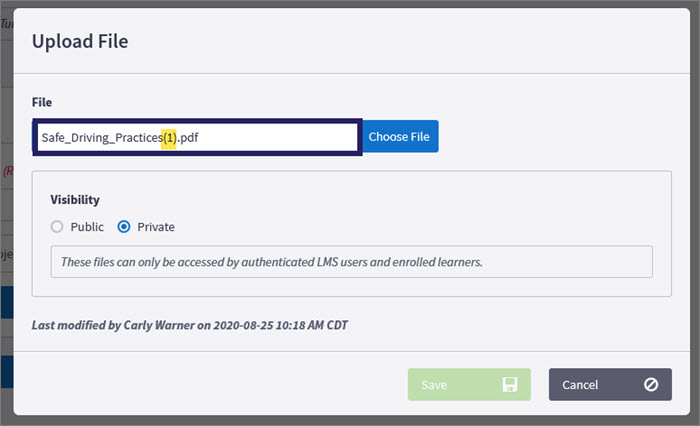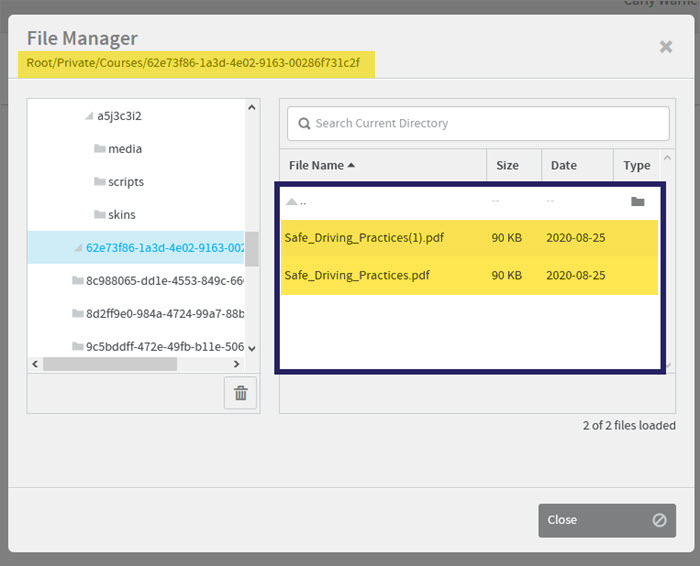 Notes
When a file is in use, the modal displays the File Name and details of the Admin who uploaded it, and when.


To change the Visibility setting of a file, click the radio button for the level desired and then Save. The file will be moved to its new location (public or private folder).


A Course can have a folder in both Public and Private sections at the same time, depending on the Visibility selected for the specific upload opportunities.