Introduction
Combine automatic Enrollment Rules with the Allow Re-Enrollment function to create a recurring schedule for Learners to complete training. You can configure re-enrollment cycles to renew annually or at other regular intervals.
Important Note
The Course must have Enable Automatic Enrollment enabled. Click here for instructions.
Table of Contents
---

How to Configure Automatic Course Re-Enrollment
Remember, the Course must have the Enable Automatic Enrollment setting enabled (ON).
These instructions begin from the Completion Course Setting block of the Course build form.
Step
Instructions
1.

Beginning from the Completion Course Settings section of a Course, click the Allow Re-Enrollment toggle button to change the status to ON.

This action opens a sub-section of re-enrollment options.

2.

Choose when a learner can re-enroll Settings

Click the radio button to select an option:

If...
Then...
Time after completion

The Learner will automatically be re-enrolled in the Course once the set length of time has passed.

Example: Configuring "1 Year" would have the Learner automatically re-enrolled in the Course one (1) year from their completion date.

*This automatic function will only work if Enable Automatic Enrollment is enabled.

Time before certificate expires

The Learner will automatically be re-enrolled in the Course once they enter the expiration period set for the Certificate.

Example: If a Certificate expires two (2) years after completion, and the Learner will automatically be re-enrolled in the Course per the Time before Certificate expires > Duration.

3.

Click the Re-enroll Automatically toggle button and change the state to ON.

This option cannot be used with E-Commerce.

4.
Continue adjusting settings as needed for the Course.
Examples of Completion Course Settings
Time after Completion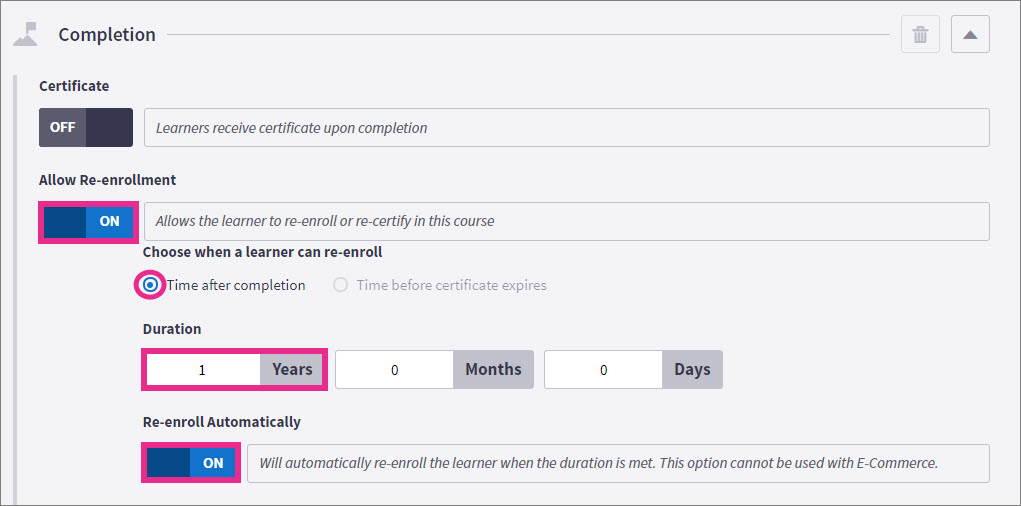 Time Before Certificate Expires