Introduction
A Role is a permission set provided to a User. Roles grant access to the Admin Interface. The Admin Interface is where you manage the administrative settings and functions of Absorb LMS.
This article will introduce you to the default system Roles, their permissions, and options available when editing an existing Role or building a Custom Role.


Important:
When selecting permission actions, remember that the Modify action must be paired with the View action for the Role to see and make changes.
When selecting permissions for a Role, enabling General alone will limit the Role's ability to administer the identified section and may not provide enough access to fulfill their responsibilities. Be sure to pair other options along with it to tailor the administrative experience you want to permit. It is always a good practice to test the Role and verify it performs as intended.
When you enable the Admin Refresh experience for your environment, any role (default or custom) with Modify permission selected will grant all tile or section permissions.
For an in-depth review of changes introduces with the Admin Refresh to specific permissions, please check out Admin Refresh: Role Permission Changes.
Table of Contents
Default Roles
Custom Roles

Role Actions
Role Permissions
---
Default Roles
There are five (5) default Roles available, each focusing on a specific area within the Admin Interface. They are organized in descending order of responsibility in the table below:
| Default Role | Description |
| --- | --- |
| System Admin | System Admins are the owners of the Absorb LMS system at their organization. They generally are the primary contacts who work with the Absorb Client Services Teams (Onboarding, Support, and Client Success). System Admins have the highest administrative privilege, with permission to view, build, modify, and delete content held within the Admin Interface. In addition to this, a System Admin also can configure global functionality within Setup > Portal Settings. |
| Admin | Admins have access to the Admin Interface, with options to view, build, modify, and delete content per their Account level permission. This admin level does not have visibility to Setup > Portal Settings. |
| Instructor | Instructors have access to the Admin Interface but are limited to reports related to Instructor-Led Courses (ILC). |
| Reporter | Reporters have read-only access to view Reports in the Admin Interface. Reporters cannot make changes to report data or other content. Reporters will be able to use Report Actions from Saved Layouts, if accessible to them. |
| *Business Intelligence Viewer | *The Business Intelligence Viewer Role is only available as a default Role when Absorb Inform is enabled in the environment. |
Note: Default Roles cannot be modified; however, you can easily duplicate any existing role and then make adjustments to the new version.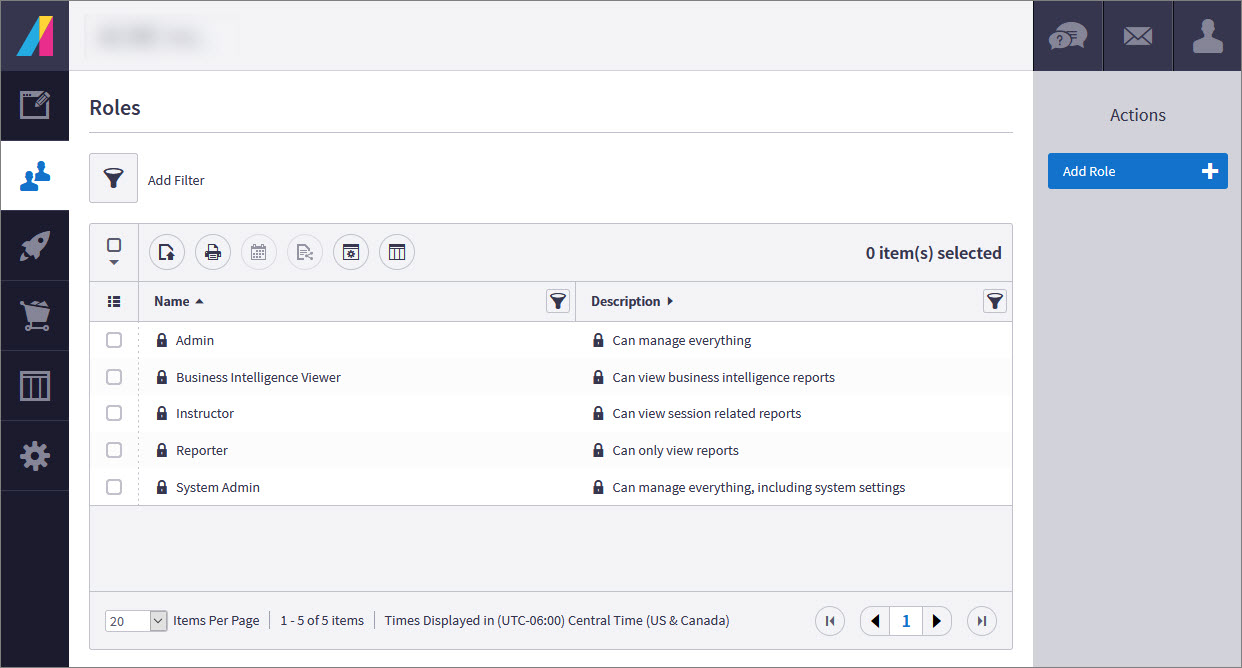 Custom Roles
System Admins can create customized Admin Roles to provide permission to specific areas of the Admin Interface.
Role Actions
Custom Roles offer the following actions for permission access:
| Action | Description |
| --- | --- |
| View | Permits Admin to view reports without access to edit records. |
| Modify | Permits Admin full access to add and edit records. |
| Delete | Permits Admin to delete records. |
Role Permissions
When selecting permissions for the Role, you will choose View, Modify, Delete, or a combination of all actions for the following areas of the Admin Interface:


| Permission Category | Description |
| --- | --- |
| Courses | This set of permissions determine the Role's access to the Courses section and the reports within. Instructor-Led Courses (ILCs) Online Courses Course Bundles Curricula Enrollments Venues Resources Categories Competencies Rating Comments External Training Course Uploads Question Banks |
| Users | This set of permissions determine the Role's access to the Users section and the reports within. Users Roles Departments Groups Enrollment Keys |
| Absorb Engage | This set of permissions determines the Role's access to the Absorb Engage section and the reports within. News Articles Billboards Polls Leaderboards Note: Absorb Engage must be enabled in your environment for these options to be available. |
| Manage | This set of permissions determine the Role's access to specific Reports available in the Setup section. Message Templates Tags Files Translations FAQs |
| E-Commerce | This set of permissions determine the Role's access to the E-Commerce section and the reports within. Transactions Coupons Note: E-Commerce must be enabled in your environment for these options to be available. |
| Reports | This set of permissions determine the Role's access to the Reports section and the reports within. All Reports |
| Special | Inform* View Product Notifications Contact Us *Absorb Inform must be enabled in your environment for this option to be available. |