This article details the expected functionality of a portion of the refreshed Absorb LMS Admin Experience (AE). Click here to learn more about this free upgrade available to you.
Absorb Ideas FAQs
The Absorb Ideas Portal is a place for Clients to submit LMS enhancement ideas directly to Absorb's Product Team for consideration. This article will review frequently asked questions.
---
1. What is the Absorb Ideas Portal?
The Absorb Ideas Portal is a curated location for Clients to submit LMS enhancement ideas directly to Absorb's Product Team for consideration.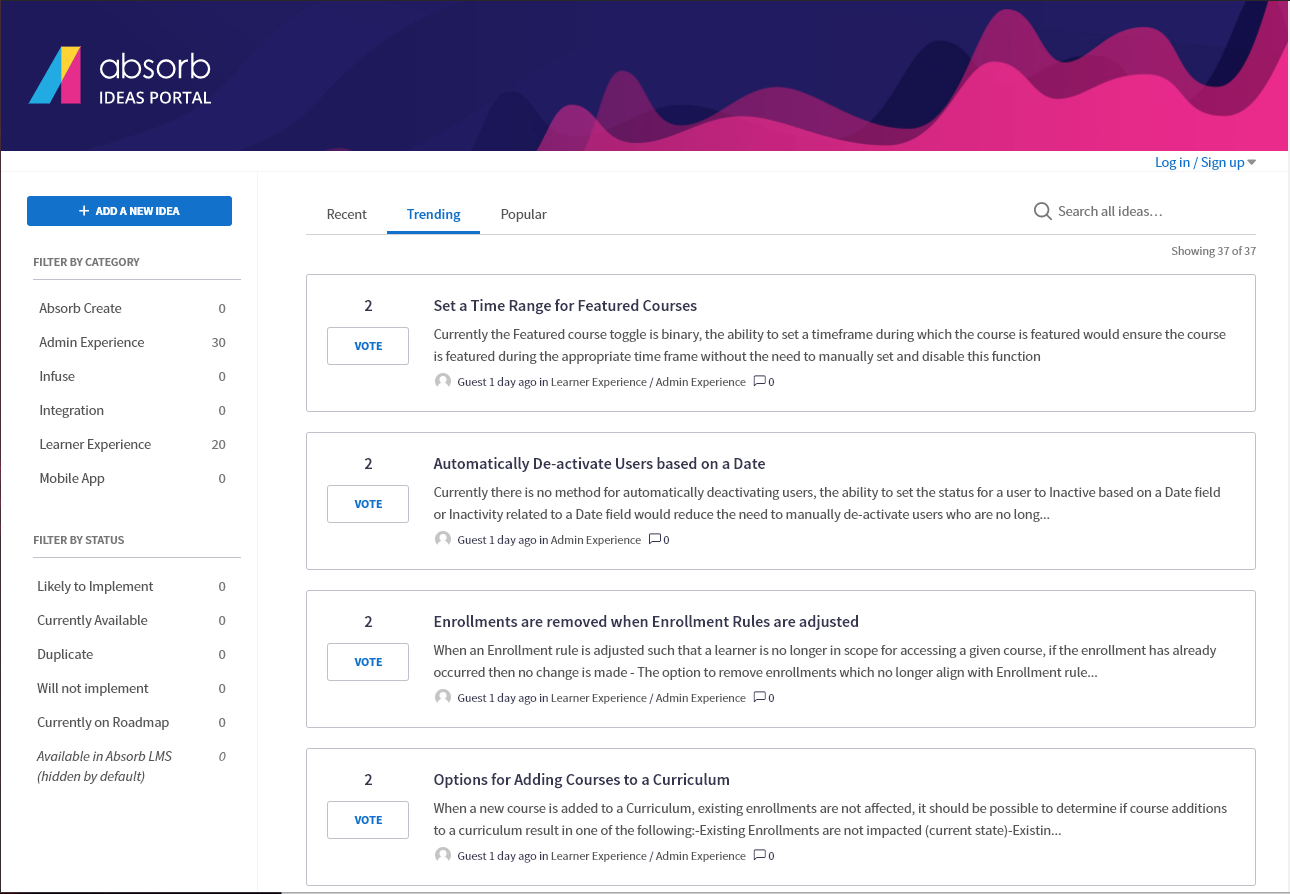 2. Where is the Absorb Ideas portal?
The Absorb Ideas portal is located at https://ideas.absorblms.com/
You can access it using this URL or through your LMS using the "Submit Idea" option in the Help & Support menu.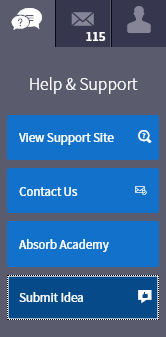 3. How do I submit an idea?
The Absorb Ideas portal uses a simple form. For first-time users, you will need to create an account using your corporate email account to have your idea be added to the portal. Once an account is created, you can log in using this account for future submissions.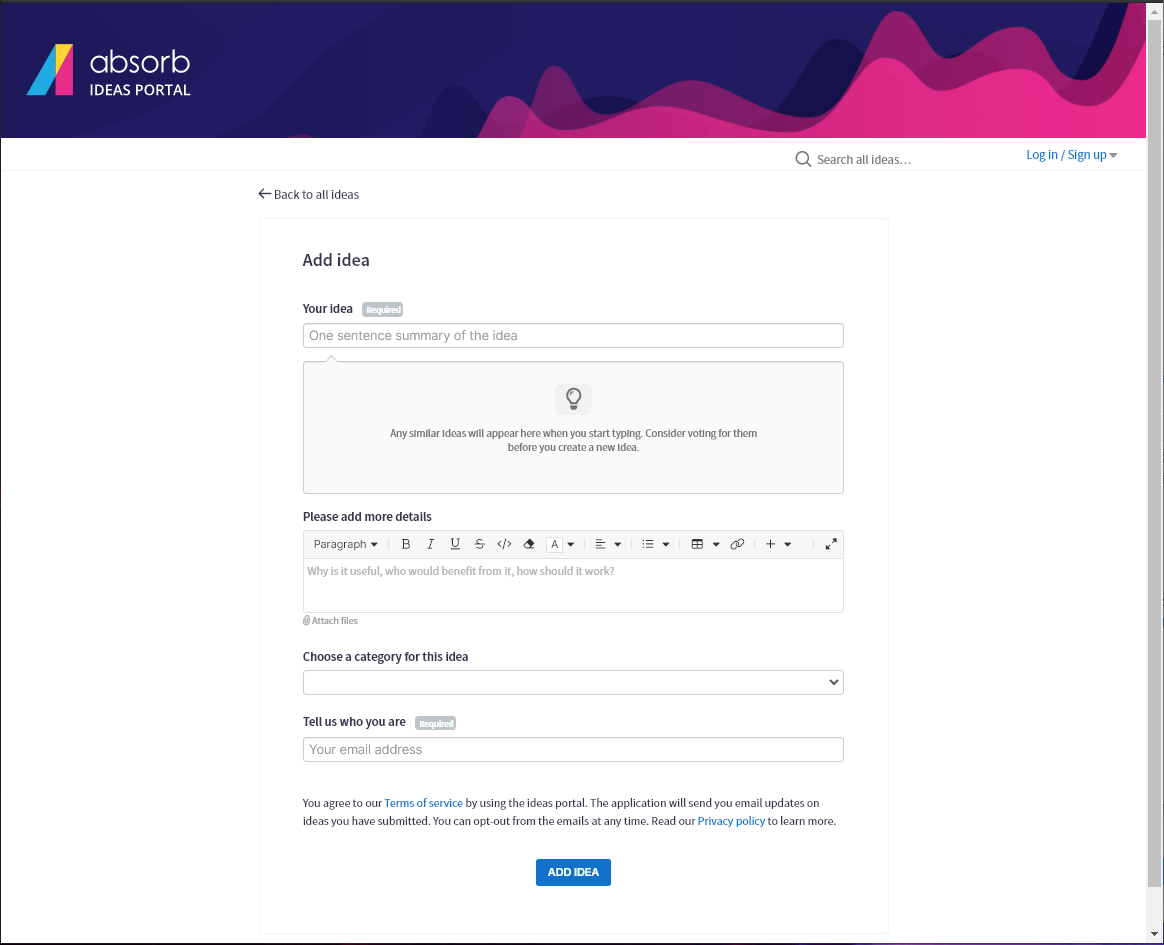 4. Can I use my existing Absorb LMS account credentials to SSO into the Absorb Ideas portal?
No. For your security, the Absorb Ideas portal and the LMS cannot share accounts.

5. Does my organization get a vote?
When you use a corporate email account, your submissions will automatically be associated with your organization.
6. How many ideas can I submit?
You can submit an unlimited number of ideas.
7. What if my idea is already there?
The Absorb Ideas Portal gives the ability to vote for other ideas, allowing you to add weight to ideas you like even if you didn't come up with them yourself. It is recommended that you always look for your idea prior to submitting your own.
8. How do I vote?
Just use the vote button on each idea. If you are logged in to the site, your vote will be added immediately. If you are not logged in, you will be prompted to enter credentials before your vote is counted.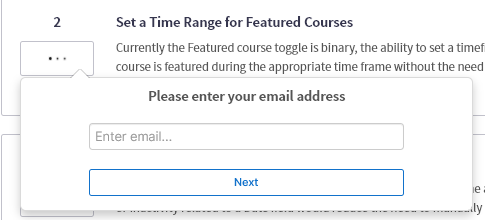 9. How many votes do I get?
You can add one vote to every idea in the list.
10. Who monitors the ideas portal submissions?
The Absorb Product Team will be regularly reviewing and providing responses to the ideas submitted in the portal. You will receive notifications on any ideas you are subscribed to and see any response made by this team via email.
11. How do I make sure my idea is seen by the right person?
When you select a Category for your idea the team responsible for that area of the product is notified.
Absorb Create – ideas regarding Absorb's internal course authoring tool
Admin Experience – ideas regarding the most current version of the Admin portal.
Infuse – suggestions related to the Infuse product specifically.
Integration – Imports, Exports, SSO, ADP, Content Partners, or RestFUL API ideas
Learner Experience – ideas on pages Learners use to take or review their training within the LMS.
Mobile App – ideas that relate to how the Mobile App looks or functions.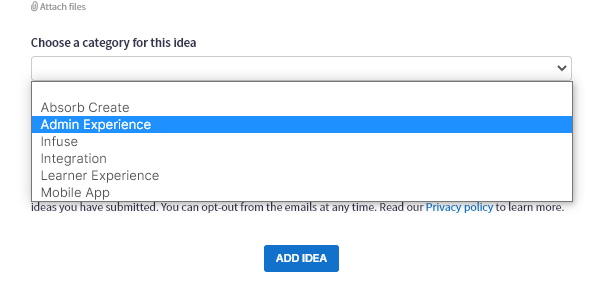 12. Does this mean Absorb will build more client-suggested features?
Absorb is always focused on providing value to our customers, and ideas that show significant traction will be prioritized accordingly. Our overall material won't change, but with your help, we will work on the right things at the right time.
13. What happened to the suggestion forum?
The suggestion forum will be retired. We have carried over the most popular suggestions that would deliver value in the newest application versions.
14. I don't see my idea from the suggestion forum in the new portal, what happened to it?
We only carried over a small number of suggestions that were highly popular. A significant percentage of the suggestions had less than 10 votes, or applied to an older version of the LMS, or were already delivered/closed, so we chose not to migrate those.