Overview
The What's Next Tile is a tile on the Learner Dashboard which directs your Learners to their next training. This Tile allows your Learners to get right to the task at hand by making it easy to find the training they need. This not only reduces learning time but also increases time spent engaging with learning opportunities of the highest relevancy.
Tips:
The What's Next tile is only available for the Private Dashboard because the data displayed is specific to the Learner, so it requires a logged-in Learner to generate the tailored recommendations.
We recommend using the Tall Container feature for the What's Next Tile. When toggled on, the row of tiles will appear at twice their natural height. The What's Next Tile is intended to be used with at least one other tall tile, for example, Collaborations Activity, Latest News, etc.
---
Setup Instructions
Adding a What's Next Tile
The following steps will walk through how to add a What's Next Tile to your Learner Dashboard. These are the required steps for creating a new tile; for additional options and common settings in all Tile types, please see the LMS Customization Guidelines - Dashboard Tiles article. The What's Next Tile theme settings respect both Theme colors as well as the Customize Tile Theme colors.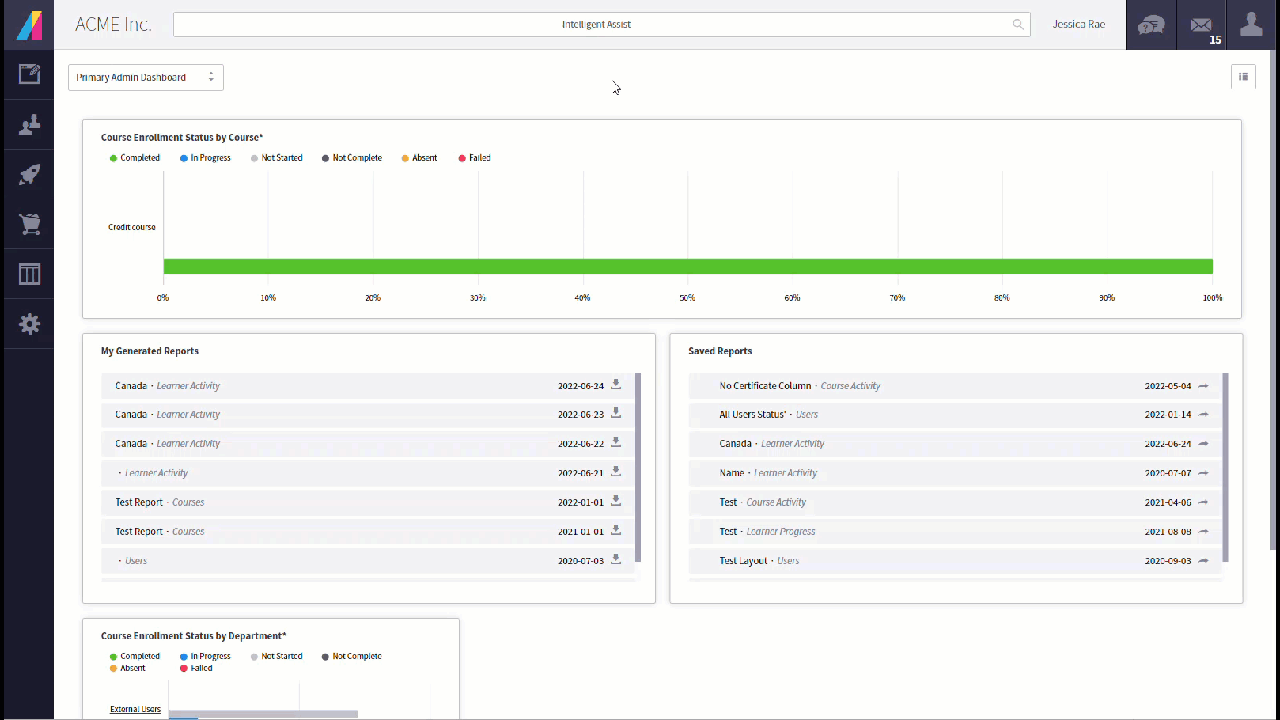 Step 1: Navigate to Templates from the Setup tab on the left. This will open the Department Templates administrative report.
Step 2: Select the Department Template that you would like to edit, then select Edit from the Actions menu. This will bring you to the Manage Templates menu for that Template.
Step 3: Next, select the Private Dashboard. Then, expand the Content drop-down section.
Step 4: Select Add New Content and then select the Tile Container Type. Select Add Tile(s), and then select the What's Next Tile. We recommend enabling the "Tall Container" toggle for the What's Next Tile.
Step 5: Scroll down and select Save on the bottom right of the Content section.
Notes:
You must be a System Admin to access the Manage Templates menu.
The What's Next tile displays up to 12 Courses; it will only display up to 3 Featured and 3 Recommended courses (if toggled on the tile), and then it will show

6 Courses

that the user is enrolled in (mandatory courses, expiring soon, Due soon, etc.)
Courses will be displayed in the following priority:
Priority
Item Type
Sub-order

1

Mandatory Course

IF: Course is marked as mandatory, and Learner is enrolled or not enrolled or has visibility to the Course through self-enrollment and availability rules.

Note: Online Courses, ILCs, and Curricula can be marked as Mandatory. Course Bundles cannot.

Course progress with the most completed at the top

2

Expiring soon

IF: Learner is enrolled, and Course expires within the next 7 days

Expiring soonest at the top

3

Due soon

IF: Learner is enrolled, and Course is due within the next 7 days

Due soonest at the top

4

ILC Sessions upcoming

IF: Learner is enrolled, and session occurs within the next 7 days

Upcoming soonest at the top

5

Featured Courses

IF: Course is marked as Featured, and Learner is enrolled or has visibility to the Course through availability rules

Note: Online Courses, ILCs, Course Bundles, and Curricula can all be marked as Featured.

Featured Course sort order, then by name

6

Recommended Courses

IF: Course is marked as Recommended, and Learner is enrolled or has visibility to the Course through availability rules

Note: Online Courses, ILCs, Course Bundles, and Curricula can all be Recommended.

Recommended Course relevance is based on all Courses completed by the Learner