This article details the expected functionality for a portion of the Next Generation Learner Experience. Please contact your Absorb Representative to learn more about this free upgrade available to you.
Overview
Through our Next Generation Learner Experience, we have worked to streamline Instructor Led Course workflows to ensure effective session selection when a Learner is enrolling into an ILC. Now, a Learner is required to select a session at the time of ILC enrollment. To add, the new workflows will also provide Learners with clarity on actions that can be taken when enrolling into an ILC session. The goal is to ensure effective session selection for the Learner based on common use-cases. This article will define improvements and list the new workflows available for ILC Session actions.
Admin & Learner Impact
Once the Next Generation Learner Experience toggle is enabled, the ILC workflow will appear different to Learners. Learners will be able to experience this workflow enhancement on the Dashboard, in the Catalog or in My Courses.
---
Setup Instructions
Enabling the Next Generation Learner Experience
For Admins and Learners to take advantage of the streamlined ILC session selection, the Next Generation Toggle must be enabled.
A System Admin can navigate Portal Settings > Users Tab to enable the Next Generation LE toggle. You must be a System Admin to access Portal Settings. Learn more.
---
Improvements
The main improvement of this feature was ensuring ILC and ILC session enrollments were an atomic action. A Learner is now required to choose a session from the ILC Details page after enrolling into the ILC course. If the Learner exits the ILC Details page without selecting a session, the Learner will not be considered to be enrolled into that ILC.
From a Dashboard ribbon, in the Catalog or My Courses, a Learner will now be able to see varying action buttons based on the scenario:
Action
Scenario
Enroll

Learner is unenrolled and:

There are no future sessions, or
All sessions are full and there are no waitlist

Choose Session

Learner is unenrolled and:

There are one or more sessions available, or
Some sessions have waitlists, or
All sessions have waitlists
Admin enrolls learner in ILC but not a session

View

Learner is enrolled in a session
Example
As seen below, Learners will now have more clarity on actions available via the new action buttons.
Note: The pink text displayed above the ILC Courses describes the possible scenario.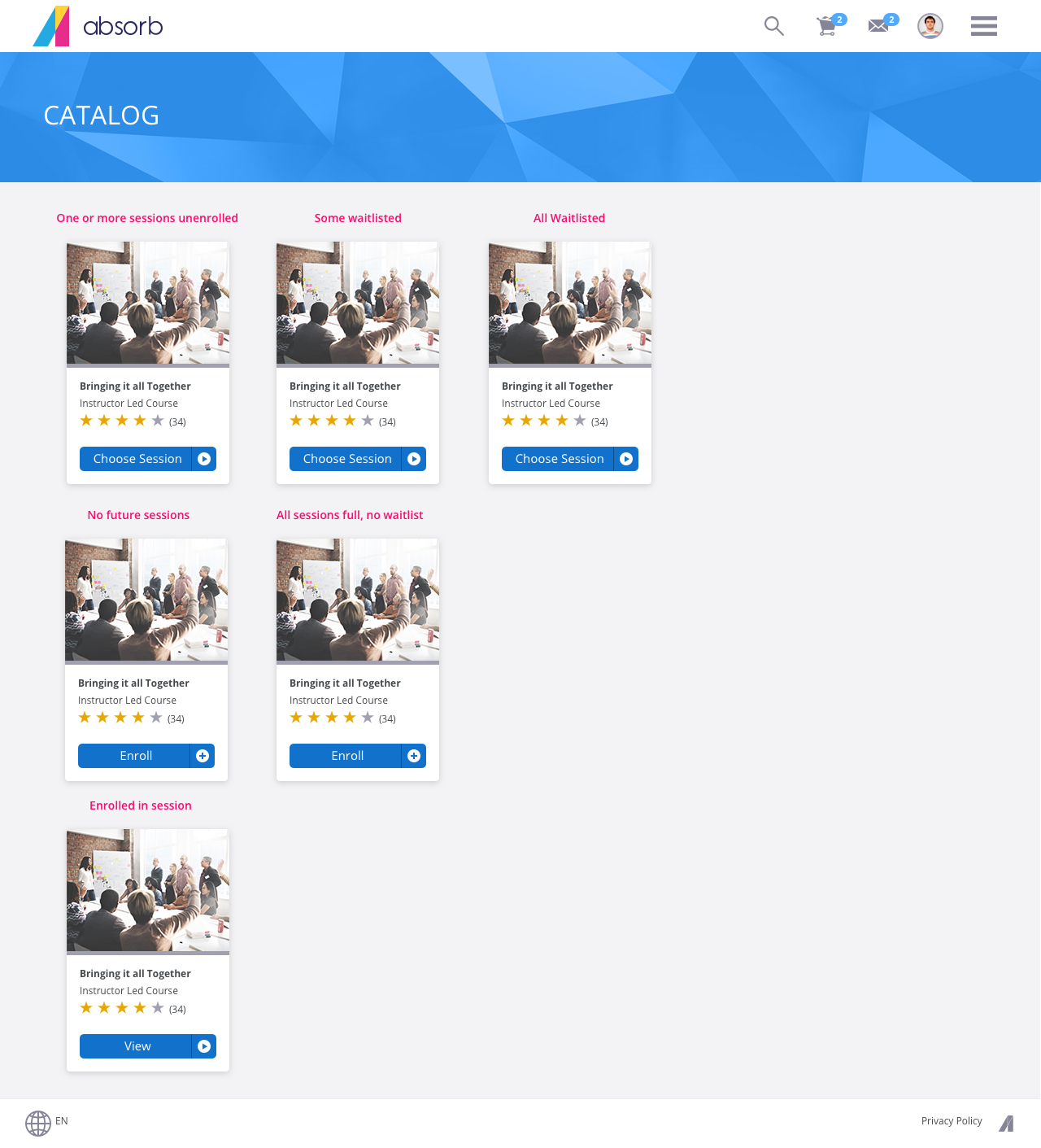 Tips
If an ILC has no future sessions created, a Learner can still enroll into the ILC to express interest. If this workflow does not work for your use-case, we recommend you create at least one future ILC session before making the ILC available to Learners.

If a Learner is already enrolled in an ILC and session, the action will read View to indicate no further action is required for enrollment.