Coming Soon!
We are excited to inform you the Absorb Learning & Development Team has begun a review of the current content in order to update and upgrade the Absorb Academy. This will be formally announced to clients once the changes have been made.
Overview
Absorb Academy is a great place for your Admins to learn about the admin features of Absorb LMS. This comprehensive training portal contains Role Based Curricula that are tailored to cover content relevant to the 4 default roles in Absorb:
System Admin
Admin
Reporter
Instructor
Here, your Admins can earn Absorb certifications and access additional resources, such as direct links to Help Desk articles that relate to each lesson.
Log In
To log in to Absorb Academy, navigate to your Admin portal. Then, click on the Help & Support icon (

) on the right side of your page and select the Absorb Academy. This will automatically log you in via Single Sign On (SSO).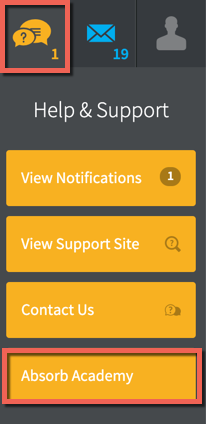 Please Note: The only way to log into Absorb Academy is by using the Absorb Academy Button from your Admin portal . It is not possible to log in directly through the Absorb Academy login page with your regular credentials. If you are having trouble accessing the Absorb Academy through your portal's Help & Support menu, please open a ticket with Support.
Enroll and View your Role Based Curricula
Navigate to the Catalog and locate the Curriculum for your Role. If you are unsure of your Role, you can return to your Admin dashboard. Your Role will be listed under your profile.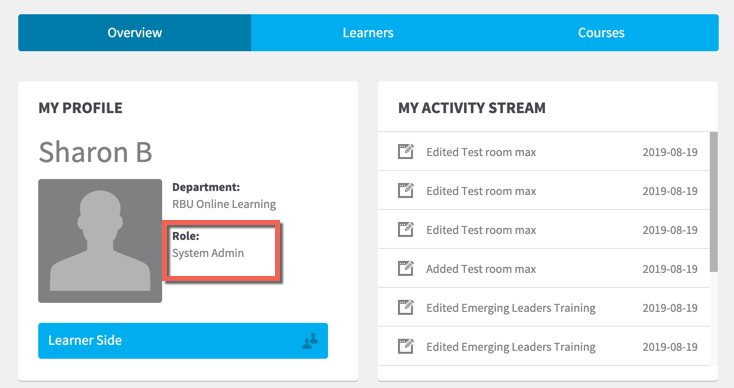 To log in to Absorb Academy, navigate to your Admin portal.
Please note: If you do not see one of the default titles listed as your Role, you will need to reach out to your organization's System Administrator to determine which default Role has permissions that most closely resembles your custom Role.
Once you locate the Curriculum for your Role, click on the Enroll button.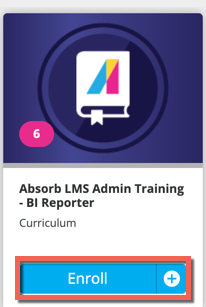 After you have enrolled in the Curriculum, click on Enroll to view a list of the Curriculum Content. Then select Enroll to access the individual Courses and Lessons that have been designed to support your role.

Select Start- Start to begin the desired Lesson.
Other Resources
The Absorb Academy also provides Admins access to other resources through the Absorb Help Desk tile.

Once selected, Admins will view a new page that provides them with links to the Knowledge Base where there are articles that relate to the Admin Courses and the LMS functionality, Announcements and Release Notes that ensure that all Admins are informed of the new functionality and changes, as well as Community where Admins can create new posts that share their ideas for improvements and feature requests.