Overview
Absorb Academy is a comprehensive training portal for your Admins to learn about the basic features & functionality of the Absorb Learning Management System. Our curriculum-based program, Absorb LMS Administrative Training, introduces Admins to the following topics:
Admin Interface (AE)
Learner Interface (LE)
Admin Dashboard & Widgets
User Configuration
Departments & Groups
Roles & Permissions
Course Types
Enrollment Methods
Reports
Setup Settings
E-Commerce
Here, Admins can earn an Absorb LMS Certification upon completion.
Log In
To log in to Absorb Academy, navigate to the Admin Interface (AE). Then, click on the Help & Support icon on the top right side menu and select Absorb Academy. This action will automatically log you into the Absorb Academy portal via Single Sign On (SSO).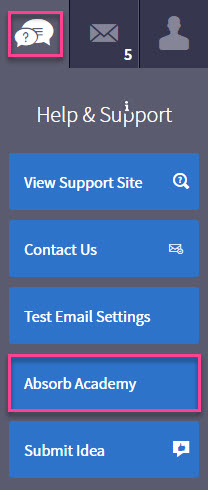 Note: The only way to log into Absorb Academy is by using the Absorb Academy Button from your Admin portal . It is not possible to log in directly through the Absorb Academy login page with your regular credentials. If you are having trouble accessing the Absorb Academy through your portal's Help & Support menu, please open a ticket with Support.
Enrollment: Absorb LMS Administrator Training Curriculum
After being prompted to the Learner Dashboard, navigate to the Catalog tile and click the Absorb Administrator Training Program category to view & enroll in the Curriculum.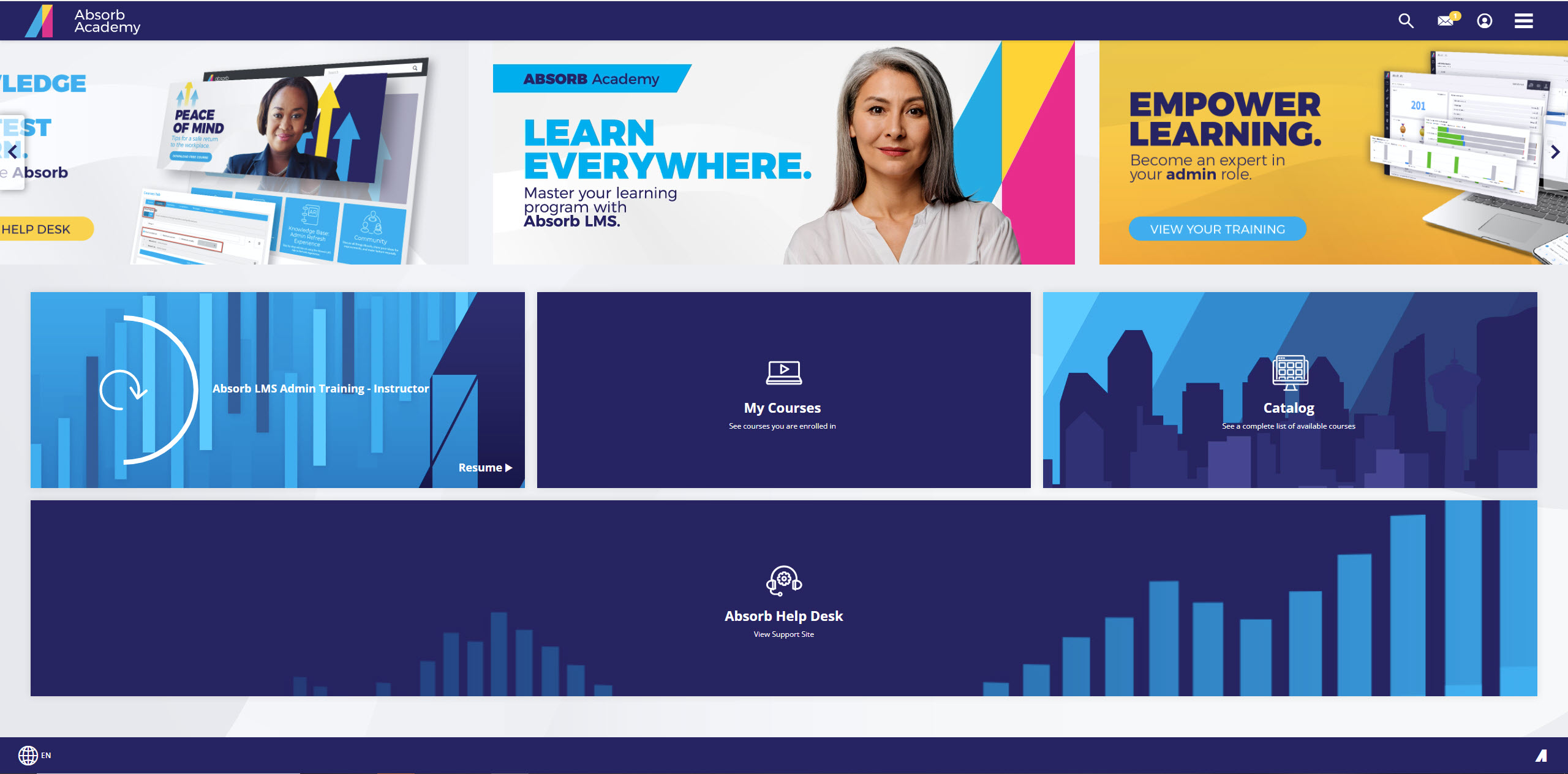 After you have enrolled in the Curriculum, click on Enroll to view the training programs content.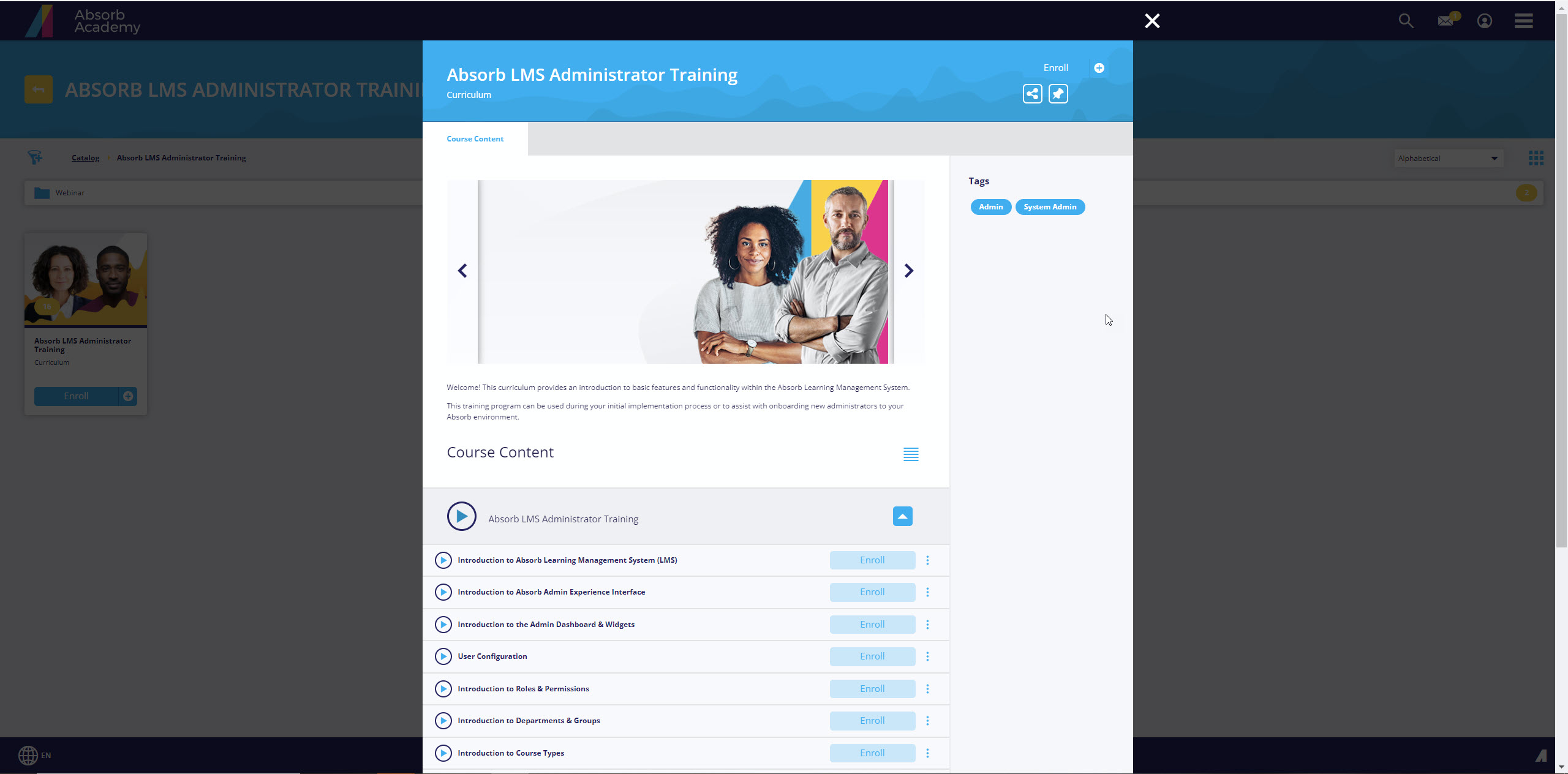 Then, click Enroll to access the individual Courses.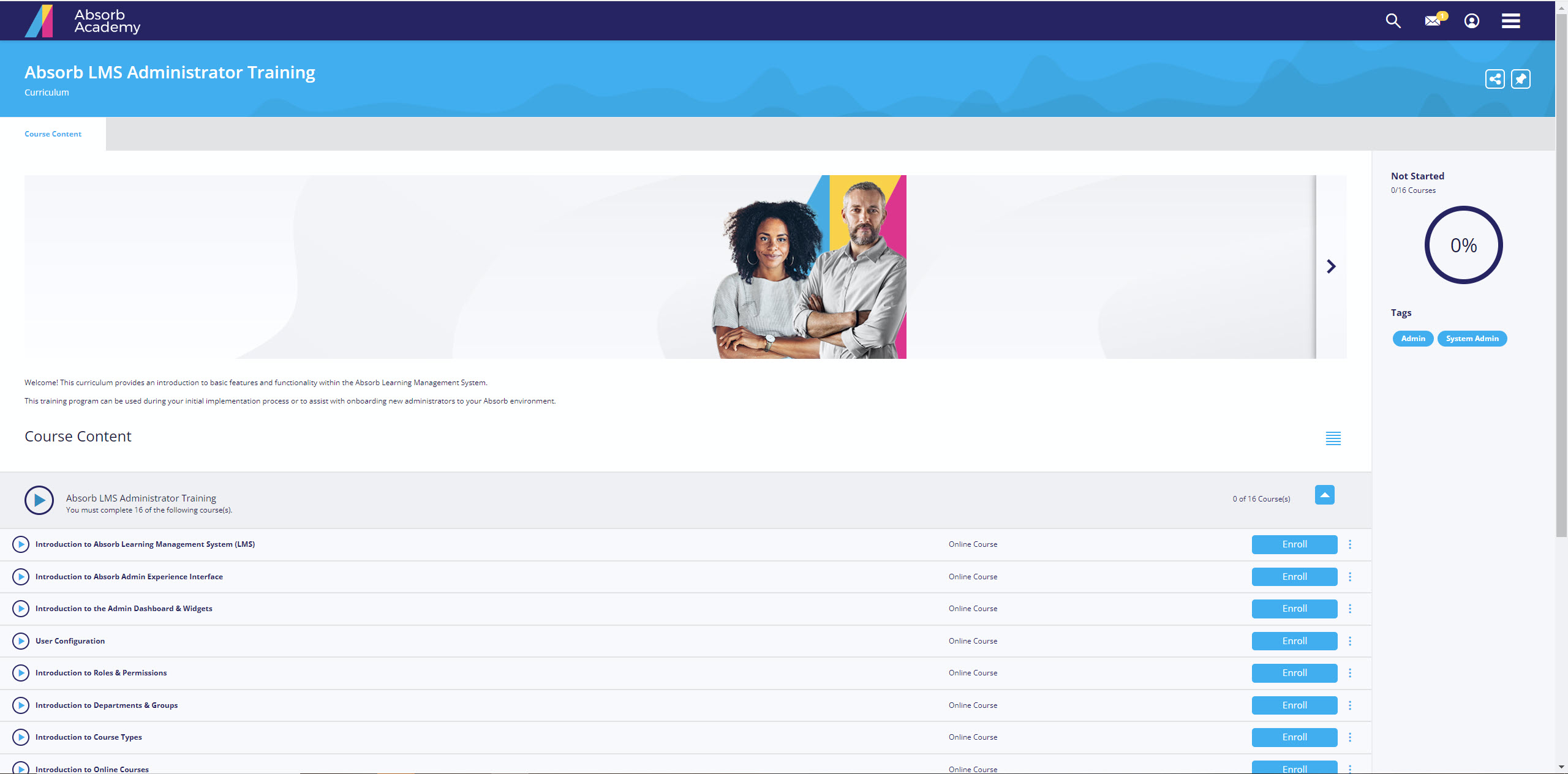 Select Start to being the first Course.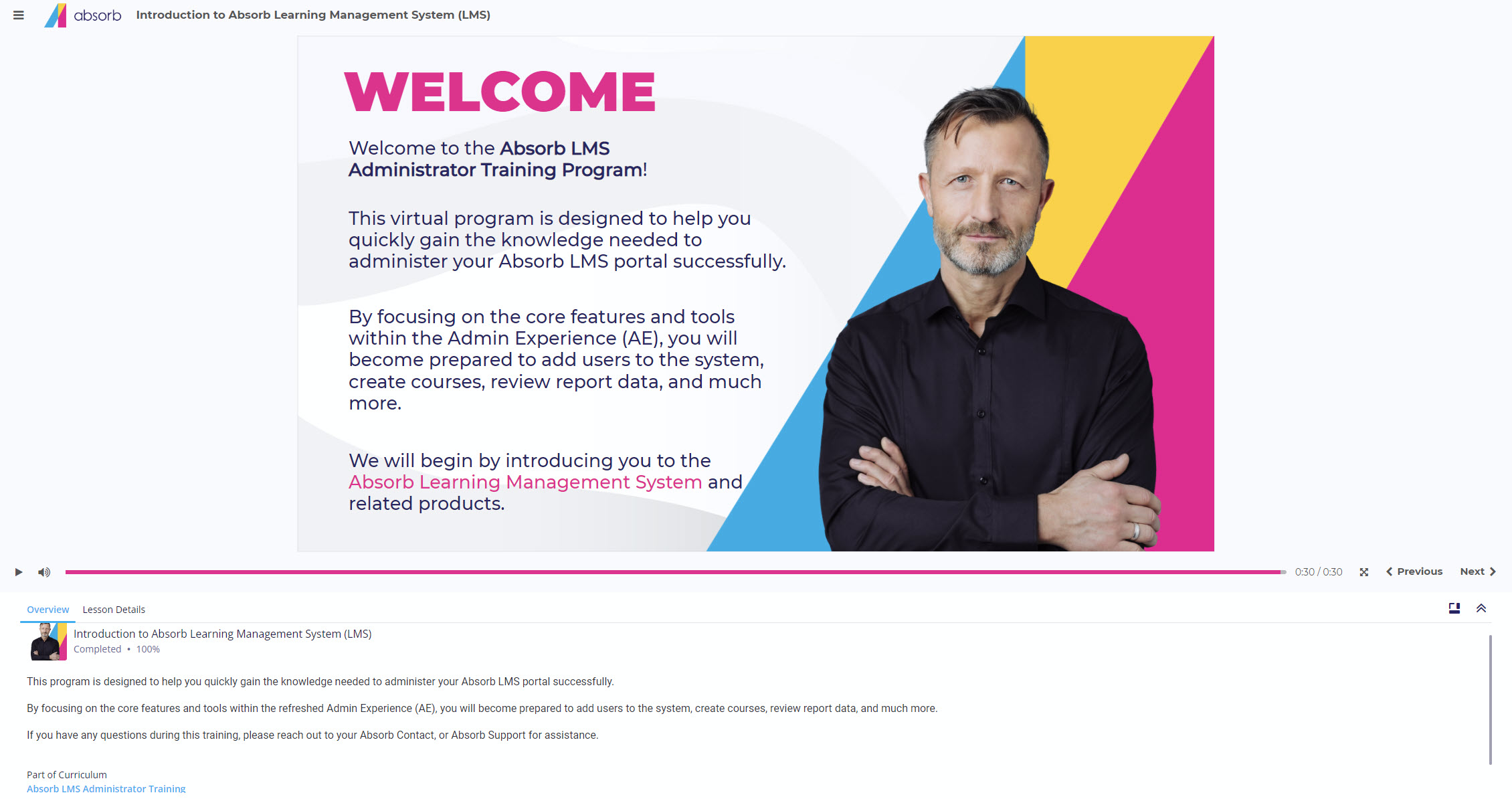 Note: There is a total of 16 Online Courses and associated Knowledge Checks. The estimated time of completion is between 80 - 110 minutes.
Additional Resources
The Absorb Academy also provides additional resources via the Absorb Help Desk tile.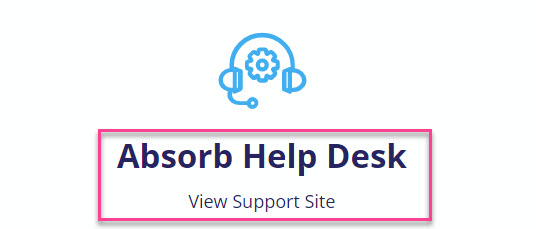 Once selected, Admins will be prompted to the Absorb Knowledge Base. The Absorb Knowledge Base contains articles relating to Absorb LMS functionality, Announcements, Release Notes, and Absorb Product information.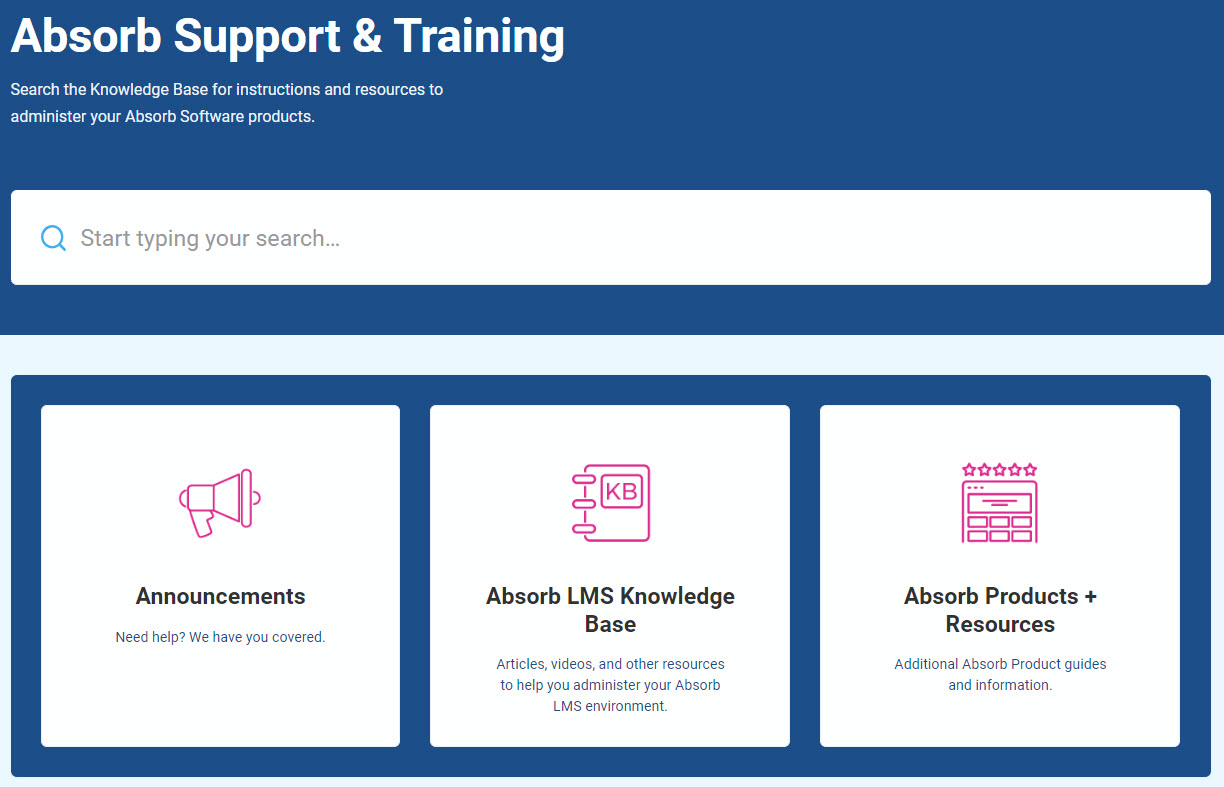 Note: We recommend the Google Chrome browser to launch Absorb Academy.