The learners message inbox is split into two categories: System Messages and Priority Messages.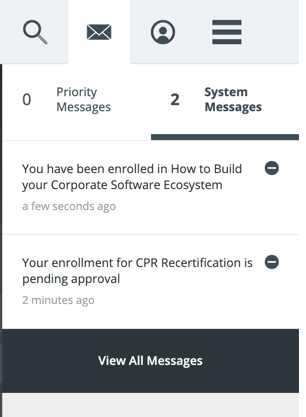 Priority Message includes: Approval Denied, Certificate Expiry, Course Due Date, Course Nudge, Receipt, Session Full, Session Reminder, Session Updated, Password Reset and Direct Messages.
System Messages includes: Course Enrollment, Course Completion, Curricula Enrollment, Curricula Completion.
Messages are displayed to the learner in the header and within their Profile. The latest five unread priority and system messages appear within the header.
Please note: Messages cannot be deleted but can be marked as read / dismiss.