With Templates & Themes allowing for granular control over LMS colors, the following reference guides will provide you with information about which LMS elements are affected by which theme color setting.
In This Article
The Color Picker
Color can be assigned to variables by entering a hexadecimal color code into the text field or use the Eyedropper button to select a color from the pallet tool. The palette tool can also be used to enter an RBG value by using the arrow button to switch from HEX to RBG.
When selecting a color, the picker will auto-generate a darker version of the variable that is previewed in the swatch. This darker version will be used for button rollovers and other interface elements.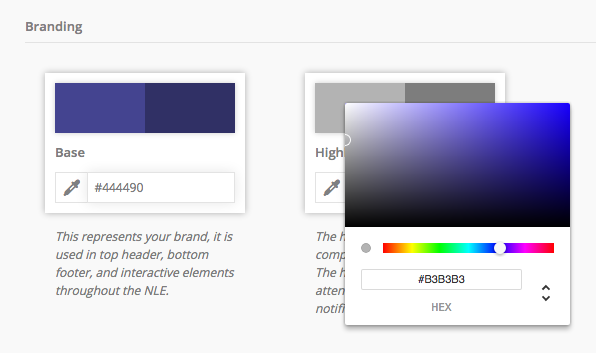 Branding
Branding colors are the base colors for your LMS portal, affecting elements such as the background, header, footer, and menu top bar colors.
Reference: Branding Color Variables
Learner Experience
Colors for buttons, tools, ratings, and messaging (Success, Failure, Warning, Danger)
Reference: Learner Experience Color Variables
Dashboard
Colors for the tiles, ribbons, and icons on your portal's dashboard.
Reference: Dashboard Color Variables
Type
Colors for the typography of your portal such as body text, banner text, and hyperlinks.
Reference: Type Color Variables
Icons
Colors for the icons in the header, menus, and buttons. Does not contain colors for your dashboard tile icons (for tile icon colors, see Dashboard Color Variables)
Reference: Icon Color Variables