Table of Contents
Introduction
In Absorb LMS, it is easy for System Admins to provide system access to additional Administrators. Because of this, you may have multiple people who can make changes and updates to your LMS and it is often helpful to view the history of any changes in your LMS.
You can find the option to View History throughout the LMS. This feature allows you to easily see the details of any changes to items such as Courses, Users and even your FAQs and Polls. When you select the View History option on these pages, you will be able to view who made the changes and when the changes were made.
How to View History
To launch View History, go to your the Admin dashboard and use the dashboard icons to navigate to the needed Report (e.g. Courses, Users, FAQs, etc.) Then select the specific item you want to review and this selection will trigger the appearance of additional Actions on the right side of the page. Select Edit from these Actions. Once you launch the Editor, additional Actions will display. You can then click on View History to launch a new window that displays any details about the changes made to the selected item.
Let us walk you through an example of how you can View History for a Course. First click on the Courses icon (
) and then select Courses to view the Course Report.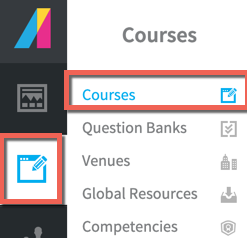 This will launch your Course Report where you can select an Online Course, an Instructor Led Course, a Curriculum or a Course Bundle. Once you select the Course, the Edit Action will appear as an option on the right side of your page.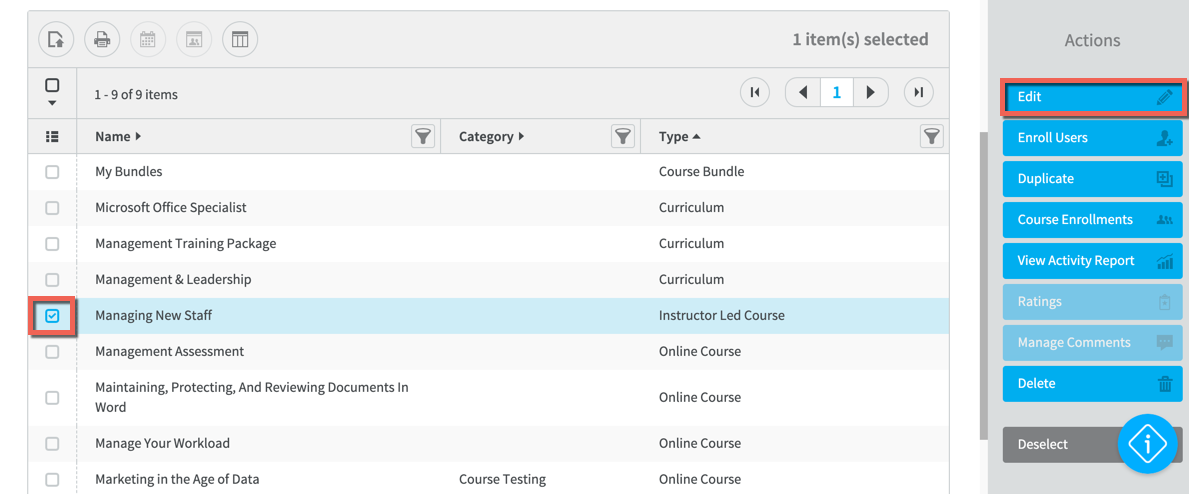 After selecting Edit, the editor page will launch. Then select View History to launch the details window.

This window displays the details about all changes made to the selected Course.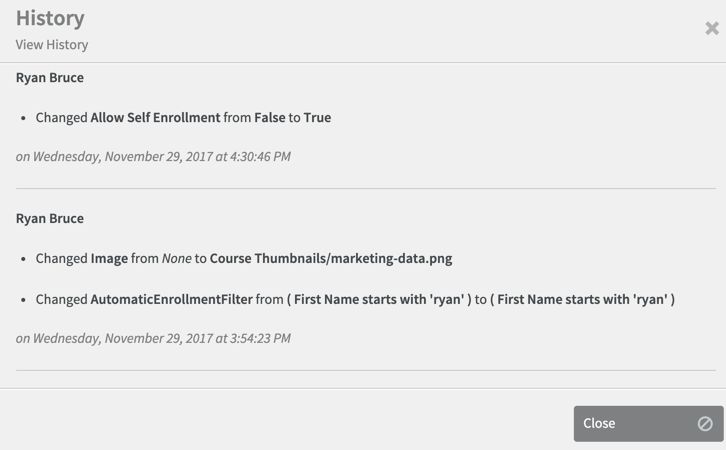 Reports with the View History Option
You can follow the workflow noted above to access the View History option from many reports in the LMS. Below, we have identified the features that provide you with the View History option.
Courses
Courses (Includes ILC, Online Courses, Course Bundles and Curricula)

Venues

Competencies
Users

Users
Roles
Departments
Groups (If you have created any)
Absorb Engage

News Article
Billboards
Polls
Reports

As noted above, you can View History on all Courses and Users. You can navigate to these reports directly from the links above or from many of the reports in the Reports section. For example, Learner Activity will bring you back to the Edit Learner page where you can View History for the specific user and Course Summary will bring you to the Edit Course page where you can View History for that Course.
Setup

Portal Settings
System Admins can also navigate through the Portal Settings to View History about the portal.
Related Resources