This article contains information applicable to the refreshed Admin Experience (AE) and previous versions of the Absorb LMS product.
Overview
The Absorb File Manager provides you with a view of the files that have been uploaded into your Absorb LMS portal. These files may have been loaded through a workflow associated with an Online Course (Certificate or thumbnail images), an Absorb Engage product, or other administrative action. From the File Manager, you have can view and download PDFs, images, and SCORM files.
Files are added to the File Manager when an Admin uploads content at various points throughout the Admin Experience. For example, when a SCORM file is loaded as a Learning Object in an Online Course, the SCORM file is placed in the File Manager for reference.
Online Courses have a newer Learning Object type available: Use Existing. This function allows Admins to pick and choose files that are used in other Online Courses and add them to their new or edited Online courses. For more information, please see the Learning Objects article.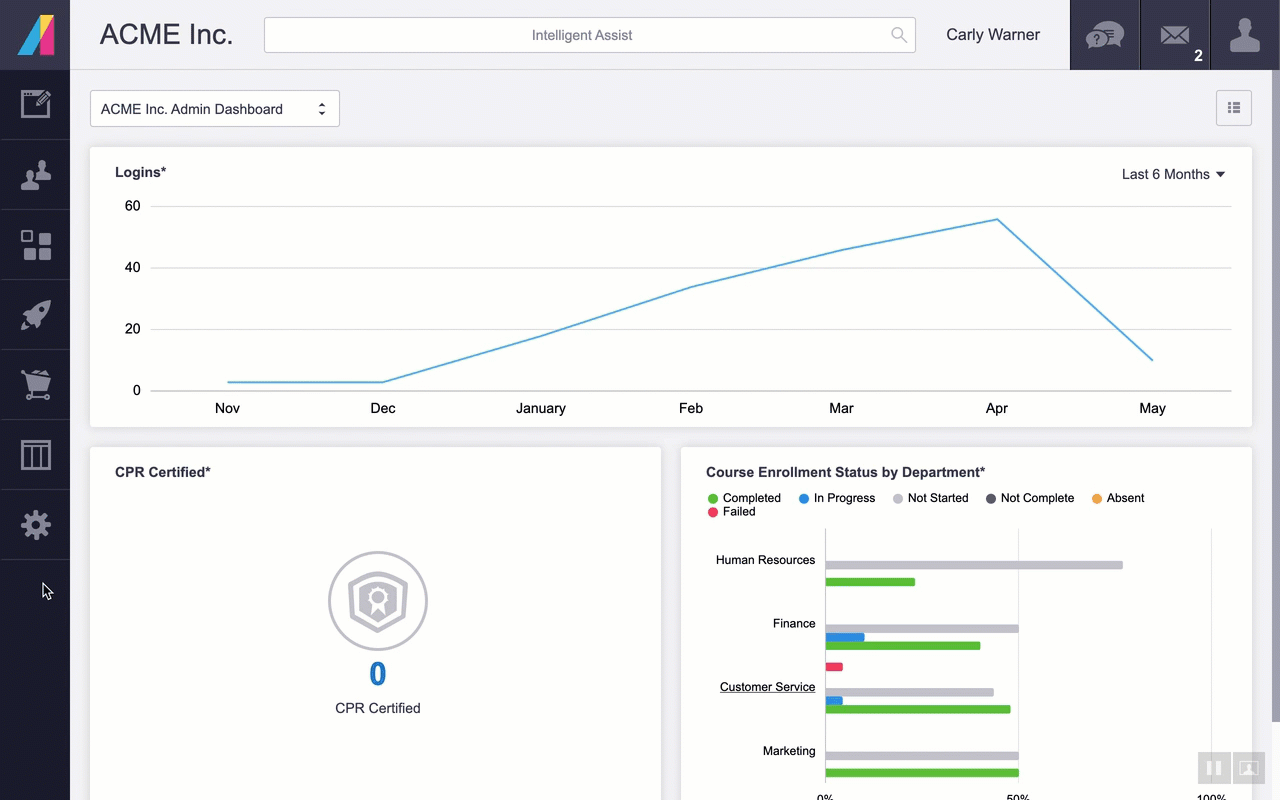 ---
Versions: Admin Experience vs. A5
In this article, we will reference functionality for both of our Admin Interface versions, Admin Experience and A5. In 2020 Absorb updated our Admin Interface to the new Admin Experience. In this new version, we determined that it would be best to significantly change the way that the File Manager worked. Based on previous our client Security concerns, we have moved away from a Content Library approach and moved towards a true File Manager. Where only the files that have been uploaded directly to a Online Course, Global Resource, Course Resources or into one of the Engage Features (Billboards or News Articles) will be visible and available to manage in your LMS.
---
File Visibility
When you upload files into the LMS, you will be required to identify the file as Public (known as Global in A5), or Private.
Public (AE) or Global(A5): Anyone can see this file, even Users who have not been authenticated into the LMS (E-Learning cannot be viewed outside an LMS either way). This option is used for files that need to appear on the Public Dashboard, Course Catalog, or an E-Commerce Catalog, i.e. self-enrollment rules.
Private: Private files associated with a Course, like a Course Thumbnail or Lesson Object, will only be visible or accessible to enrolled Users. When a Private file is used for a design element, such as a Billboard, it will only be visible or accessible to authenticated LMS Users.
Steps for Sharing a Public File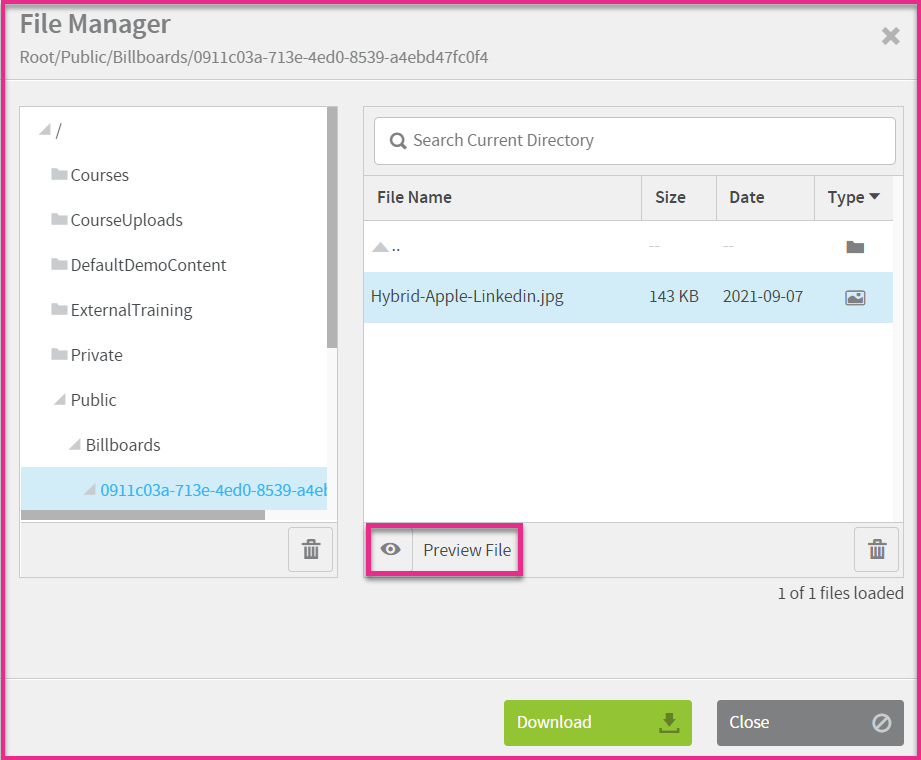 Step 1: Navigate to Setup in your Admin menu. Select Files. The File Manager modal will popup and list all files in your LMS.
Step 2: Select and expand the Public folder. Search and find the File you are looking to share. You can then use the Search bar labeled, Search Current Directory, or scroll through the list of files.
Note: The Course, Global Resource or Engage Product will have the ID as it's name within the Public folder, so you will want to identify the ID prior to searching for your file. The ID can be found in the administration page of your content. You will need to add the ID column as part of your view in the grid.
Step 3: Select Preview File. Your file will open in a new window or prompt you to request how you would like your file viewed. Once the File is open, copy the URL from the top of your browser.
Version: Admin Experience
In Admin Experience, you will notice a new file structure. Now when uploading content into the LMS, you will be asked to select a Visibility level for all files, not just SCORM files: Public or Private. Sub-folders are created automatically in each directory, making it easier to understand how an asset is used and its visibility.
In order to change a file from Private to Public or vice versa, you would need to go directly to the Course or Engage Product and select Choose File. The Upload File modal will popup and provide editing options for your File. Here you can select the radio button next to your visibility preference.
Version: A5
The File Manager can be used to help control access to content in the Absorb LMS. This provides Admins with varying degrees of access control over their content depending on how and where they upload an item in the LMS.
In A5, you have the ability to change the Visibility setting, by going to Setup > Files and then dragging and dropping the Course ID, Engage ID, Global Resource ID or Name to the new setting, Public or Private.
To access the actual File itself in the File Manager, the Admin must go directly to the Course, Global Resource or Engage Product where it was added. When inside and Choose File is selected, the File Manager will show the uploaded item inside its own dedicated Folder.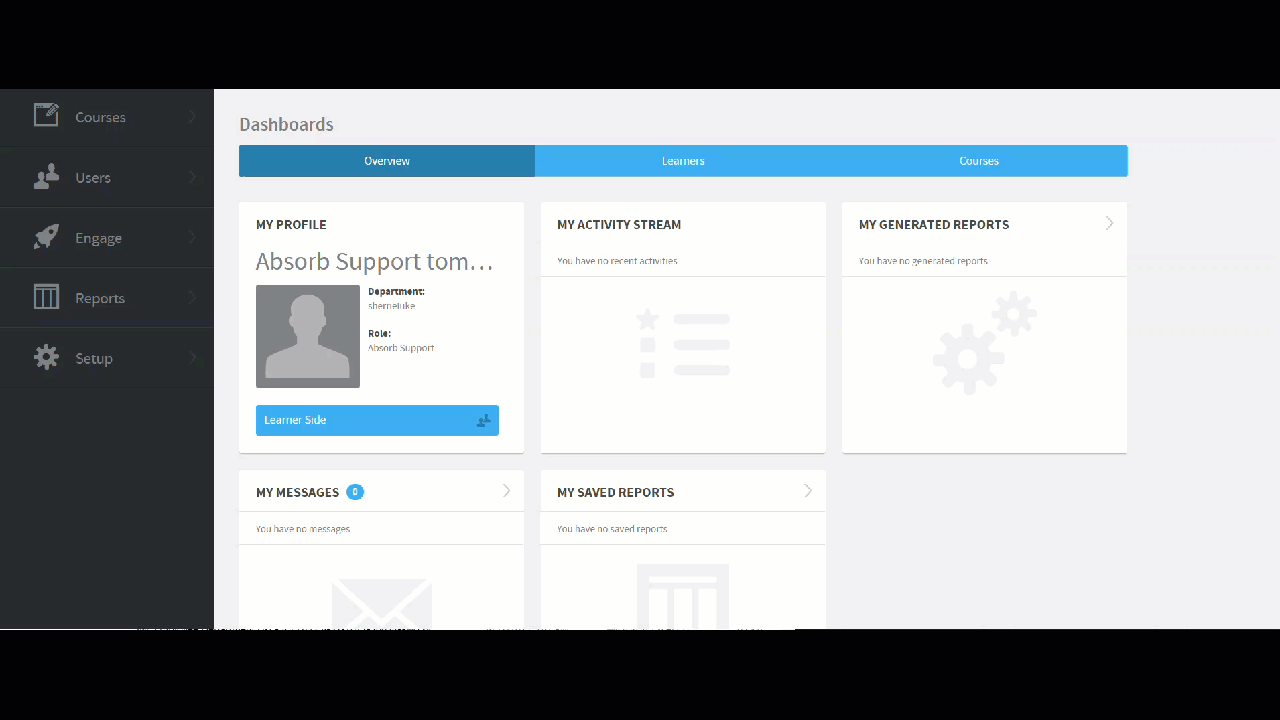 ---
Working in the File Manager
When reviewing your Files directly in File Manager (Setup > Files), you will have some options to manage the Files outside the Content they are associated to.
Working in the File Manager
Elements
When the File Manager is launched, you will see these elements:
Element
Description
File Path

Located at the top of the

File Manager

, this lists the location in Absorb's file directory that the tool is currently pointing to. This path is helpful when importing data into your LMS.
It will first point to the

Root

folder of your LMS as a default when the interface is launched. Once you choose a file or folder, the path will change.

Folders

Located on the left-hand side of the File Manager, this displays the collapsed directory of all the files stored in your LMS. Clicking on the name of the folder will expand a list of files within the folder.

Files

Located on the right-hand side of the File Manager will be a collapsed directory of all sub-folders and files stored in your LMS. Each item listed also displays:

The object's

File Name

(complete with extension suffix)

The

Size

of the file

The

Date

the file was uploaded

The

Type

icon (

i.e. a folder, doc file

, xls data, CSV data, or an image)

Each column can be sorted and the files selected can be displayed in ascending or descending order.
Actions
When viewing the default view of the File Manager, these actions are available:
Element
Description
Version of Admin Interface
Preview Files

When this button is selected, a new tab will open in the browser and display the SCORM course, image or PDF.
Note: If the file is not an image file (png, jpeg, etc.), the Preview button will prompt a download action.

Both

Rename File

This button will open a dialog box to allow the Admin to give a File a different name.

Note: A pop-up modal is used to manage the naming of a file. If you are not seeing this pop-up modal, it could be due to your Browser security defaults.

A5 Only

Delete

This button will open a dialog box to allow the Admin to delete a File entirely.

Notes:

Once an item is deleted from the File Manager the action cannot be undone and is permanent. This outcome applies to both Files and Folders (along with any Files inside it) that you decide to delete.
Once the file has been deleted, any training that has this file in use will receive an error when the User tries to launch it within the training. Please be sure to remove it from training before deleting the file.
A pop-up modal is used to manage the naming of a file. If you are not seeing this pop-up modal, it could be due to your Browser security defaults.

Both

Upload Files

Files can be Uploaded directly into the A5 File Manager. These steps are listed below.

A5 Only

Allow Drag & Drop

You can Drag & Drop folders and files within the A5 File Manager. This is an easy way to move your files from Public to Private or vice versa.

A5 Only

Download

This button will display when a file is selected. Click on the button to open the document and save it to your computer.

Admin Refresh Only

Managing Folders

Add - The + Icon will allow you to create a New Folder. The default location of the Folder will be always be the first directory level directly under the Root folder unless the action is triggered at a different location in the directory. You will be prompted to enter a name for the new folder. If no name is chosen the default label of New Folder will be assigned to the new item.

Rename - This Icon will allow you to Rename the Folder selected in the File Manager.

Delete - The Trashcan Icon will open a dialog box to allow you to delete a folder entirely.

A5 Only
Close

This button will close the File Manager Interface.

Both
---
Adding Files
Below are the steps to add Files in your LMS by each Admin Interface version (AE vs A5).
Steps for Adding Files
Version: Admin Experience
All files will be added directly into an Online Course, Global Resource, Course Resources or into one of the Engage Features (Billboards or News Articles). You can see more details on how to add files in these different features in the related articles.
Step 1: Navigate to Courses, Global Resources, or Engage. Add or Edit the item you would like to add a file to.
Step 2: Select Choose File option when adding a new File. A pop-up modal will display and here the Admin to search through the documents stored on their device and select the File. This is where they can also determine if the File will be Public or Private.
Step 3: Once the file has processed, select Save.
Note: If an Admin would like to use an Online Course file, previously used in another Online Course, they can select the Use Existing Learning Object. Keep in mind, if Course Visibility has been restricted to specific Admins of a Department(s), then it will also restrict the Lessons included in this course(s) as well. Please see the An Introduction to Learning Objects article for more about Use Existing.
Version: A5
Admins can add a new file directly into an Online Course, Global Resource, Course Resources, one of the Engage Features (Billboards or News Articles) or into the File Manager.
Step 1: Navigate to Files from Setup in your Admin menu.
Step 2: Select Upload Files, located at the bottom of the File Manager window.
Step 3: You will be presented with following options.
Overwrite - When the feature is turned ON (the default setting), the file you are uploading will replace the existing file with the same name. If it is OFF, any identically named File cannot be added successfully and an Error message will be displayed.
Drag & Drop - This area is where files can be dragged and dropped into the File Manager. You can select a file from your device, click and drag it over to the File Manager. The file dragged over from your device will be uploaded to your File Manager.
Upload File - When you select the Upload File button, you will launch your computer's default file uploader where you will need to navigate to the file and add it manually.
Note: The max file per-upload is larger in the File Manager, than in the Learner interface.
Administrator Interface (File Manager and any Content areas)- The max file size that can be uploaded using the File Manager is 2GB for any file type. It is recommended that for any files larger than 2GB, that they then be broken down into separate files of a smaller size, and spread across multiple lessons/resources.

Upload Multiple Files - The File Manager allows one to multiple files for upload to the LMS by simply SHIFT/CTRL + clicking to select multiple items when browsing your desktop PC. However, for larger bulk uploads where you may have an entire folder structure containing both sub-folders and files, you will want to create a ZIP package.

Compress your top-level folder into a single .ZIP package
Upload that package to Absorb LMS using the File Manager
Browse for that package in the File Manager and click the UNZIP button

Learner Interface - Course uploads allow users to upload files to the LMS, with a max upload limit of 1GB. If the learner attempts to upload a file larger than 1GB, they will receive an error message that the "File is larger than the allowed size", and the upload will fail.
Step 4: A status bar will appear at the bottom of the modal (you may need to scroll down to see it). Once the file has completed the upload, you will receive message stating it is Complete or is an Error. For most errors, there will be a message indicating what caused the error.
Step 5: The File Browser button will switch the view and you will see the new files added in the File Manager.
---
Amazon S3
In Absorb LMS, Amazon S3 is utilized for file storage of content added to portals via the File Manager or otherwise. When files with the same name are overwritten, the previous version can be cached for up to 24 hours. This can translate to replacement files not appearing for learners immediately after upload. Depending on your organization's needs, it may be preferable to replace content with files that have a suffix added to the original file name.
For example, if you have a file called request-form.pdf, you may want to upload the same file with a variation on the file name like request-form_v2.pdf. This will avoid the previous file being cached, and allow users to see the new file immediately. It is also recommended that the previous file is deleted to avoid any confusion, aid in troubleshooting, as well as reduce space used.
---
Duplicate Files
In both versions of the Admin Interface, if you upload a file with the same name as a file that already exists in that specific directory, a number will be appended to the end of the file name. This will only occur when file names are an exact match. Sub-folders will be added for each new item created (Course, Billboard, etc.) and identified by its Globally Unique Identifier (GUID).
Example
File: "Safe_Driving_Practices.pdf"
Original upload: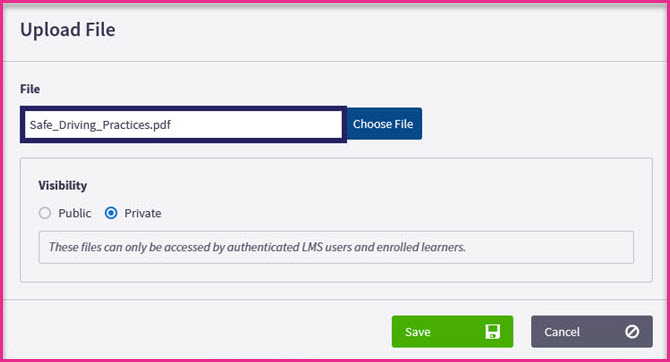 Replacing Lesson content with a file of the same name: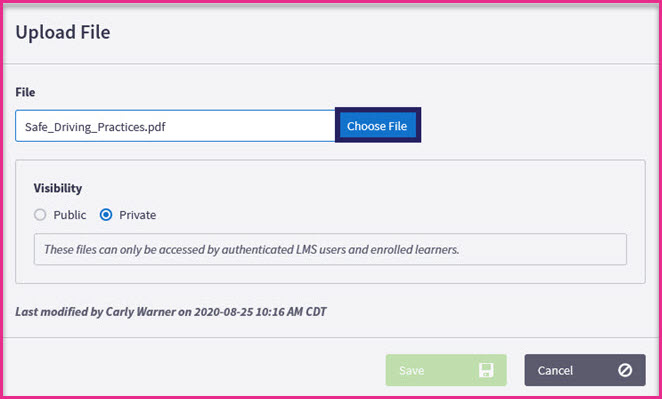 Since a file with this name already exists within the Courses directory, a number is appended to the second upload: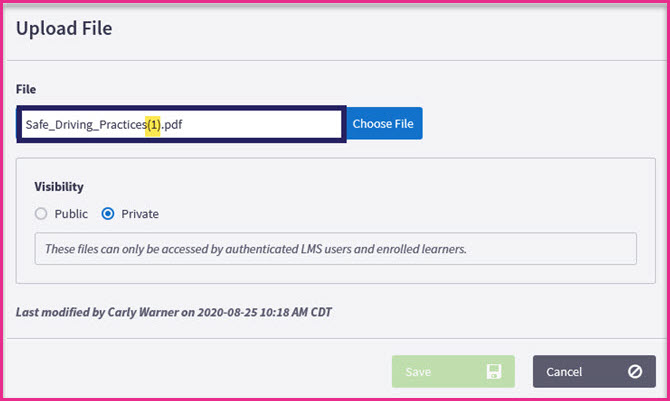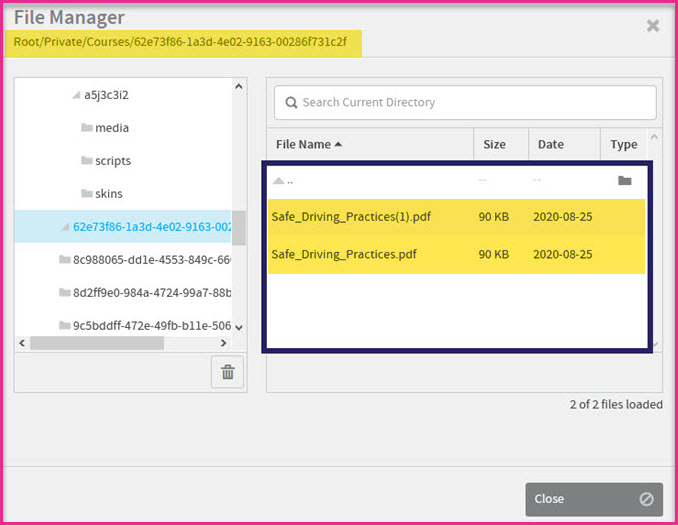 ---
Backing Up your Data
Absorb backs up your Data in the File Manager, as well all other Data within your LMS. Here we will discuss the different ways we ensure your Data is backed up to have a secure Disaster Recovery Plan in place.
Backing Up your Data
Absorb uses Amazon Web Services (AWS) as a backup/disaster recovery plan for your data. Here are some of the more important ones:
Multiple Availability Zones: Our LMS is now replicated across three different availability zones (two in Europe) in the US-East region (EU-West in Europe). Although these zones are located in the same general geographic area, each one is logically separated and completely independent of the others. These zones serve two purposes: requests are distributed across the zones to balance the load on each server, and if one zone should fail requests will immediately be redirected to the other zones.
Multiple Database Backups: We have three levels of backups for our database:

Every 15 minutes: A transaction log backup is taken to allow point in time recovery
Every night: A differential backup is taken that includes all changes made to the database that day.
Every week: A full database backup is taken.

Nightly Course Data Backups: All course data is backed up nightly to Amazon's S3 distributed storage service.
---
Roles & Permissions
In order for Admins to view or perform the activities outlined in this article, they may need the following permissions within their Role. Your environment may use customized Role(s), Permissions, or a combination of both to regulate access to the Admin Menu.
If you have questions or need assistance, please contact your local System Administrator to review your current permission set.
Roles & Permissions
Required Role Permissions
Role: Section Access
Permission(s) Needed
Manage > Files

We highly recommend that you limit the number of Admins granted access to administer files and the manager.

Please note that the File Manager permissions DO NOT respect Department Visibility rules like other reporting pages.

Access to the File Manager provides visibility to all of the files uploaded into your portal.

View = The Admin can access the File Manager and view its contents.
Modify = The Admin can access the File Manager, view its contents and engage with the action tools available.

Suggested Role Permissions
| | |
| --- | --- |
| Role: Section Access | Permission(s) Needed |
| Courses > Instructor-Led Courses | View or Modify permission |
| Courses > Curriculum | View or Modify permission |
| Courses > Course Bundles | View or Modify permission |
| Courses > Online Courses | View or Modify permission |
| Engage > News Articles | View or Modify permission |
| Engage > Billboards | View or Modify permission |