This article provides information and guidance on a portion of the Absorb LMS Admin Experience that is now upgraded to the Admin Refresh Experience.
Please visit our Absorb Admin Refresh Checklist article for more details about what is available with the free Absorb Admin Experience upgrade.
File Manager & Visibility
Admin Refresh Experience: File Manger
---
Table of Contents
---
Overview
The Absorb File Manager provides you with a view of the files that have been uploaded into your Absorb LMS portal. These files may have been loaded through a workflow associated with an Online Course (Certificate or thumbnail images), an Absorb Engage product, or other administrative action. From the File Manager, you have can view and download PDFs, images, and SCORM files.
Files are added to the File Manager when an Admin uploads content at various points throughout the Admin Experience. For example, when a SCORM file is loaded as a Learning Object in an Online Course, the SCORM file is placed in the File Manager for reference.
Online Courses have a newer Learning Object type available: Use Existing. This function allows Admins to pick and choose files that are used in other Online Courses and add them to their new or edited Online courses. For more information, please see Learning Object: Use Existing.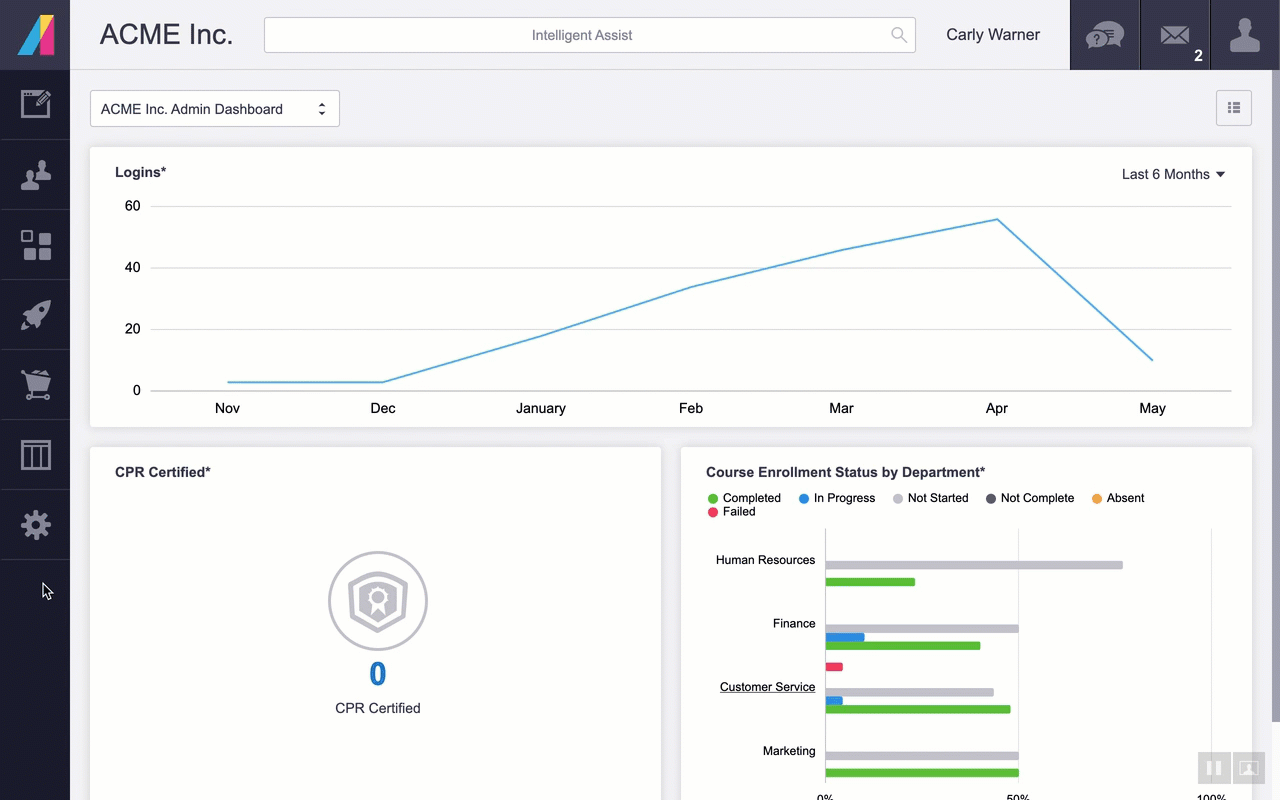 ---
File Visibility
In Admin Refresh Experience, you will notice a new file structure. Now when uploading content into the LMS, you will be asked to select a Visibility level for all files, not just SCORM files: Public or Private. Sub-folders are created automatically in each directory, making it easier to understand how an asset is used and its visibility.
Public: Anyone can see this file, even users who have not been authenticated into the LMS. This option is used for files that need to appear on the Public Dashboard or an E-Commerce Catalog.


Private: Private files associated with a Course, like a Course Thumbnail or Lesson Object, will only be visible or accessible to enrolled users. When a Private file is used for a design element, such as a Billboard, it will only be visible or accessible to authenticated LMS users.
The Admin will still be able to preview the file, see the details about the file and the calendar date of when it was uploaded. For more information regarding managing your files, please see the article Accessing Files via the File Manager.


---
Working in the File Manager
Elements
When the File Manager is launched, you will see these elements:
Element
Description
File Path

Located at the top of the

File Manager

, this lists the location in Absorb's file directory that the tool is currently pointing to.
It will first point to the

Root

folder of your LMS as a default when the interface is launched. Once you choose a file or folder, the path will change.

Folders

Located on the left-hand side of the File Manager, this displays the collapsed directory of all the files stored in your LMS. Clicking on the name of the folder will expand a list of files within the folder.

Files

Located on the right-hand side of the File Manager will be a collapsed directory of all sub-folders and files stored in your LMS. Each item listed also displays:

The object's

File Name

(complete with extension suffix

The

Size

of the file

The

Date

the file was uploaded

The

Type

icon

(i.e. a folder, doc file

Error! Filename not specified.

, xls data, CSV data, or an image

Error! Filename not specified.

).

Each column can be sorted and the files selected can be displayed in ascending or descending order.
Actions
When viewing the default view of the File Manager, these actions are available:
Element
Description
Preview

When this button is selected, a new tab will open in the browser and display the SCORM course, image or PDF.
Note: If the file is not an image file (png, jpeg, etc.), the Preview button will prompt a download action.

Delete

This button will open a dialog box to allow the Admin to delete a File entirely.

Note: Once the file has been deleted, any training that has this file in use will receive an error when the User tries to launch it within the training. Please be sure to remove it from training before deleting the file.

Download

This button will display when a file is selected. Click on the button to open the document and save it to your computer.

Close
This button will close the File Manager Interface.
---
Duplicate Files
If you upload a file that has the same name as a file that already exists in that specific directory, a number will be appended to the end of the file name. This will only occur when file names are an exact match. Sub-folders will be added for each new item created (Course, Billboard, etc.) and identified by its Globally Unique Identifier (GUID).

Example
File: "Safe_Driving_Practices.pdf"
Original upload: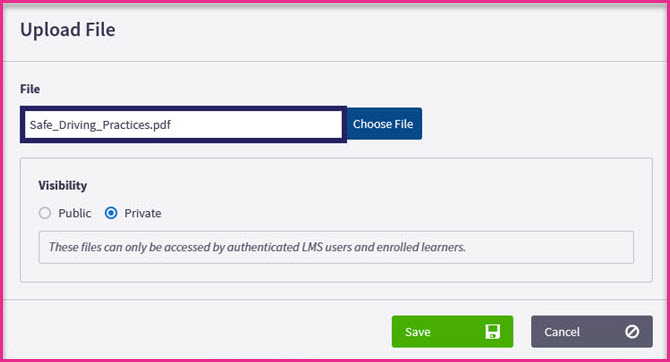 Replacing Lesson content with a file of the same name: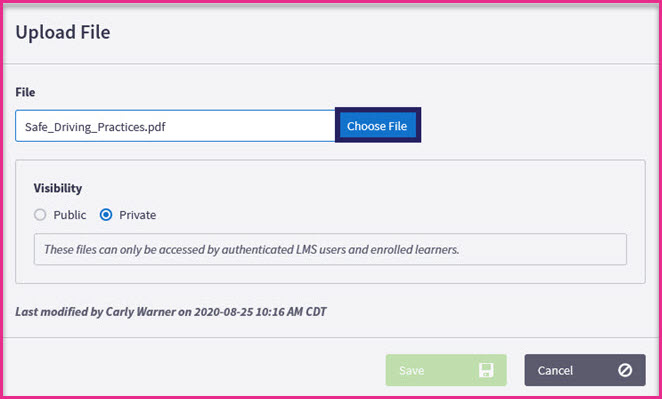 Since a file with this name already exists within the Courses directory, a number is appended to the second upload: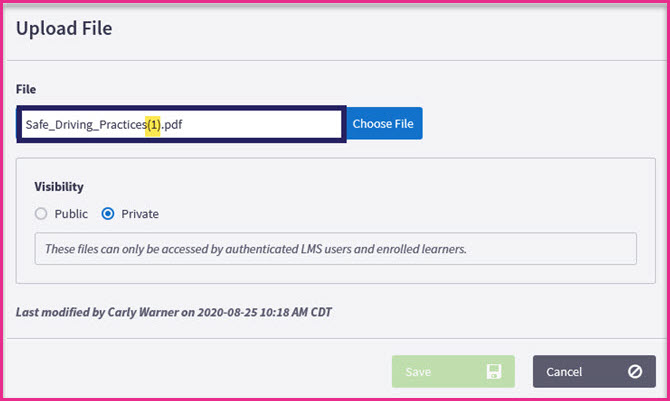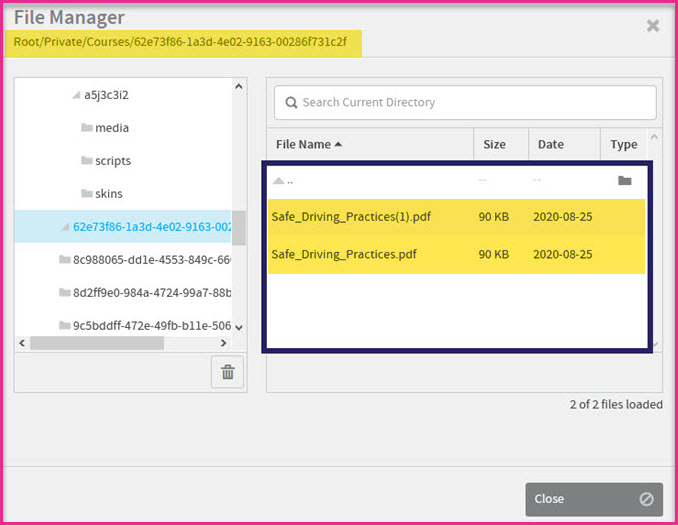 ---
Roles & Permissions
Please note that your environment may use customized Role(s), Permissions, or a combination of both to regulate access to this report.
Admins must have Generated Reports in their Role, in order to export data to Excel or CSV on any Administration page or Report page.
If you have questions or need assistance, please contact your local System Administrator to review your current permission set.
Required Role Permissions
Role: Section Access
Permission(s) Needed
Manage > Files

We highly recommend that you limit the number of Admins granted access to administer files and the manager.

Please note that the File Manager permissions DO NOT respect Department Visibility rules like other reporting pages.

Access to the File Manager provides visibility to all of the files uploaded into your portal.

View = The Admin can access the File Manager and view its contents.
Modify = The Admin can access the File Manager, view its contents and engage with the action tools available.

Suggested Role Permissions
| Role: Section Access | Permission(s) Needed |
| --- | --- |
| Courses > Instructor-Led Courses | View or Modify permission |
| Courses > Curriculum | View or Modify permission |
| Courses > Course Bundles | View or Modify permission |
| Courses > Online Courses | View or Modify permission |
| Engage > News Articles | View or Modify permission |
| Engage > Billboards | View or Modify permission |